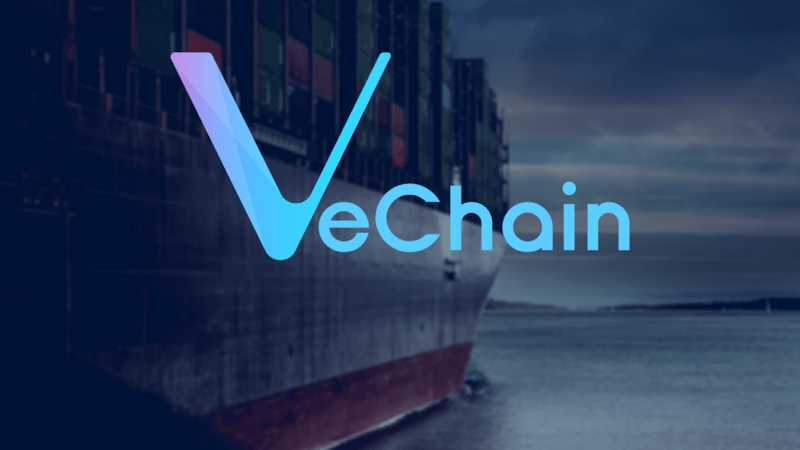 VeChain (VET)
VeChain (VET) was one of the first blockchains built exclusively to cater to the needs of enterprise-level clientele. The developers behind the project seek to improve supply chain and product lifecycle management through the use of distributed ledger technology (DLT). Importantly, the platform offers users a variety of new functionalities that make it ideal for businesses seeking to enhance supply chain protocols and business processes.
It provides businesses the ability to track an enormous amount of data. These indicators can include items such as quality, authenticity, storage temperature, and transportation status. Impressively, VeChain provides all of these features via a trust-free and distributed business ecosystem. In this way, VeChain reduces overhead and improves accountability.
How VeChain (VET) Works?
VeChain utilizes a variety of technologies to accomplish its goal to streamline the supply chain sector. For example, VeChain uses various types of Radio Frequency Identification (RFID) tags and sensors to monitor critical data during shipment. This information is broadcast in real-time across the blockchain.
This strategy enables any stakeholders or market participants to monitor the item to verify its condition and authenticity. Paramountly, this approach is perfect for large complex supply chains. VeChain can monitor these gigantic networks and keep businesses up to date on developments as they occur.
VeChain (VET) Philosophy
VeChain differs from other projects in the sector in a few key ways. Primarily, the developers behind this project had no desire to create a fully decentralized platform. Instead, their goal was to integrate the best features from both the DeFi (decentralized finance) and CeFi (centralized finance) sectors. This strategy creates a balanced platform that provides users with transparent information flow, efficient collaboration, and high-speed value transfers.
Internet-of-Things (IoT)
VeChain is a pioneer in the integration of IoT and DLT technologies. Keenly, VeChain was built from the ground up with IoT integration in mind. The Internet-of-things refers to the network of billions of smart devices currently in use globally. All of these devices are smart because they possess some sort of sensor and ability to communicate data online. Today, these devices encompass an unbelievable array of stuff, from TVs to doorbells, to the phone you are holding in your hand right now.
History of VeChain (VET)
VeChain went from the drawing board and into reality in 2015 with the goal to disrupt the supply chain industry by making data actionable and transparent. The project's creator, Sunny Lu, was best known for his executive work with Louis Vuitton China before this venture. You have to imagine that dealing with all of the supply chain issues facing clothing manufacturers face helped inspire him to develop this unique system.
VeChain's VET began on the Ethereum blockchain. This approach is a common strategy in the market because it allows developers to showcase their concept and gather funds to develop their own blockchain. Eventually, that's exactly what VeChain did. Today, VET operates within the native VeChain ecosystem. In this way, developers can provide features geared directly to business clientele.
Dual Token
VeChain did borrow one thing from Ethereum, its dual token strategy. In this style of blockchain ecosystem, one token serves as the public investment and/or digital cash and the other is for smart contract execution and programming. Examples of this style of backend token are Ethereum's ether and NEO's GAS.
There are two main advantages to this strategy:
The first benefit is that this system provides effective governance. Blockchains need to have governance models that include the community or they risk hard forks from unhappy community members. The second reason to use a dual token strategy is that it provides your blockchain with a predictable economic model.
VeChain (VET) Consensus
In order to make good on all of its promises, VeChain must provide business with timely and secure consensus. To that end, the platform introduces a proprietary consensus mechanism known as Proof-of-Authority (PoA). This protocol provides an efficient means to maintain system continuity.
The PoA consensus mechanism was built to improve upon the shortcomings found in Proof of Work (PoW), Proof of Stake (PoS), and Designated Proof of Stake (DPoS) mechanisms. Critically, PoA requires less energy consumption. As opposed to Bitcoin, which requires nodes to communicate and validate transactions, there is no requirement for communication between nodes to reach consensus on the VeChain blockchain.
How to Store VeChain (VET)?
You can store VeChain in a variety of different ways. If you want to trade your VET, or just seek a quick return, then you will want to store your crypto on the VeChainThor mobile wallet. This easy-to-navigate wallet provides you with all the features you need. Best of all, it's available as a free download for Android and Apple devices.
If you seek to make a major investment in VET or if you are planning on HODLing this crypto for long periods of time, a hardware wallet is the best option. Hardware wallets keep your crypto stored offline in "cold storage." This strategy makes it impossible for online threats to access your holdings. The Ledger Nano S or the more advanced Ledger Nano X both support VeChain (VET).