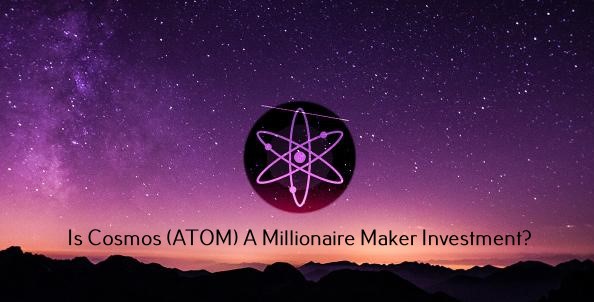 Cosmos (ATOM) is a platform designed for streamlining transactions between multiple blockchains. It has been dubbed 'the internet of blockchains' due to its purpose. It also uses a Proof-of-Stake blockchain with Byzantine Fault Tolerance, making it a sustainable cryptocurrency.
Cosmos (ATOM), the native token that powers the Cosmos network, has recently seen a significant rise in its price. Moreover, amidst a bearish market, ATOM reached a new all-time high of $44.7 in September 2021. Although most cryptocurrencies have struggled over the past week, Cosmos has rallied by almost over 80% in the past month.
However, Cosmos is more than just a bridge that connects two blockchains. Instead, the platform introduces the next-generation technology stack that offers developers access to powerful and advanced tools that further increase blockchain creation efficiency.
Factors That Could Establish Cosmos as A Millionaire-Maker
1. Integration of The DeFi Oracle Band Protocol
A key reason behind the spike of Cosmos (ATOM) in 2021 is the integration of the DeFi Oracle Band Protocol into Cosmos on July 22. It was integrated to boost interoperability within the Cosmos ecosystem.
Both the Band Protocol integration in Starport and the Cosmos blockchain development tool offer all the newly created chains the ability to exchange feeds from various types of data via an oracle and the Cosmos interoperability standard, the Inter-Blockchain Communication protocol (IBC).
Moreover, this integration will boost the demand for the ATOM token, pushing its value and price higher.
2. Interchain Security- A Novel Solution to Shared Security
Cosmos (ATOM) has earlier this year announced the launch of one of its ambitious projects, Interchain Security, as a solution to shared security. One of the most appealing features of any blockchain technology is its high degree of protection and resistance to attack. While the existing shared security architectures offer a top-down design, Cosmos takes a rather novel approach and continues to build from the bottom-up.
Cosmos believes that sovereignty and interoperability are the key features for building an open ecosystem of blockchains that is suitable for mass adoption. Moreover, there are two key reasons why Interchain Security is valuable to the Cosmos Hub. First, it permits for "hub minimalism." Second, it lowers the barrier to launching and running secure sovereign decentralized public blockchains.
3. The Launch of A New Blockchain Network
Yet another reason why Cosmos (ATOM) could be a good buy now is the launch of its new blockchain, called Sagan. Sagan's debut teaser suggested that the network would be specifically used for testing and experimentation ground for features and applications. The 30-second clip included a quote by famous American cosmologist, Carl Sagan, the name of the blockchain, and an image of a canary. The canary effectively symbolized that the blockchain would be a canary network. That would allow developers to experiment with different protocols.
4. The Launch of Emeris
Thanks to the launch of the beta version of Emeris, Cosmos (ATOM) has seen a significant rise in price and demand over the past few months. This has successfully introduced cross-chain farming and cross-chain staking within the Cosmos ecosystem.
Emeris is the one-stop portal for all crypto apps regardless of the blockchain they run on. The beta version will allow users to experience cross-chain DeFi seamlessly in an efficient manner. The purported goal of Emeris is to offer access to a wider range of decentralized applications scattered across various blockchain ecosystems in a single, easy-to-use interface.
Moreover, Emeris is also the first functioning user interface for DeFi on Cosmos. Therefore, by expanding its DeFi capabilities, Cosmos could be one of the top DeFi coins to buy now.
5. Cosmos's Partnership with Interlay
Cosmos (ATOM) has always been a potential player in the market, foreseeing the necessity of blockchain interoperability from the start. Interlay is a team that shares the Cosmos vision of interoperability among chains. By collaborating with Interlay, the team is bringing Bitcoin to the Cosmos ecosystem. Through interBTC, Interlay would bring Bitcoin to all DeFi platforms, opening up opportunities for users to invest, earn, and pay with their BTC anywhere.
Can Cosmos Become a Millionaire Maker Coin?
Thanks to the tremendous growth of the Cosmos Network, ATOM could rise even higher, making it a good buy now.
The Cosmos (ATOM) ecosystem is snowballing, with over 255 apps and services currently running on the network. Gravity DEX has successfully revolutionized DeFi capabilities in the platform. It is also marked as a significant step towards the vision of the project, which is to create multiple interconnected blockchains.
However, Cosmos is a project with a clear use case, multiple functionalities, and huge growth potential. As an ever-expanding network of interconnected services and applications, the network addresses some of the most pressing issues of the crypto market today. According to several crypto analysts Cosmos could be an excellent millionaire-maker investment compared to other DeFi coins.
The Bottomline
Cosmos (ATOM) was created with a unique purpose in mind. It seeks to help the entire blockchain sector advance using a combination of unique protocols and strives to bring the industry together. Thanks to recent updates, it is also a promising cryptocurrency in the rising DeFi space. ATOM has substantial long-term potential and is well-positioned to rise higher in the coming years. Its multiple use-cases and developments indicate that Cosmos could be a millionaire-maker coin for investors.