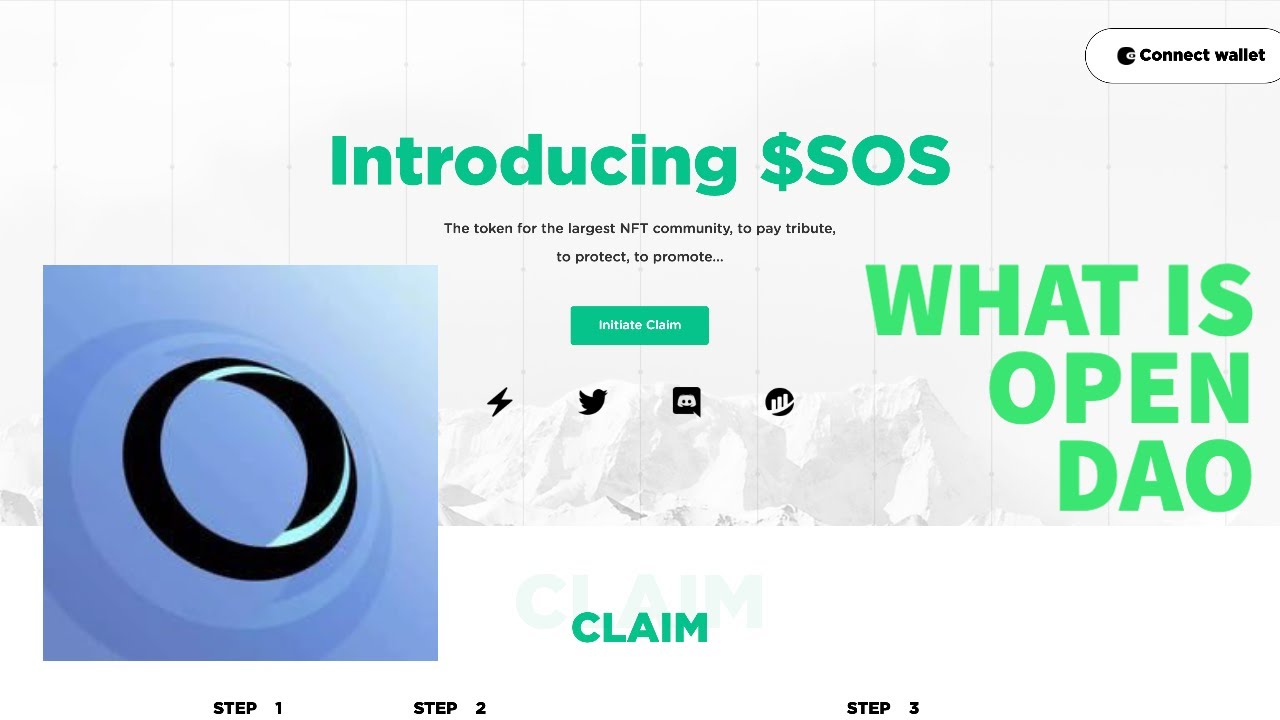 The OpenDAO project establishes the $SOS token as a way to pay tribute, protect and promote the non-fungible token (NFT) industry and those who are part of it. In addition, the project wants to show gratitude to all NFT creators, collectors and marketplaces for bringing this new industry to the forefront. Anyone who has bought, sold, or traded an NFT through the OpenSea NFT marketplace is eligible for the $SOS token airdrop. At the moment of writing, $SOS tokens were distributed to over 241,000 addresses and counting.
However, the $SOS token is not just an airdrop for existing users. It also serves as a way to:
Compensate verified OpenSea scam victims
Supporting emerging artists and NFT communities
Support art preservation
Offer a grant to developers to enhance the $SOS ecosystem
Since the token was airdropped on Christmas Eve, making a splash on the NFT crypto community, it has been up an astonishing 1256.80%.
How Does OpenDAO Work?
The functionality outlined above serves as a mechanism to award OpenSea users and bring more positive attention to the NFT industry. In addition, rewarding victims of scams ensures the $SOS token can benefit from broader distribution and provides some relief to those who have lost money due to such incidents.
Claiming the $SOS token issued by the OpenDAO is possible through the project's website by connecting a Web3 wallet. Rewards will depend on how much money a user spent on OpenSea and their number of transactions.
For now, there are still many unanswered questions where OpenDAO is concerned. For example, there is no indication of who is behind the project besides 9x9x9eth or why they are airdropping so many tokens to users on day one. However, most people acknowledge that OpenSea needs a support system to compensate scam victims, even if the marketplace has no intention of setting it up.
As the $SOS token is part of a Decentralized Autonomous Organization (DAO), everything is governed by community members. So far, there have been tens of thousands of wallets holding the token, each of which can actively participate in the governance of the protocol and its token. However, no one knows what the governance will entail exactly at this time.
What Makes OpenDAO Unique?
The venture by OpenDAO through its $SOS token is a rather interesting one. Using some of the funds as an airdrop to OpenSea users is surprising, as there have been rumors of the marketplace creating a native token for a while now. However, that doesn't mean such a token will ever exist, making $SOS a social experiment of sorts. Users have until June 30, 2022, to claim their airdrop tokens, after which the remaining asses will be sent to the DAO treasury.
Moreover, the compensation of verified scam victims on OpenSea is significant. Despite the growing appeal of NFTs and the OpenSea marketplace, there are still too many scams and other malicious listings today. Affected users often have no recourse as there is no way to reverse blockchain-based transactions. Compensating them in $SOS may offer some relief.
The other goals of OpenDAO — supporting emerging artists and NFT communities — remain shrouded in mystery for a bit, as the team has not unveiled how this process will work. The same applies to art preservation, although there are many ways that can be done.
Last but not least, the developer grant for participating in the $SOS ecosystem indicates there is a long-term vision for OpenDAO. That might indicate there will be more utility for $SOS or new products, services and applications to expand the ecosystem.
$SOS Tokenomics
The tokenomics of OpenDAO is as follow: supply of $SOS is 100 trillion tokens, which are distributed as follows:
50% is airdropped to OpenSea users for claiming until June 30, 2022.
20% will be used for staking incentives
20% are used for the OpenDAO Treasury
10% are used for liquidity provider incentives
Any airdropped tokens that are not claimed will not be taken out of circulation but redistributed to the DAO treasury. As such, the supply of 100 trillion will remain in effect unless the team decides to change their model later on.
What Are People Saying About OpenDAO?
Airdrops traditionally spark excitement in the cryptocurrency industry. Who doesn't love free stuff?
As NFT holders usually do not receive such tokens too often, tremendous social momentum surrounds this $SOS airdrop. Users from across the industry share how many tokens they received to build momentum for the project.
For some, the rewards add up to over 1 ETH, worth over $4,000. Users may likely sell this token as quickly as possible to lock in profits, although the introduction of staking may change that narrative.