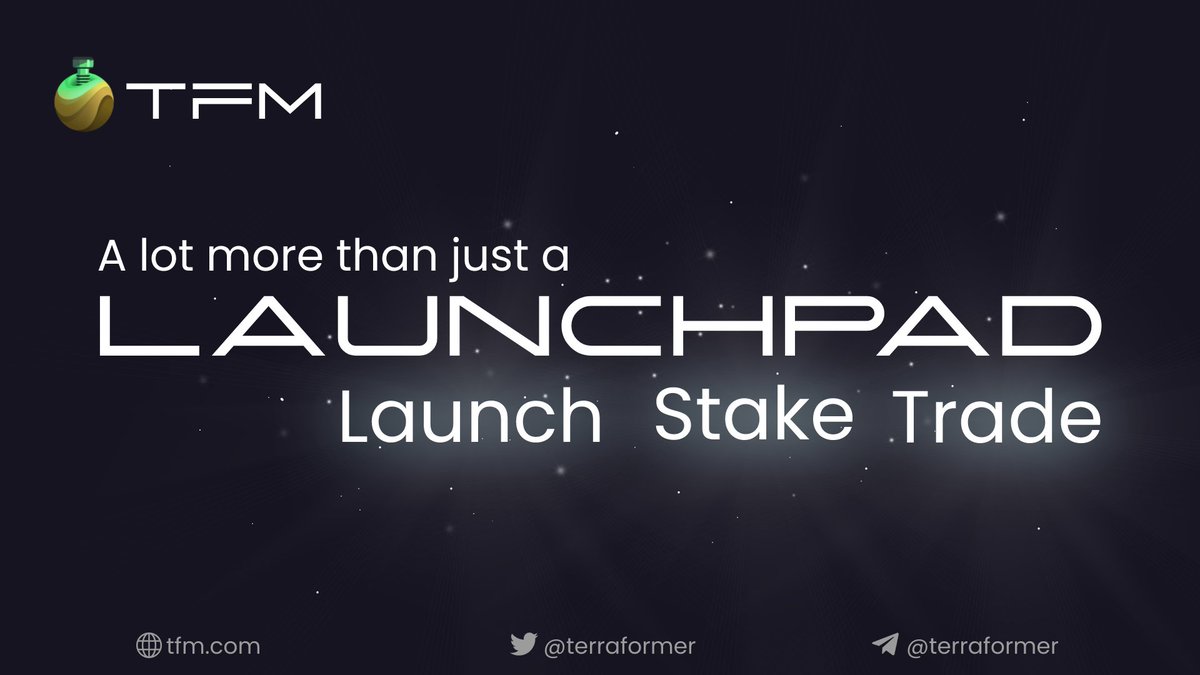 Billed as the "world engine for the Terra ecosystem", Terraformer (TFM) provides builders and creators with the tools they need to raise capital, boost liquidity, and maximize the odds of success for their project. The platform is designed to provide a hub where early-stage Terra ecosystem projects can kick start their growth in an efficient, sustainable fashion while bootstrapping their initial userbase and managing the supply of their native tokens.
Terraformer's native utility token — known as TFM — plays a variety of roles within the Terraformer ecosystem, being used to both access early-stage token sales (e.g. IDOs and LBPs) as well as unlock exclusive benefits on the Terraformer DEX.
The platform is being built and managed by an experienced team of financial professionals and business development specialists. Spearheading the project is Pedro Pereira, Terraformer's CEO and an accomplished strategic developer that previously worked on several European Commission and European Space Agency projects. DAO Maker's Co-Founder, CMO, and Chief Strategist, Hassan Sheikh, is on board as its primary advisor, helping the streamline its deal flow and maximize its market share.
How Does Terraformer Work?
Terraformer (TFM) allows both early-stage and more developed projects to raise funds through a variety of token sale formats, including an initial DEX offering (IDO), auctions, and liquidity bootstrapping pools (LBPs).
In addition to supporting raises for utility tokens, Terraformer supports a variety of NFT sale formats — allowing artists and NFT-powered projects to easily raise funds and distribute their assets to users.
Although the platform is primarily concerned with helping projects raise funds and hit their target milestones, Terraformer also has a number of secondary features. These include:
An automated market maker (AMM) type DEX: Terraformer's AMM will primarily focus on low cap, newly launched assets build on Terra, and will be directly connected with the platform's token offering solution — allowing startups to easily list their tokens after raising funds.
Liquidity accelerators: Terraformer will offer a variety of white-label LP farms, helping projects boost liquidity, reduce their circulating supply, and better manage the liquidity of their native assets.
The platform divides users into one of five ranks based on the number of TFM tokens staked. At the top end of the spectrum is the 'Terraformer' rank, whereas 'Lieutenant' is at the bottom end of the spectrum. The more TFM tokens staked, the better access users get to Terraformer's IDOs and other features.
The platform was established in mid-2021 and is currently in its early stages of development. Although it hasn't been launched yet, its own native utility token, Terraformer, has already conducted its first IDO, and several more are already in the pipeline — including Knight Lands, Breach, and DragonSB. Likewise, a basic version of its DEX is already live.
According to the official roadmap, Terraformer is set to begin conducting NFT offerings and will complete its token generation event (TGE) in Q1 2022, whereas a variety of additional token sale formats will go live in Q2 2022, along with the beta version of the Terraformer NFT market.
The IDO for TFM is slated to occur in January 2021 and will be hosted on DAO Maker.
What Makes Terraformer Unique?
Terraformer (TFM) joins the growing number of launchpads targeting projects building on Terra. It plans to distinguish itself from the competition by providing a whole suite of tools and services that projects can use to not only raise funds but also continue their growth and success post-launch. Some of its more prominent distinguishing features include:
Built for Terra
Widely billed as the most powerful platform for next-generation financial applications, Terra recently became one of the top five largest smart contract platforms by TVL — largely thanks to the rampant success of platforms like Anchor Protocol and Mirror Protocol.
Terraformer wants to help grow the Terra landscape from its grassroots by giving Terra projects access to the funding and resources they need to launch, succeed, and grow. By focusing on quality over quantity, Terraformer aims to continue the growth and adoption of Terra by delivering the next generation of Terra-based financial products and services.
All-in-one Launchpad
Unlike many other launchpads which primarily focus on IDOs, Terraformer allows projects to raise funds in a variety of ways, whether that be IDO, fixed-rate swap, auctions, or LBPs. It also supports both fungible and non-fungible token sales, giving TFM holders access to a diverse range of projects built on Terra.
It remains to be seen whether Terraformer can deliver on its promise of high-quality IDOs, but so far, its lineup has been promising.
Terra-native AMM
Terraformer allows projects to immediately list and provide liquidity for their tokens through the built-in AMM platform. Secondary market participants will be able to use the DEX to gain exposure to projects launching on and related to Terraformer, giving them first access to some of the most sought-after projects building on Terra.
How Does Terraformer Compare With Pylon Protocol?
Terraformer (TFM) isn't the first launchpad primarily focused on the Terra ecosystem. Several others are currently operating, including StarTerra, Pylon Protocol, and the lesser-known Terra Pad. However, Terraformer is arguably most similar to Pylon Protocol in terms of its feature set, given that it offers more than just a simple project launchpad and provides projects with a range of other tools and features to streamline their launch and growth.
Pylon Protocol's launchpad, known as Pylon Gateway, is a platform that allows users to deposit their Terra stablecoins (UST) to earn tokens of projects launched by the platform — essentially trading their yields for access to new projects.
On the other hand, Terraformer (TFM) uses a more traditional launchpad approach that sees users stake TFM tokens to unlock their tier, which then determines the size of their investment. This feature provides a lower barrier to entry since users are not limited by the size of their stablecoin deposit yields (which are just a fraction of the total size of the deposit). Besides this, Terraformer and Pylon Protocol differ in the range of additional features they offer. While Pylon Protocol lacks the range of raise options that Terraformer offers, it does provide a platform for yield-based recurring payments and subscriptions — this is its primary feature. On the flip side, Terraformer is primarily concerned with features that aim to maximize the success of the projects it launched, ensuring investors stand the best chance of generating a positive return on their investment.