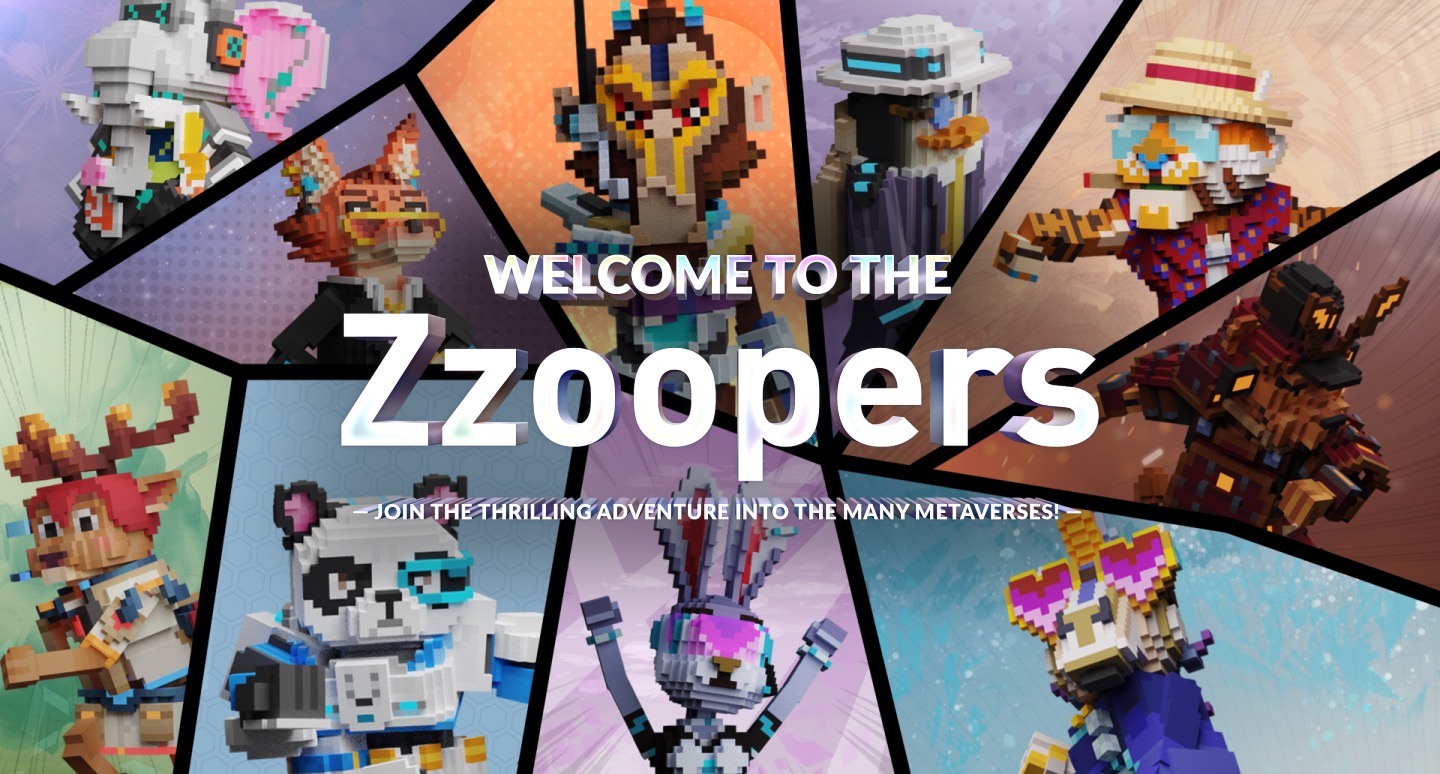 The non-fungible token (NFT) market remains to be unwavering despite losing its luster due to the ongoing market crash. With frequent advances into the space by huge enterprises and prominent brands, not to mention entities introducing various use cases for the technology, there's no denying that a lot of people still believe in NFTs.
Like any other organization that sees a future with NFTs, global cryptocurrency exchange KuCoin has stepped into the fray — launching its NFT marketplace Windvane. The company has set up a $100 million "Creators Fund" to incubate early-stage NFT projects.
In June, Windvane revealed its first NFT Launchpad on Twitter called Zzoopers— a 3D voxel avatar collection. Read this NFT project review and learn more about KuCoin's NFT Launchpad and Zzoopers Genesis.
About Zzoopers Genesis
Regardless of demographics, users have displayed enjoyment toward touching and thought-provoking experiences through engaging animations based on animal stories. And Zzoopers Genesis seeks to capitalize on this phenomenon.
Inspired by the likes of Zootopia, where different animal species live in harmony, Zzoopers Genesis boasts a collection of 5,555 unique animal avatars launched by MetaOasis DAO and Season Studio. Notably, all the avatars are born on the Ethereum blockchain. Together, they promote a world of acceptance and co-existence in the virtual space while exploring the multiple metaverses.
Meet the Zzoopers
The 5,555 unique NFTs are called Zzoopers. There are ten unique animal characters in Zzoopers Genesis: Elephant, Tiger, Cheetah, Deer, Fox, Monkey, Penguin, Panda, Rabbit, and Unicorn. Apart from species, each Zzoopers possess a unique appearance, personality, and storyline in different metaverses.
Mint and Distribution Details
Although intricate details haven't necessarily been disclosed to the public, the team revealed that the total supply of 5,555 NFTs will be offered in two major tranches — pre-mint and public mint.
The 2000 NFTs are exclusive offerings for whitelist winners from the MetaOasis DAO community. These winners will also be eligible to join in the pre-mint. Members of the community can just simply join the Discord of MetaOasis DAO and go to the "Get-Whitelist" channel, where further mechanics are posted. Notably, interested users can also try to win in the events held by Zzoopers Genesis' collaborators and partners. Meanwhile, the remainder of the collection will be available for the Windvane public mint.
The 5,555 Zzoopers Genesis will be randomly distributed. However, the 10 animal characters will be distributed on a specific schedule. This means the platform leaves the users with the option to choose when to claim the NFTs for a higher probability of getting their favorite avatars.
According to the website, 100% of the mint proceeds will go to MetaOasis DAO. The funding will back Zzoopers Genesis' IP branding.
Zzoopers Genesis Offerings
Users, gamers specifically, have utilized gaming platforms as a means of escape. Moreover, such platforms have given them the freedom to live in a (virtual) reality that lets them be different from what they are in the real world and do whatever their hearts desire. This has made platforms such as Zzoopers Genesis very appealing to its users. As they traverse every corner of different metaverses, Zzoopers Genesis enables users to form different digital identities to express themselves in the space.
MetaOasis DAO continues to collaborate with different projects to provide users with the flexibility to employ their Zzoopers avatars in any metaverses. Since the avatars come with special traits unique to them, any user has the option to use whichever avatar they want to represent themselves in the virtual space.
According to the team, there are lots of developments to look forward to. From exclusive airdrops to surprise rewards from just owning multiple Zzoopers NFT, users can have fun while earning.
Creator of Zzoopers Genesis
The NFT boom resulted in more developers introducing different platforms, promising to offer new experiences. When MetaOasis, alongside Season Studio, came into the picture, it has shown pride in being one of the first DAOs focusing on employing a new model of investment and development of assets. By doing so, it helps solve issues such as high threshold high, vacancy rate, and low liquidity on metaverse assets.
While the project is fairly new and marketing has been on the low-down, MetaOasis DAO has already purchased dozens of lands in different metaverses, including a 3 x 3 estate in The Sandbox. As mentioned earlier, the project is expanding, and it will continue to do so to allow its users to have a more diversified portfolio.
Talking about royalties, MetaOasis DAO and Season Studio will have a 50/50 share of the 7.5% royalties on the secondary market. These royalties will be used to further develop the platform to offer more to the community.
A Thrilling Adventure Across Metaverses
Similar to humans, characters in this space are curious and adventurous animals, always on the go to discover new virtual worlds. If you want to be part of this epic adventure across different metaverses, this experience is for you. Expect fun and games, sprinkled with mystery airdrops exclusive to avatar the NFT holders. Unlock unlimited possibilities in this multi-metaverse world. Jump right into Zzoopers Genesis.