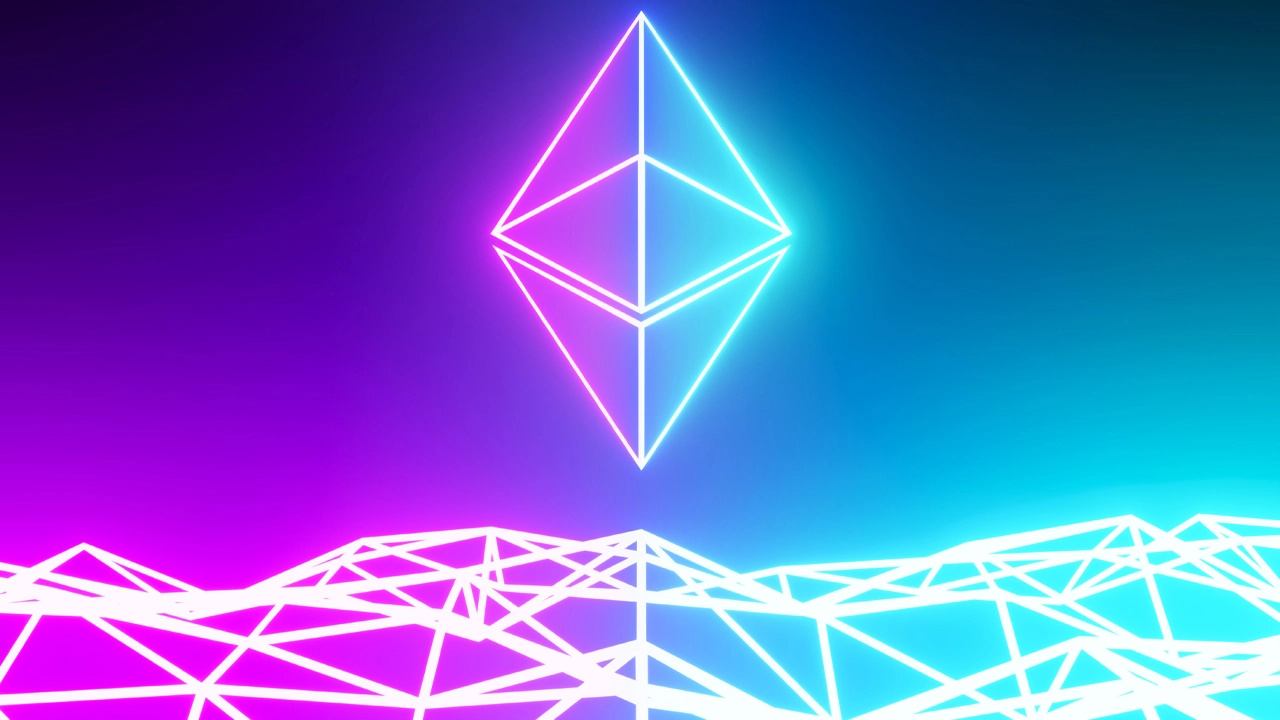 The number of Ethereum Name Service (ENS) domains is nearing the two million mark as 1,888,209 ENS names have been etched into the Ethereum blockchain to date. The project recently detailed that July saw the largest monthly rise in revenue scoring 5,400 ether worth roughly $2.48 million during the course of the month.
ENS Registration with 378K Names Registered on Ethereum Blockchain Last Month
ENS names are nearing the two million mark this week as there has been a steady increase in registrations over the course of a few months. Data from Dune Analytics indicates that after 67,095 ENS registrations in February, the number jumped to 85,272 ENS registrations the following month.
May saw a significant spike reaching 365,652 registrations or 328% higher than the month prior. The month of June saw a much lower count of ENS registrations as statistics show 122,327 names were registered that month. July, however, was an entirely different story as 378,804 ENS registrations were logged during the 31 days.
As of the first of the month, 1.86 million names have been registered on the Ethereum blockchain and today, 1,888,209 ENS names have been in-chain. Official ENS Twitter account tweeted The July milestone further noted that the project saw $6.8 million in protocol revenue that would all be directed to the project's DAO.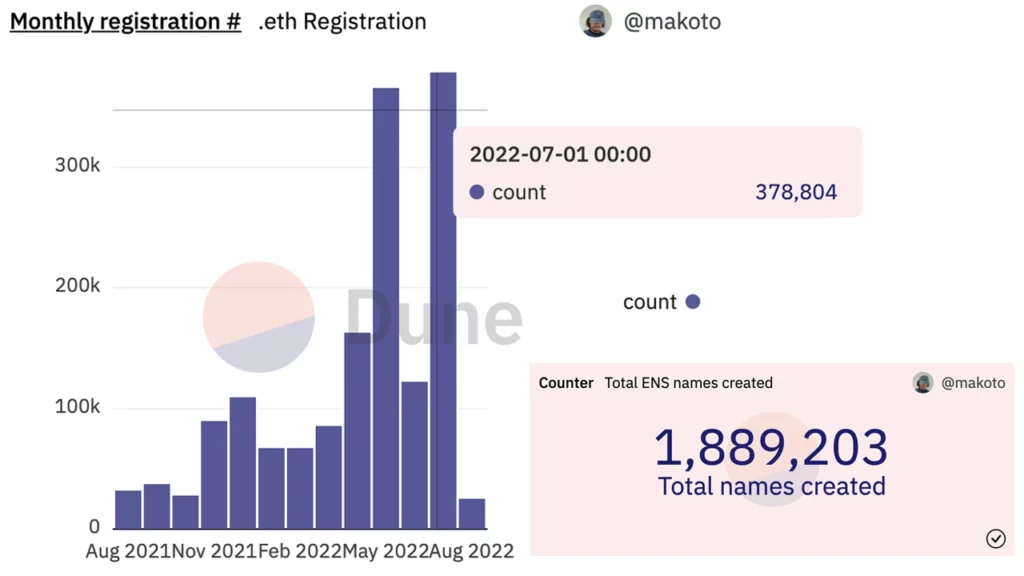 The protocol saw 5,400 ETH in revenue the "highest" month ever, according to the official Twitter account. ENS domain names are similar to the Internet's Domain Name Service (DNS), but the project's architecture adds an extensible naming system built on top of the Ethereum blockchain. Like DNS, Ethereum Name Service uses dot-separated hierarchical names (domains) and owners can leverage subdomains as well.
ENS names can also act as Ethereum addresses and other cryptographic addresses, but instead of a long string of alphanumeric characters, it can be a machine-readable name such as bob.eth. There are other blockchain projects that operate name services on alternative chains such as Bonfida's Solana name service and Terra once had a popular name service platform called TNS before the Tera blockchain project exploded.
ENS Governance Token Is Down 80% Since the Coin's Price High, Project Prints 50 Limited Edition Slipcased Copies of the ENS DAO Constitution
ENS also has a decentralized autonomous organization (DAO) for governance decisions and a native ecosystem token that's currently exchanging hands for $16.24 per unit. The crypto token ethereum name service (ENS) has a circulating supply of around 25.78 million ENS coins. ENS is ranked 114 among more than 13,000 crypto assets in existence and has a market cap of around $418.30 million.
While the ENS has gained 9% during the past 24 hours, the crypto asset has declined by 80% since the token's all-time high price nine months ago on November 11, 2021. At that time, ENS had exchanged hands at $83.40 per unit and June. On October 14, 2022, the ENS reached an all-time low of $7.45 per coin.
Statistics powered by Intotheblock.com show the concentration of large ENS token holders is 86% in comparison to bitcoin's (BTC) 10% concentration of large holders. During the last seven days, there were $41.60 million worth of ENS transactions greater than $100K recorded on the Ethereum blockchain. Data from cryptocompare.com shows that the largest trading pair with ENS is tether (USDT) as the stablecoin commands 79% of ENS trades on August 3.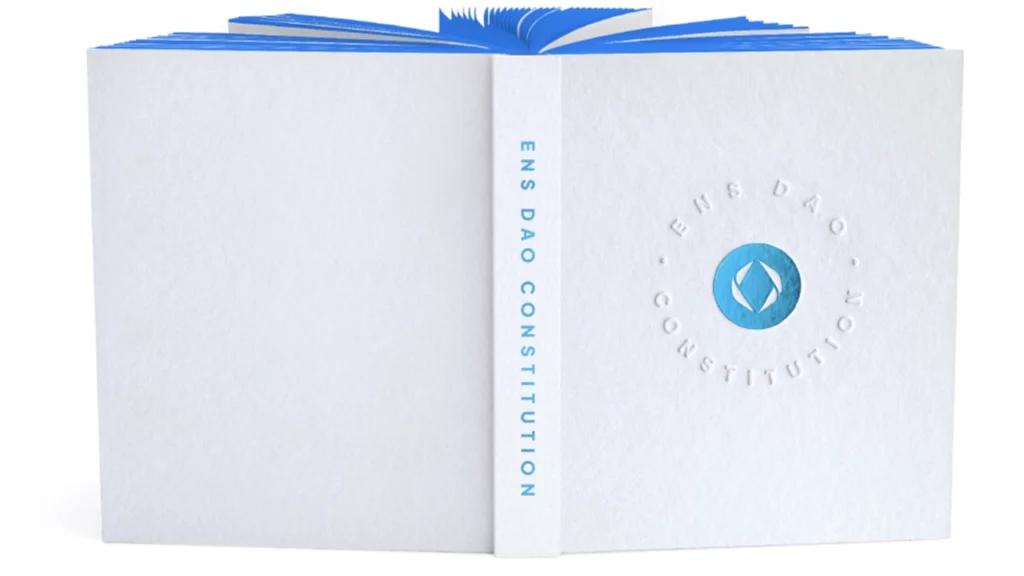 USDT is followed by BUSD with 7.94%, USD with 5.09%, USDC with 2.37%, TRY with 1.90%, and BTC with 1.54% of all ENS swaps. While ENS saw a significant increase in ENS registrations in May, the spike recorded in July saw significantly lower registration fees as Ethereum's average and average-sized data fees have been the lowest in months.
ENS just published its DAO constitution with its 48,823 signers, which is available for free digitally, and the project printed a set of 50 limited edition slipcased copies.