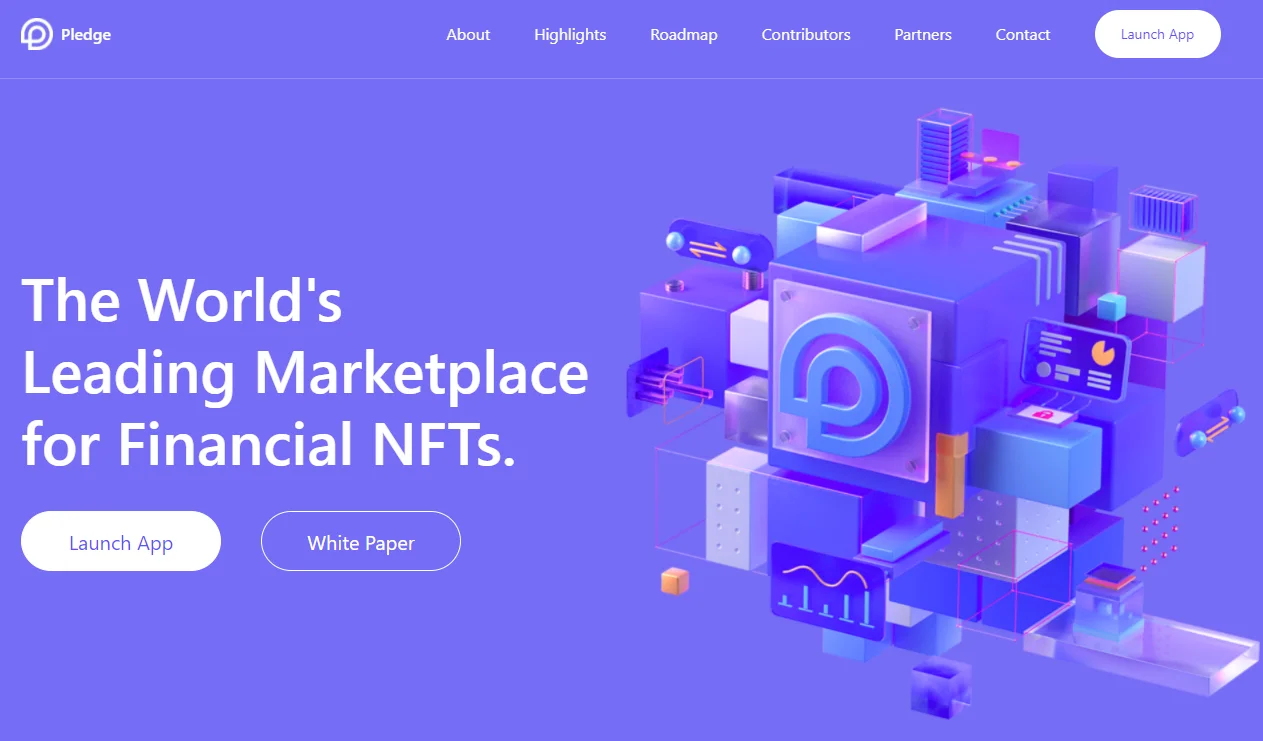 The Pledge Protocol (PLGR) is a cross-chain ecosystem, based on financial NFT, driven by algorithms, covering leding and derivatives on many major public chains. At the current stage, the pledge is first built under the Binance Smart Chain platform. Read on to learn more about the Pledge project.
What is Pledge Protocol (PLGR)?
Pledge is a decentralized protocol that establishes currency markets with fixed interest rates by algorithms and provides its own token in exchange called Tokens PLGR based on supply and demand for certain cryptocurrencies. This allows users to frictionlessly exchange the time value of money derived from secured digital assets and stablecoins. Pledge offers several financial NFTs anticipating the mass adoption and use of financial NFTs as a crucial component of the fixed income money market.
Pledge strives to build innovative technology and configure the infrastructure for the next generation of open finance and DeFi. It capitalizes on updated blockchain technology, most notably ERC 1155, to enable the realization of NFTs to represent assets like bonds, loans, etc. Pledge loans start with a fixed rate and window, more importantly, dropping the needs to meet the borrowing needs of miners and whales, unlike other DeFi lending protocols that offer floating lending rates for trades.
Pledge is designed for the international financial supply chain. There is an urgent need for financial institutions around the world to exchange their credit and debit card obligations for low-cost funding and liquidity. Pledge strives to serve this global financial supply chain through its decentralized ecosystem. This should be accomplished through the development of a financial NFT ecosystem that is interconnected across multiple chains. Once again, the Pledge's goals are unique from the rest. It aims to be a platform that lends crypto assets to non-traders. It seeks to be at the heart of the real-world application of crypto assets and the diversification of portfolios of holders of these same assets to include non-crypto assets such as real estate.
How does Pledge Protocol (PLGR) work?
Pledge uses a decentralized protocol that configures lending markets with algorithmically determined interest rates. It provides its native token called PLGR, which is provided based on the laws of supply and demand. For this reason, a user can seamlessly trade the time of money derived from stablecoins and secured digital assets. Borrowers pay fixed and forecasted interest, while PLGR holders get a fixed interest rate where earnings are accrued per block called APY (Annual Percentage Yield).
Alternatively, users can also be liquidity providers who can earn interest by providing capital in token liquidity pools. Another good thing with Pledge is that a user can create multiple liquidity pools with different maturities for the specific crypto asset. Each asset can have its own distinct transaction. Pledge offers the most important component that DeFi lacks, which is a flat fee. Even the palace of the traditional financial market has fixed interest rates, and Pledge brings that component to the DeFi space.
The Pledge took its lessons from existing DeFi projects over the past five years and maximized the lessons to arrive at a superior platform. A borrower can deposit crypto assets in a pledge as collateral. In return, they will receive a crypto asset holder who needs fiat liquidity, being able to pledge their assets on the Pledge and receive a steady and predictable flow of coins. As for liquidity providers, they can lend or provide liquidity by locking stablecoins in liquidity pools. They will receive a fixed interest rate plus their initial contribution after the loan matures. By reducing exposure to interest rate volatility, Pledge is ready to build a decentralized lending market that will increase the mass adoption of DeFi.
Some highlights from the Pledge:
Pledge leverages the latest blockchain technology, especially with ERC 1155, to allow the creation of NFTs representing each loan, bond, insurance and other assets.
Build fixed rate and term loans for Whale and Miner. Most leading DeFi protocols offer variable interest loans to traders. The commitment starts with a fixed fee and term, focusing primarily on serving whales and miners for their borrowing needs.
Institutions around the world have a need to exchange credit and debt obligations for low-cost, liquid capital. Pledge aims to serve this global financial supply chain through a decentralized ecosystem, building an interactive ecosystem of cross-chain NFT transactions.
Led by serial entrepreneur Tony Y. Chan and former Stanford GSB president Nicole Chang, Pledge is designed to be a leading mass-market financial NFT ecosystem.
PLGR token
PLGR is the Pledge token, which provides a direct way for users to commit to value transfers. PLGR is a building block of the Pledge platform, which is transferable, thus facilitating settlement, purchase and lending purposes.
When a user buys or sells a PLGR, he is simply transferring value from the present to the future. The PLGR represents an affirmation that can be either negative or positive. A negative claim occurs when a user is required to pay and a positive claim represents a right to receive. The PLGR cryptocurrency has the maximum supply of 3.000.000.000 PLGR tokens.
Final Thought
The Pledge Protocol ("Pledge") is an algorithm-driven, financial NFT-based cross-chain ecosystem covering loans and derivatives on many major public chains. At the current stage, the Pledge is first based on the Binance Smart Chain. Going forward, the Pledge aims to become the infrastructure for the next phase of global financial market evolution. PortalCripto hopes that the article has brought the necessary information about the Pledge project.