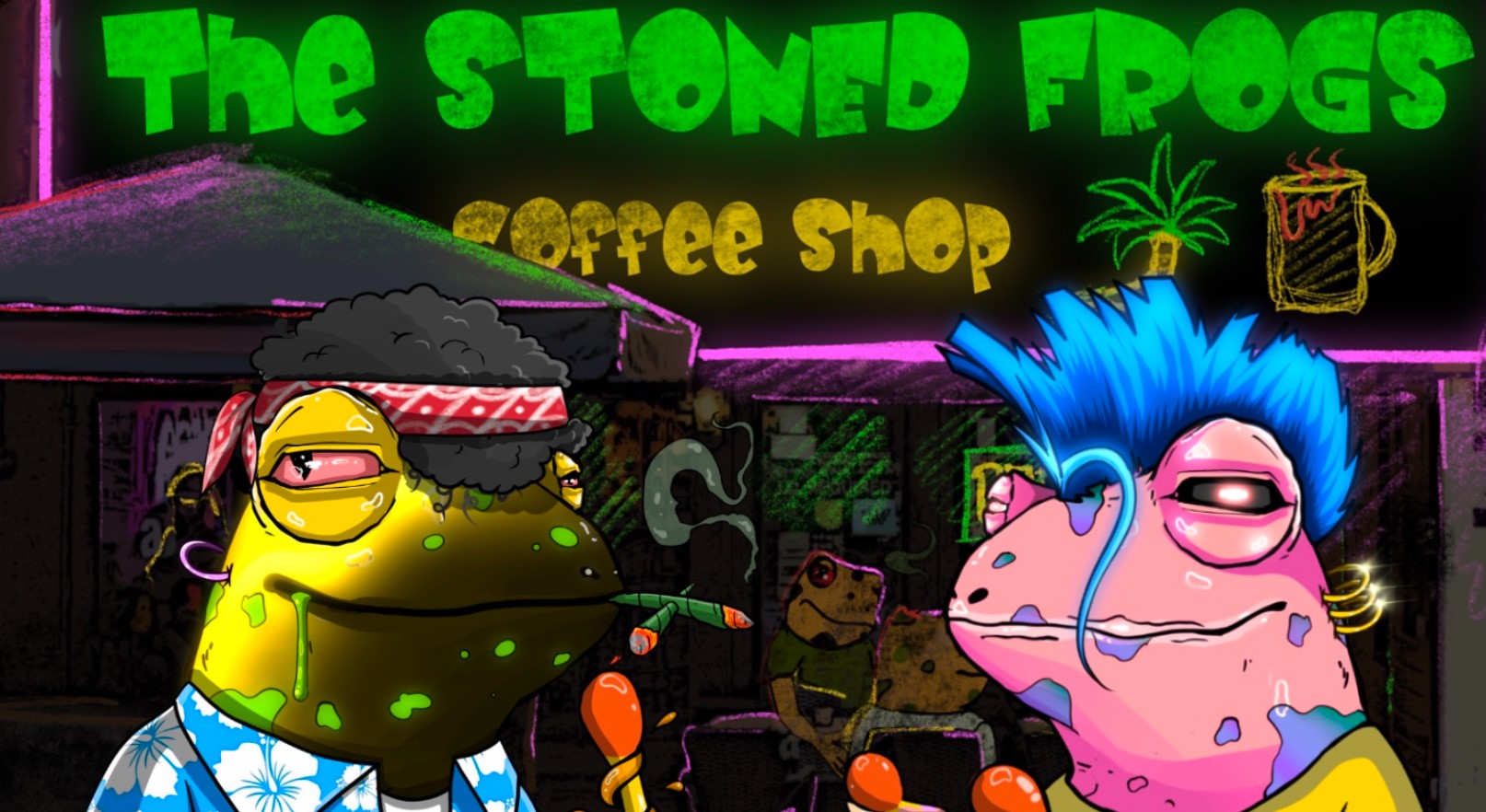 The Stoned Frogs is an NFT collection based on Solana comprised of 8.400 algorithmically generated cannabis-themed frogs that provide unique perks to the holder.
What is The Stoned Frogs?
The Stoned Frogs is a Solana-based NFT collection comprised of 8.400 algorithmically generated cannabis-themed frogs. The collection is now available on Magic Eden and Solanart. These frogs are known to be some of the biggest invaders on Twitter. It will channel its mint income and secondary royalties to fund its main aspects, which include its P2E game, SEED token, staking, Coffeeshop and staking, which will be discussed in detail later.
History
In a certain pond, a colony of frogs was going about their typical everyday life, eating insects and croaking all day, until one frog decided to go out of his way to follow a very inviting scent. As the frog followed the scent, he was led to a smoky lake filled with cannabis plants, and from there he gained a 'divine' consciousness, which made him return to his lake to share his higher knowledge. Through their lighting, their common pond turned into a paradise and the frogs into enlightened ones. But when a tragic storm came, their paradise was destroyed and the frogs were scattered. With the newborn 8.400 Stoned Frogs, there is now hope that its former glory can finally be restored.
How does The Stoned Frogs work?
P2E Game Fight to Win
Stoned Frogs characters can also be used by holders of the collection defense game, where players can participate in '3 versus 3' or '1 versus 1' options. Also, when playing the game, players must choose between two battle modes which are 'Unranked Debate' and 'Ranked Deathmatch'. Unranked Deathmatch allows players to battle through unranked '3v3' or '1v1' leaderboards in Stoned Frogs free-to-play battles.
Ranked Deathmatch, in turn, requires Tokens SEED, and its only difference is that players can now fight in '3v3' or '1v1' ranked fights. Also, in Deathmatch, the winners will receive 90% of the SEED tokens wagered in the battle, while the remaining 10% will be burned.
Cannabis Coffeeshop
The Cannabis Coffeeshop is the place where 'Frog' holders can finally meet in person, relax, build connections and share their unique and interconnected journeys in the Stoned Frogs universe.
Colognes
Holders can also join one of three Stoned Frogs colonies to passively earn a percentage of Cannabis Coffeeshops earnings. They will be in a specific colony depending on the number of Stoned Toads they are willing to bet, and the more toads they bet, the higher the passive income they can earn. The profits obtained by the holders of their participation will be distributed in their portfolios on a quarterly basis.
mystery boxes
Mystery Boxes allow holders to acquire high-priced surprise gifts by staking their Stoned Frogs to earn 'FLIES token', which will be used to open these boxes. Each box requires a specific amount of FLIES Tokens before it can be opened, and holders must be willing to bet several Stoned Frogs if they really want to open the mystery box. Why multiple frogs? Because it will take a full day for 1 Stoned Toad to earn just 1 FLIES token. And the only viable way to earn FLIES tokens at a faster rate is to bet 2 or more frogs at the same time.
The smallest amount of chips to open a mystery box is 20 FLIES, and by betting just 1 Stoned Toad, a wielder will spend a lot of time just to earn enough chips to open the box. Again, to minimize wait time, a holder should have several Stoned Frogs on hand to produce FLIES tokens faster.
To be clear, holders will not receive any cold cash when they open a mystery box; what they will receive are items and digital assets equivalent to the prize amount indicated on each box. These items include PS5, Apple Watch, Rolex, flight/hotel and lottery tickets, NFTs, USDC and FLIES tokens. Another reminder is that the FLIES token has no monetary value and is currently only valuable within the Stoned Frogs ecosystem.
The Stoned Frogs DAO
The 'Stoned' team plans to create a decentralized organization (DAO) that would provide critical functions for the community, including moderators and community managers. The team will also offer whitelisting options of various web3 projects and exclusive investment opportunities just for its DAO members.
Merchandise
The team also plans to create a Stoned Frogs online store that will eventually provide exclusive merchandise to Frog faithful. Some of the top products coming soon to this store include 'Stoned' themed items such as t-shirts, hats, hoodies and gift items.
The store will also sell cannabis, ashtrays, lighters and CBD products, which will obviously cater to existing cannabis enthusiasts. And Stoned Frog holders would be rewarded with discounts on all items within the store as a thank you for their support of the 'Stoned' ecosystem.
Reefer Party
Reefer Party will be the official name of the next real-life party for Stoned Frogs holders, an event that will focus on NFTs, Cannabis Culture and various fun competitions. Holders will be the only ones to vote on the exact date and location of the event, giving them decision-making power even in the platform's event planning.
Charity
The Stoned Frogs team is now working closely with their legal department to collaborate with respected cannabis charities to distribute SEED token donations. Once legal issues are resolved, the team will officially announce their charitable partners as soon as possible to address important issues.
SEED token
As of press time, Stoned Frogs official whitepaper has yet to release a detailed description and utilities of its SEED token. What we only know now is that holders can 'plant' these tokens to grow cannabis trees, which will produce more SEED tokens. But if holders wait too long before harvesting their cannabis trees, those trees will eventually dry up, wasting the opportunity to produce more SEED tokens.
Bottom Line
The Stoned Frogs is a well-packaged NFT collection for the CBD community that offers yield features, a P2E game, and of course cannabis-related offerings. But as there are other CBD-themed collections competing for the same audience as the NFT, it remains to be seen whether this collection can continually rise and gain a larger market share in the coming months.