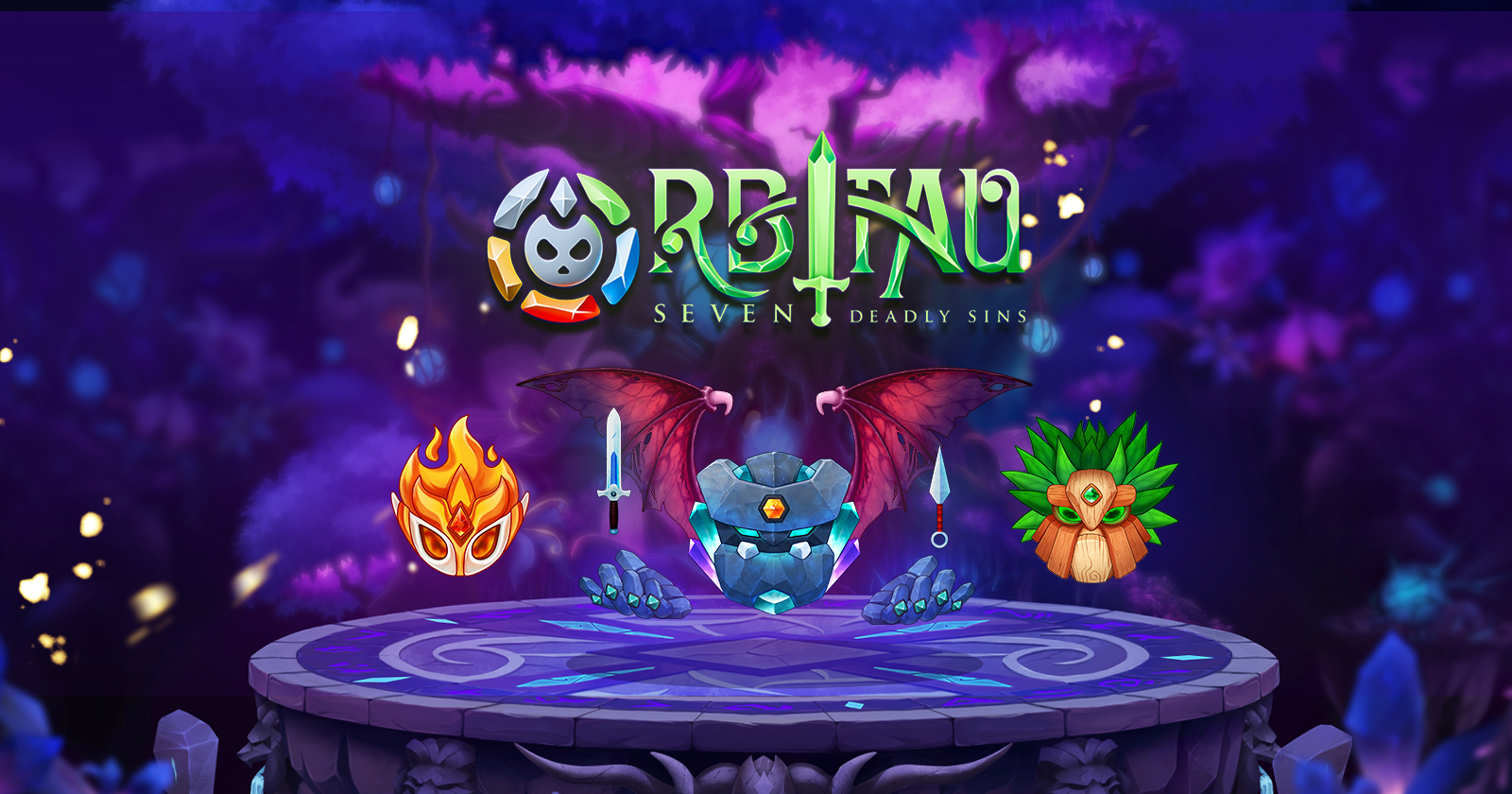 Orbitau – Seven Deadly Sins, a fantasy game inspired by Norse mythology and the seven deadly sins, offers players new experiences based on well-known legends.
In the project, players will directly participate in the Demon – God war with familiar turn-based strategy and RPG gameplay in a magical land of mixed reality and fiction created by blockchain technology. And the rewards are materially valuable, not just symbolic victories.
What is Orbitau (TAUM)?
Orbitau is the first game in the Taureum ecosystem, which is based around a turn-based idle combat/socialization game suitable for everyone to play. Characters in Orbitau are user-customized on every edge with numerous appearance and stat options, creating an exciting and adventurous world. The game is developed on Unity and Binance Smart Chain (BSC).
The player will take on the role of different heroes to conquer highly challenging but rewarding missions. Players can also team up to do co-op missions, form guilds, and fight each other. Players can even create unique and valuable NFTs that they can trade on our market.
Who are the founders of Orbitau Taureum?
Orbitau was created in May 2021 by F6 Galaxy – a tech-focused game developer with a team primarily based in Vietnam. It was co-founded by Minh Nguyen, Xa Que Nguyen and Duy Nguyen. Minh T Nguyen (Matt) is the current CEO and CTO of the project. Nguyen had 15 years of experience building Fintech and Ecommerce platforms.
He was Director of Engineering/Architect at PayPal, Risk and Compliance; CTO of ILA Vietnam, developing one of the largest EduTech platforms in Vietnam, serving 2 million users; Co-founder and former CTO of beGroup, 2nd largest carpooling/delivery platform in Vietnam, current valuation of $300 million. Our team consists of 40 full-time employees with a lot of experience in game development.
How does Orbitau (TAUM) work??
Unlike most NFT games available today, the development team at Orbitau wants to create a world where players can enjoy truly rich game content through an investment in storyline, a logical task system, and meticulously designed graphics to create a truly immersive experience.
Plot depth: For most current NFT games, plot twists are just an extra element. Orbitau based the plot on a synthesis of Norse mythology and the seven deadly sins, during which the Norse gods were imprisoned in Hell after Ragnarok. Players will encounter familiar gods, but their stories and endings will be drastically different. How will the gods' journey to conquer the lands of the Seven Princes of Hell end? Is it certain that good will always triumph over evil? Or was this initially just a war sparked by the hatred of one individual, and both the god and the demon lord were just chess pieces in his hand? Orbitau leaves the grand finale open for exploration throughout the game's numerous stages.
Mission logic system: Developed concurrently with the plot, the journey to conquer the lands of the game will take place in a rational way, from the departure of the troops to the withdrawal or construction of the territory. Players will have a lot of work ahead of them in terms of maintaining their army and expanding their territory.
Graphics and sound: Orbitau's strengths. The game's graphics are meticulously drawn in every pixel, with special attention paid to NFTs. In addition, the sound system is customized by an independent studio.
Additionally, Orbitau's unique game system will help retain players. The national war PVP feature allows players to engage in combat with players from all over the world, and joining a clan increases the scale of PVP battles, which will continue until a winner is determined. And, of course, reward chains will be highly proportional to tournament victory, battle pass, or season ranking.
Abundant NFT system within the Taureum ecosystem
As the first Game-Fi project in the Taureum ecosystem, the Orbitau game offers players significantly greater potential for income growth than most other games today due to a more robust NFT item system. In addition, Taum – Orbitau's primary token – will be used in future games/projects developed by the team.
Territory: Unique elemental lands to help you establish your own colony, upgrade heroes, and collect rare resources.
Gods: In addition to having unique skill sets, different gods can be upgraded and each time will increase their value incrementally. Additionally, gods can be combined to create Eggs, items that are intrinsically more valuable than the "parents" themselves.
Beasts: A God is incomplete without his summoned beast, and possessing a unique beast will no doubt excite him.
Ornaments and Weapons: Players can customize not only their domains, but also the abilities and appearance of the gods, making them truly unique and representative of the players.
All of these item categories can be accessed through bonus activities, combos, upgrades or even lucky spins. Players can use these assets to participate in the decentralized financial market, directly joining the Taureum ecosystem through two Tokens:
Taum: the main currency associated with De-Fi and centralized exchanges around the world; is used to buy and sell NFTs or other items on Orbitau.
Ori: A unit used to upgrade heroes, territories, and weapons; or combine heroes and build clans.
The transaction process for NFTs is guaranteed to be secure, unique and simple for all players through smart contracts compliant with the ERC-721 standard. Furthermore, for the tokens being implemented on the Binance Smart Chain platform, they will be exchanged at a low cost of gas and provide a highly profitable staking opportunity due to the sharing of the commission by the high trading volume.
In addition to the inherent strengths of an NFT game and the well-learned successes and failures of its predecessors, Orbitau also offers exciting storylines, excellent sound and graphics, and a rich NFT collection supported by a larger ecosystem. The game itself also introduces players to a unique game with pre-metaverse experiences. Along with trading, in-game items and tokens can be used to participate in De-Fi or serve as a repository of trusted assets in the digital world.
Heroes corresponding to the 5 elements of life
Inspired by European mythical tales, Orbitau allows players to assume the form of heroes corresponding to the 5 elements of life:
Ocean
Hot coal
Floresta
Terra
Ore
Players can also team up to do co-op missions, form guilds, and fight each other. During the game, players can create unique and valuable NFTs that can be traded on the market. In Orbitau, NFTs include Eggs, Heroes, Pets, Land and Rare Items.
Game Features
Immersive PvE experience where users can enjoy the mythical world of Orbitau
Combine and upgrade heroes
Pet and pet upgrade system
PvE mission
tower training
Exciting community with lots of resources for players to work together or compete to be the king.
guild quest
PvP and dungeon co-op
Land ownership and tax system
Trade NFT and earn with Orbitau
NFT rating market
NFTs
In Orbitau, NFTs include Eggs, Heroes, Pets, Land and Rare Items.
Heroes, pets and lands can be pre-purchased, weekly events or traded in the NFT market. Heroes and pets have matching and upgrading mechanisms that allow players to create their own unique NFTs.
Game
DAILY MISSION – Every day the to-do list will be renewed and you will always receive a reward for your hard work. The daily quest also reveals a part of the plot.
WEEKLY MISSION – In addition to the daily and weekly quests, players will also face greater challenges and of course, receive greater rewards.
TOWER – According to the story, players will pass through towers of increasing complexity according to their current power level and will receive many high-value rewards along the journey to conquer the lands.
GUILD – Once you become a member of a Clan/Guild, you will join other players in Clan development activities such as building clan facilities, hunting bosses, conquering territories and profiting from taxes.
HERO – Players start their journey with three heroes, each with their own set of skills: you can freely upgrade and organize your own gods to devise the most effective strategy.
INVENTORY – Using their inventory, players can combine accessories, create squads, strengthen heroes, and build their own unique resources.
SHOPPING – The store is a place for players to browse the magnificent treasures, relieve stress, and learn the value they will receive for their efforts on Orbitau.
TERRITORY SYSTEM – With four levels of "Common", "Rare", "Legend" and "Epic" and a set of five elements "Ember", "Ocean", "Earth", "Forest" and "Ore", the players can create a multitude of different strategies based on their own preferences.
Orbitau Tokens
Taum Token
TAUM is a governance token for all games in the ecosystem. The token is used to buy products and services on the ecosystem as well as on the Orbitau NFT marketplace. TAUM holders will have the right to vote on projects related to Taureum.
Total supply: 1.000.000.000
ORI token
ORI is a utility token for the Obirtau universe, players can earn ORI and spend game activities ORI ORI can be exchanged for TAUM at a predetermined rate.
Total supply: 1.000.000.000
Token use case
TAUM token
Earning TAUM:
Do missions in the game
In-game activities: tower training, PvP, etc.
lucky event
Bet reward
Spending TAUM:
Buy items, eggs, heroes in NFT markets
Main hero update
breeding eggs
ORI token
Earning ORI:
Do missions in the game
In-game activities: tower training, PvP, etc;
really lucky
Bet reward
Spending ORI:
update hero
Buy in-game items
breeding eggs
Bottom Line
Orbitau, the first game in the Taureum ecosystem, is a turn-based idle trade/battle game suitable for all players. Characters in Orbitau are customized by users from every angle with numerous appearance and stat options, creating a colorful world.