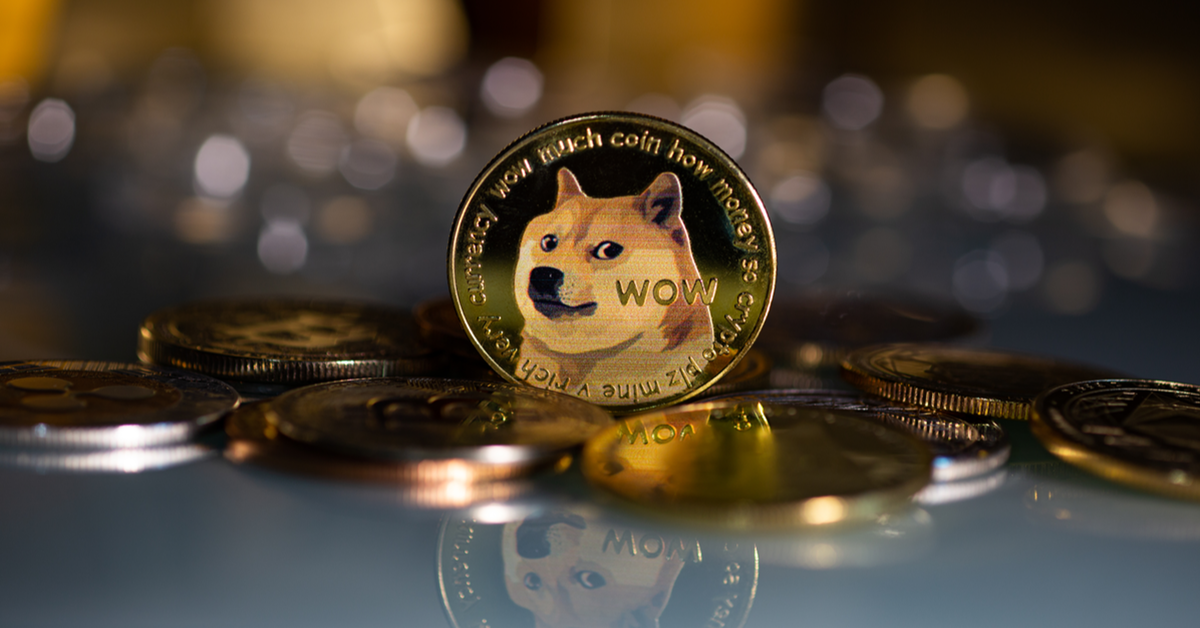 Amidst the turmoil the famous dog themed meme cryptocurrency, Dogecoin, has seen a mixed reaction from the market. Dogecoin's upward rally of over 150%, which was initially fueled by Elon Musk's Twitter acquisition, has now gone completely under the blanket as the collapse of FTX caught the attention of investors.
The downfall of FTX has brought extreme fear for whale holders and investors as they were pushed to book profits to avoid making any further significant losses. However, whales now have started accumulating DOGE again with an optimistic hope relying on Doge-father Elon Musk's further moves, which can soon lift the meme coin to new highs.
Dogecoin Whale Accumulation May Bring Small Pressure!
After trading in bearish territory for nearly six months, Dogecoin's massive upward move in October brought bullish hopes for investors with a much-anticipated price target of $1. However, Dogecoin failed to maintain its stability above $0.1 as it got trapped by the market bears after triggered by the demise of FTX.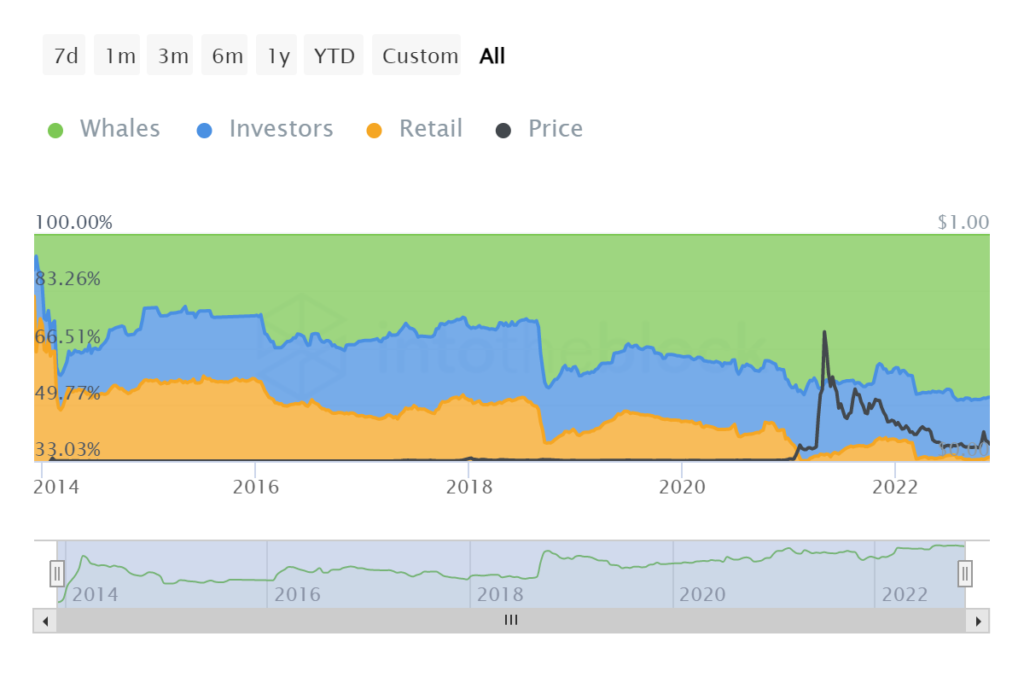 According to on-chain analyst firm IntoTheBlock, whale investors have woken up amid the current market crash, which has pushed DOGE's price to its initial price level of $0.08. Some analysts see this price level as an excellent opportunity to execute 'buy the dip, sell the rip.' The firm noted that large holders made an inflow of 871 million DOGE with a hope of a bull run in the next few days to maximize the profits of their DOGE holdings.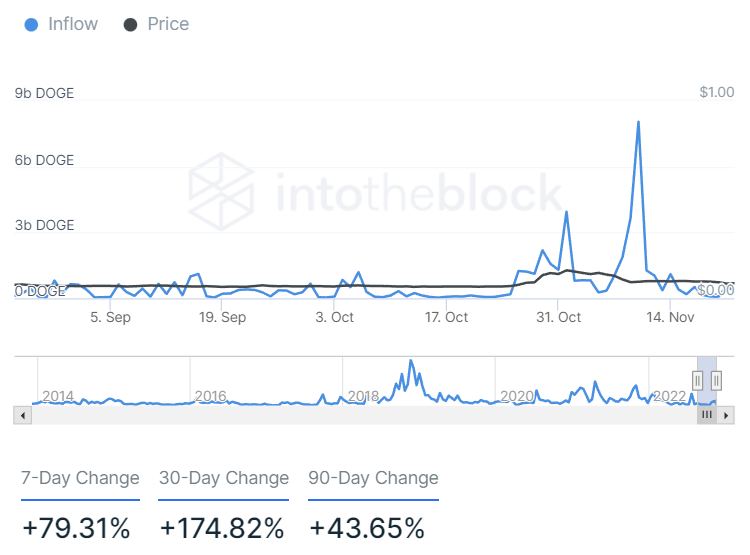 Furthermore, a well-known pseudonymous crypto analyst, CryptoDailyTS, Predicted A break above the $0.08 resistance could bring more buying pressure to the DOGE price chart as investors are piling on the downside. The analyst further predicted that the continued whale accumulation for DOGE could force short sellers to exit their positions, leading to a short squeeze to $0.09.
DOGE Price To Fly Above New Highs
Twitter's CEO Elon Musk has been quite dominant in controlling the price movement of Dogecoin through his influential tweets. It is expected that Dogecoin's integration with the social media giant may bring a robust upward rally with the aim of $1 ahead.
Over the past few days, Dogecoin has been making a gradual northward move on the price charts after breaking its immediate resistance level of $0.078. Looking at the daily price development, DOGE is trading at $0.08029 with an increase of 3.2% from yesterday's performance.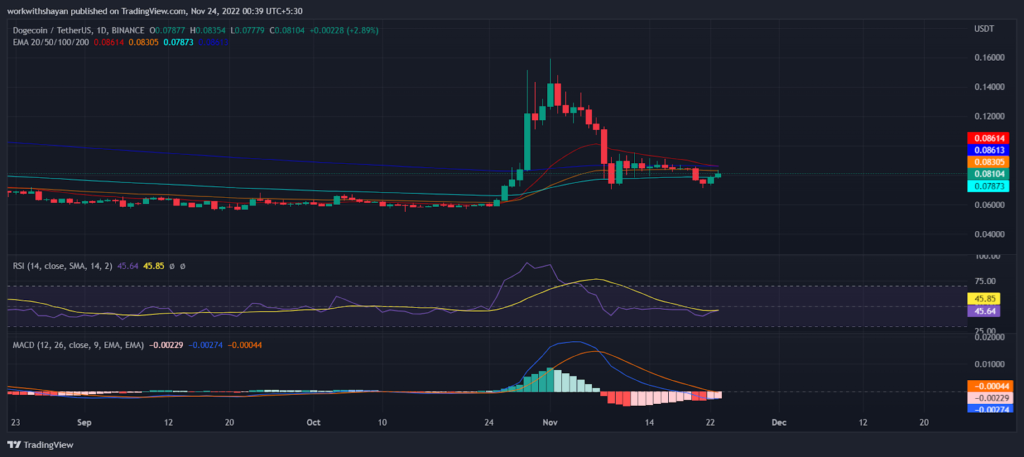 The RSI-14 indicator is making a solid upswing as it trades at 45-level, hinting at intense buying pressure in the DOGE price chart. Moreover, the MACD line has gained control near its signal line and aims to take the meme coin to its 23.6% Fib retracement at $0.084.
However, there is a strong resistance area at $0.86, where the EMA-200 is currently trading. If DOGE overcomes its resistance at $0.86, it could attempt a bullish breakout to the upper boundary of its Bollinger Bands at $0.94 and head towards its next resistance at $0.12.
However, Dogecoin may retest its support level at $0.073 before initiating a clear uptrend. If DOGE fails to hold its price above $0.073, it may significantly drop to its Bollinger band's lower limit of $0.05 and consolidate in that region for the rest of the year.