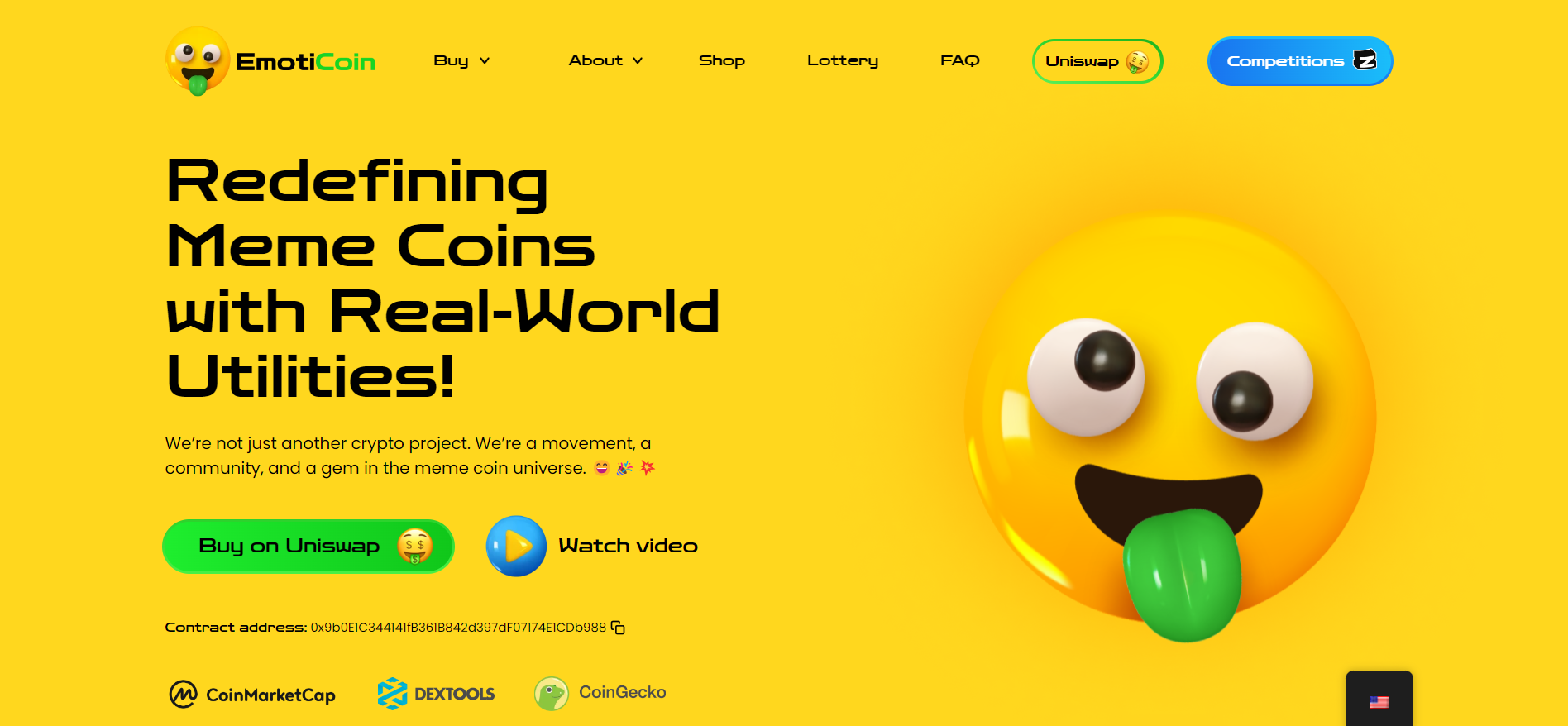 About EmotiCoin
EmotiCoin, as a pioneering utility Memecoin, has captured the essence of modern digital expression on the blockchain through its innovative features and functionalities. Built on the secure and versatile ERC-20 Blockchain, EmotiCoin offers users a unique platform to interact, share, and express themselves in the ever-evolving landscape of cryptocurrency.
The core driving force behind EmotiCoin is its vibrant team of 40 individuals, each contributing their expertise to shape the coin's trajectory. With a shared passion for blockchain technology and digital creativity, this dedicated team operates under the esteemed DMCC license (DMCC-886633) in the vibrant city of Dubai. This licensing underscores EmotiCoin's commitment to adhering to regulatory standards and providing a trustworthy and transparent platform for its users.
Reverse Split Protocol
EmotiCoin's Reverse Split Protocol (RSP) works its magic! Every 4 hours over 14 days,20% supply reductions happen, totaling 84 enchanting transformations! Less tokens, bigger value – the ultimate EmotiCoin delight!
Renounced Contract
The EmotiCoin contract comes with renounced ownership, ensuring a trustless and decentralized experience. No worries, no intermediaries- just a safe and magical journey!
Tax Auto-Removal
On the 14th day, auto tax magically disappears as we set it to 0/0! Say goodbye to taxes and live in a tax-free future. Cheers to boundless gains and a fun journey ahead!
20% price pump every 4h
Experience a mind-blowing 20% price pump every 4 hours! Get ready to ride the rocket to the moon as EmotiCoin skyrockets! Join the community for non-stop excitement and gains!
EmotiCoin Tokenomics
For the first 14 days, taxes are set at 5/5% But stay calm! After this period, taxes disappear like magic! Moreover, some of the taxes support Tier 1 exchange listings and worldwide marketing efforts!
Marketing
3% is allocated to Marketing – Spreading the EmotiCoin magic worldwide! The powerful campaigns captivate audiences, attracting more holders to join the fun!
Development
1% fuels Development – Investing in a team of wizards that bring groundbreaking enhancements! With each upgrade, EmotiCoin evolves, ensuring its journey stays ahead of the curve!
Features
Digital Expression on the Blockchain
The allows users to capture the essence of modern digital expression on the blockchain, acknowledging memes and digital culture's significance in today's online environment, providing a space where users can express themselves.
ERC-20 Compatibility
It was built upon the ERC-20 blockchain standard to ensure it is safe, easily transferable, and compatible with many wallets and exchanges, giving its users flexibility and accessibility.
EmotiCoin Offers an Innovative Meme Marketplace:
The provides an innovative meme marketplace where users can buy, sell and trade memes and digital content – providing an ecosystem where creative expressions can monetized while engaging in meme-driven commerce.
Community Engagement
EmotiCoin brings together an engaged and active community of users who all share an affinity for digital expression. The community-centric nature of the coin promotes collaboration, creativity, and the sharing of ideas among its users.
Secure and Transparent Transactions
EmotiCoin's blockchain technology ensures the safety and transparency of every transaction, giving users the confidence they need when buying, selling or trading memes – knowing their transactions are recorded on an immutable ledger.
Decentralized Governance
The employs a decentralized governance model, giving users a say in its development and future direction. This gives community control over upgrades, features, and partnerships – empowering it to make decisions regarding upgrades, features, and partnerships that benefit them personally.
Staking and Rewards
This provides users with opportunities to stake, allowing them to reap the benefits of participating actively in its ecosystem and receiving The tokens as rewards for contributing.
Cross-Platform Integration
It was designed to seamlessly integrate with various social media platforms and digital communities, giving users access to share memes or digital expressions across a broad array of online environments.
NFT Integration
EmotiCoin also explores incorporating NFTs (Non-Fungible Tokens) into its ecosystem to enable users to tokenize memes and digital creations for further monetization opportunities.
Constant Innovation
The remains at the forefront of digital expression and blockchain technology, constantly updating its features and functionalities to stay up-to-date with changing cryptocurrency culture and meme culture.
Bottom Line
EmotiCoin represents the ever-evolving intersection between digital culture and blockchain technology. Capturing the spirit of contemporary digital expression, EmotiCoin gives users a secure yet creative means of engaging with cryptocurrency. Innovative features powered by the ERC-20 blockchain not only facilitate financial transactions but also create a vibrant community of digital enthusiasts.
EmotiCoin's dedication to adapting and growing with the ever-evolving digital culture ensures it remains at the forefront of this groundbreaking fusion. As our digital world changes, EmotiCoin stands as an evidence of blockchain's vast capabilities for revolutionizing how people interact, share information and express themselves.