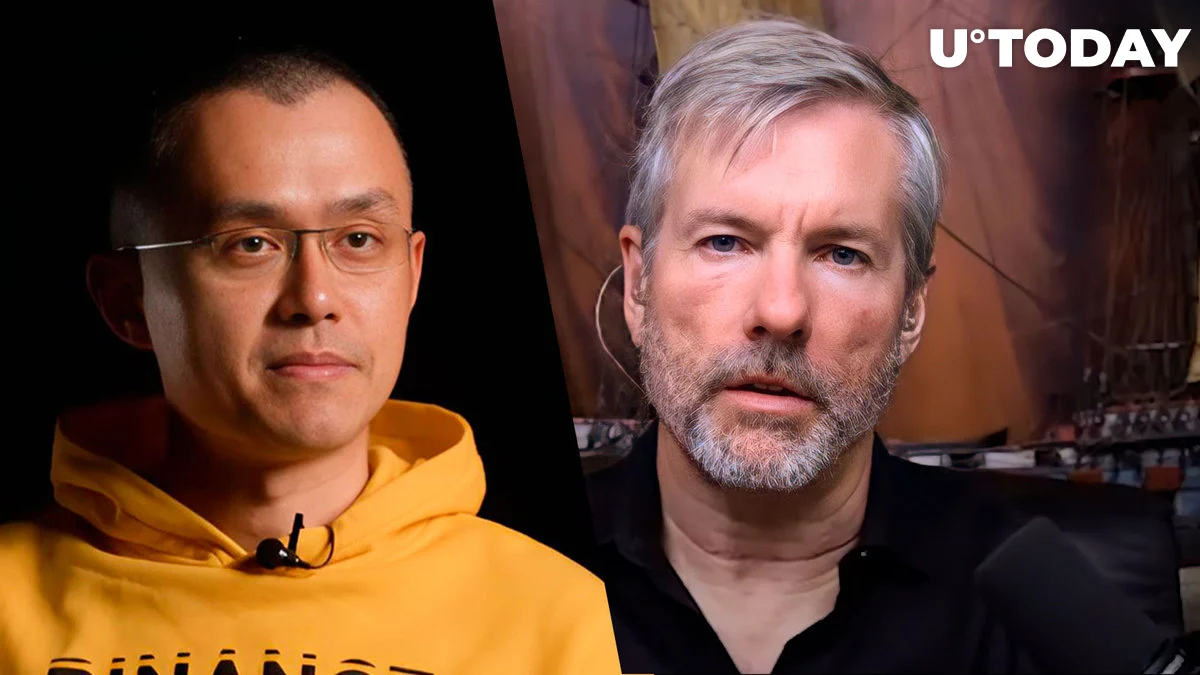 Changpeng Zhao, the cofounder and CEO of Binance Exchange, has written an X post endorsing MicroStrategy inventor Michael Saylor's Bitcoin accumulating approach, which the firm has been pursuing for the last three years.
CZ extends support to Michael Saylor on Bitcoin
CZ shared an X post from Saylor that was published the day prior, in which he demonstrated the massive rise in Bitcoin when MicroStrategy started accumulating Bitcoin in August 2020.
Saylor tweeted that since then, the value of BTC has increased by 214%, while the value of gold has decreased by 3%. Many detractors of Bitcoin, including bankers and conservative financial organisations like Jamie Dimon, the chairman of JP Morgan, were listed by CZ. They assert that Bitcoin is "too volatile" to be a reliable store of wealth.
https://x.com/cz_binance/status/1724381499682689285?s=20
MicroStrategy boasts crazy BTC profits
Since implementing its Bitcoin strategy three years ago, MicroStrategy has been steadily acquiring Bitcoin in little amounts. The massive Saylor-run business intelligence firm has acquired 28,560 Bitcoin (worth $734 million) at an average price of $25,707 since May of last year.
The business paid an astounding $5.3 million for another Bitcoin chunk of 155 BTC in October. MicroStrategy currently has 158,400 Bitcoin in total, which is valued at an astounding $5,760,295,200.
It was recently announced that the industry leader in business intelligence declared an incredible unrealized profit of more than $1.1 billion on the Bitcoin it owns. This information was released when Bitcoin started to show signs of growth, moving up from the $34,600 range to a top of $37,890 on November 9.
Since then, Bitcoin has progressively lost about 4% of its value. It has twice dropped below $36,240, but is presently trading at $36,462 on the Bitstamp platform.
BlackRock aims at Ethereum ETF after filing for BTC ETF
The community's expectations that, until November 17, the U.S. regulator SEC may ultimately approve Bitcoin spot ETFs are what caused the previously stated Bitcoin increase. Although the SEC team is now reviewing over a dozen ETF files, including those from Ark Investment, Fidelity, Grayscale, VanEck, and others, the BlackRock filing is expected to be the first.
Many analysts predict that if the regulator decides to authorise a Bitcoin spot ETF, it will bring billions of dollars of liquidity into the cryptocurrency. While this is going on, BlackRock has already started the process of establishing an Ethereum ETF and dispelling unfounded rumours that it had submitted an application for an XRP-based ETF. Earlier today, XRP crashed 12% due to the latter news.