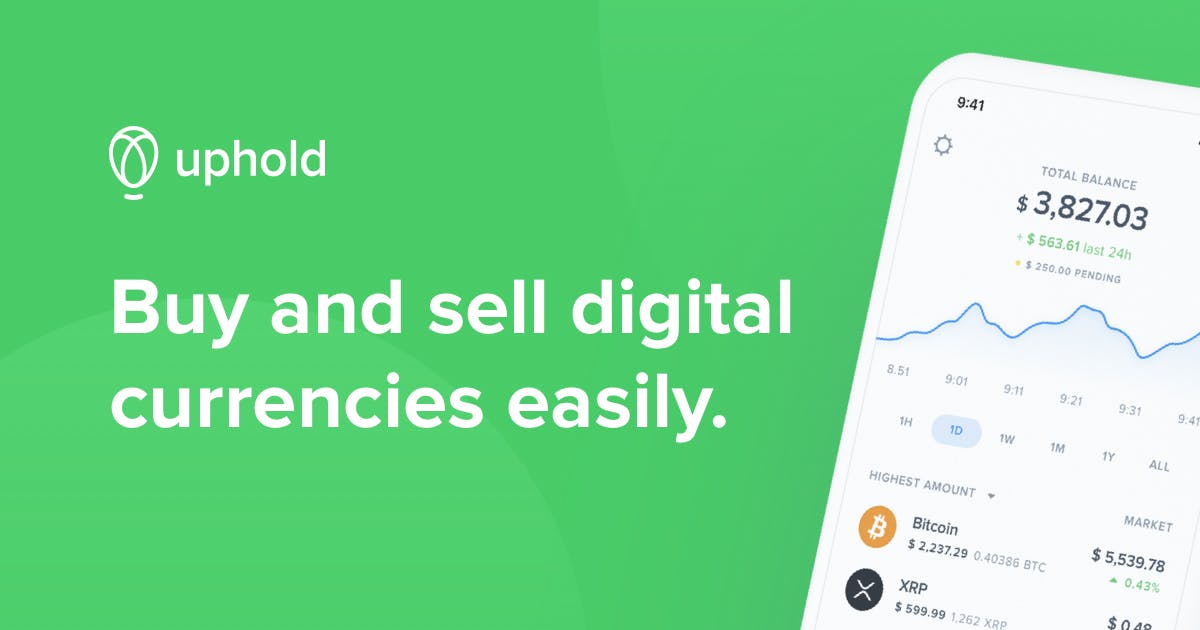 Uphold exchange is an extremely unique platform on both desktop and through a mobile app that allows you to trade cryptocurrency, metals, stocks, and other assets with ease. The company was founded in 2014 and is still based in the United States. It is extremely unique in that it allows for cross-asset trading that saves time and money. This feature has really made it a standout among traders.
Trust
When it comes to trust and security, this is a key area to be certain of before you choose to trade with Uphold exchange or any other service. Firstly, Uphold exchange have been around in the industry now since 2014 without any major complaint or incident. This positive record is a good sign. Regarding the safety and security of your funds when making a trade at Uphold, you should be aware that they do not appear to be FDIC or SIPC insured. This means that it may be more challenging if you do run into issues, though this has not been a problem for more than 1 million traders around the world to date.
On transactional security with the platform, they assure traders that the most up-to-date and secure encryption protocols are used to maximize security for your transactions. This includes with their digital wallet storage, while they use Plaid to connect and complete any transactions with your bank. A final point to note besides these is that the company now boasts more than 1.5 million users in over 180 countries worldwide. This too lends a great deal of credibility to their reputation.
Investment Products
This is really where Uphold exchange comes into its own. They offer access to an extensive, and varied selection of assets. This selection now numbers well over 100 assets in total across a number of categories.
This includes trading in more than 40 cryptocurrencies, stocks, precious metals, and with some of the lowest rates if you need to swap forex currencies through the platform. They are an extremely diverse trading platform with the added and extremely unique ability for you to trade across asset classes directly.
What this means is you can trade something like Bitcoin directly for Gold, or some of the dozens of equities or other assets on offer. You can also make this trade directly from your bank account, digital wallet, or through your debit card, which Uphold also offers. This direct trading and automatic conversion allow you to save both time, and money on fees for currency conversions typically through the US Dollar that would be required with other trading platforms.
What makes Uphold limit orders better than competitors is that you:
You can set up an order without locking those funds. Meaning balance is still available for customers to trade or invest with.
Because of the above customers can have up to 50 limit orders in place simultaneously using the same pool of capital. This means a customer initial pool of capital is worth
Best of all for USA investors, they have a debit card where you are able to spend/manage all that's in the account plus earn cashback and crypto.
Trading & Fees
Uphold exchange operates on a commission-free basis. This does not mean the service is completely free as they do charge a spread which is how they make money. They do not have any trading commissions though, and nor are there any deposit or withdrawal fees.
The spreads are kept as competitive as possible. On forex currencies, this starts from 0.2% while the typical spread on cryptocurrencies ranges from 0.8% to 1.2% depending on the asset. The spread on equities is usually from 1% while that on precious metals ranges from 1.05% up to 3.95% added to the spread of their supplier.
There are no hidden fees to worry about beyond the spread, and the company very actively promotes the fact that the price you see is the price you pay. The minimum deposit at Uphold is $10 although there is no minimum trade amount. You will also be able to engage in fractional trading on all assets which keeps the service very accessible to all.
Pros
Low minimum deposit makes it very accessible
Commission-free trading on all assets
Direct cross-asset trading is facilitated
A highly customizable, user-friendly trading platform
Debit card that earns cashback & crypto.
Customers can have up to 50 limit orders in place simultaneously using the same pool of capital
Cons
Spreads on lower volume assets can be high
Asset selection is limited compared to some exchanges
Trading Platform
Both the desktop and mobile app trading experience at Uphold exchange is extremely intuitive. The trading view is completely customizable with the assets that you trade the most and it has a very easy to navigate, and modern feel on both desktop and mobile. It is a very popular and suitable choice, particularly for new traders.
Besides being visibly appealing, the Uphold exchange trading platform allows you to place your trades with great ease. Just a couple of clicks and you can make trades directly from your deposit method without even having to wait for funds to clear to your account. This one-step ordering is another innovation from the company who pride themselves on the usability of their platform. They have also added the ability to execute limit orders.
Summary
In all, Uphold exchange is an experienced and extremely innovative trading platform that should be able to meet your needs for trading across a number of asset classes. Beyond the ease of use and innovative features within the trading platform, what stands out about the company is the credibility they have gained in the industry.
This is well-illustrated by the huge following of traders they have amassed all around the world, and how they continue to expand and innovate within a very competitive sector providing commission-free trading.