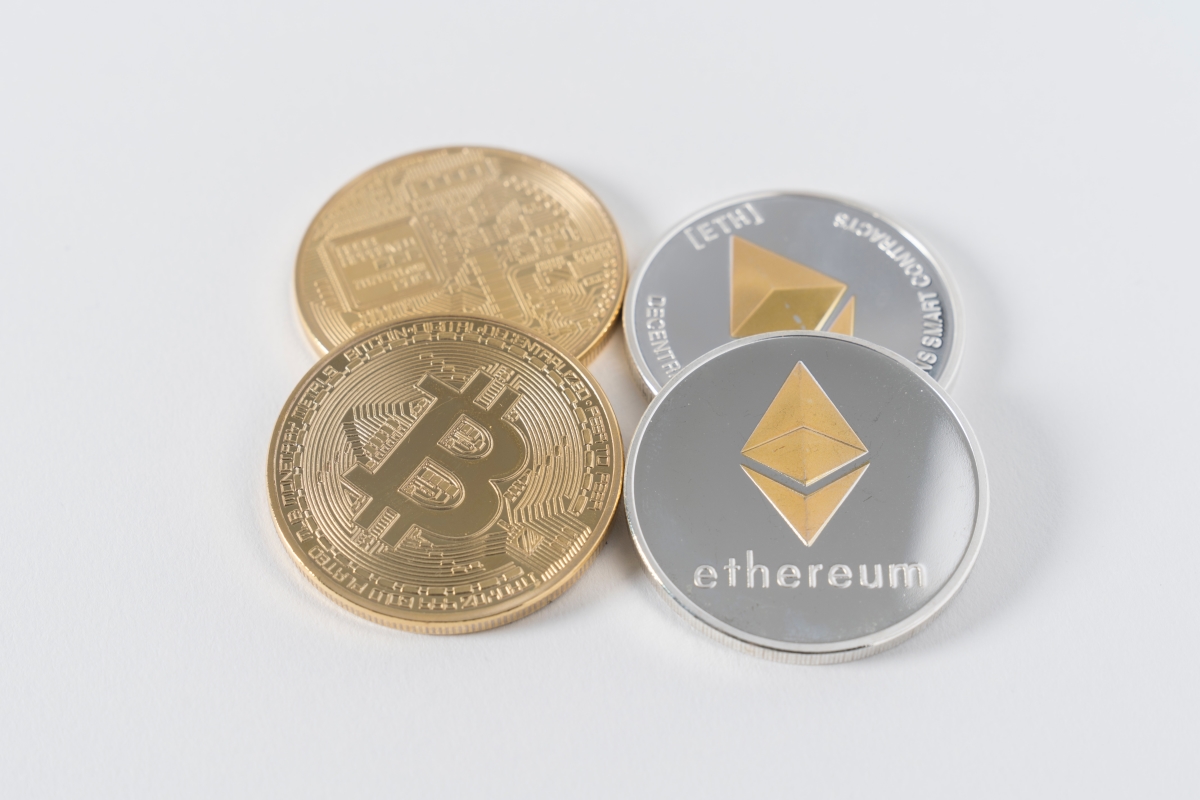 Short-term investors should look away at the moment. Or look closely, depending on one's appetite for fear. Bitcoin and Ethereum recorded their biggest one-hour correction candles in the past few hours. BTC fell 3.38% in the chart and Ethereum was down 5.58%.
However, the worst might not be over for both the top assets, as they might gearing up for a bumpy weekend. In this article, we will analyze the current catalysts that may have a large say in the short-term trading sessions.
Bitcoin, Ethereum Trading Options Look For Losses
Since such short-term corrections do not cause massive fundamental changes, we will look at the immediate market sentiment on the derivatives side for both assets.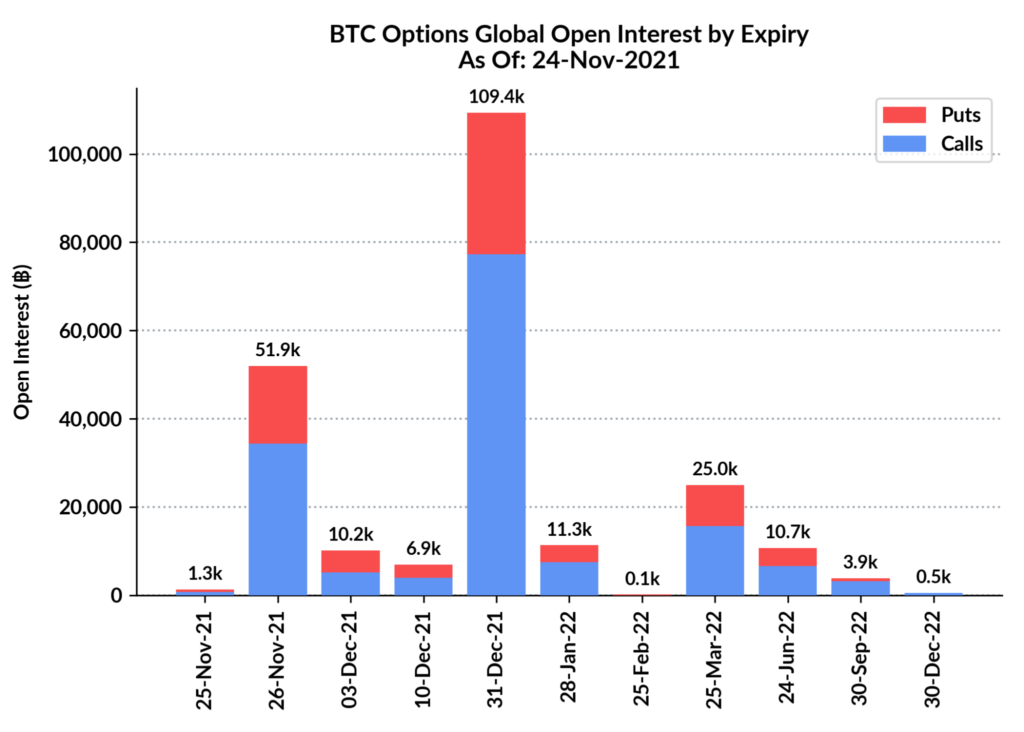 According to data from Skew, Over 51.9k Bitcoin will enter contract expiry post 26 November. Similarly, for Ethereum, 297.8k ETH options are ending towards execution, and the major conundrum was common. Both Bitcoin and Ethereum options had a majority in call buys which means there will be a higher number of contracts undergoing losses.
With over 50% of options reaching a loss state, this could further weaken market sentiment as the weekend approaches. The options market will not reach a retest state until Monday, and bearish unpredictability could force prices even lower.
What levels should we look out for?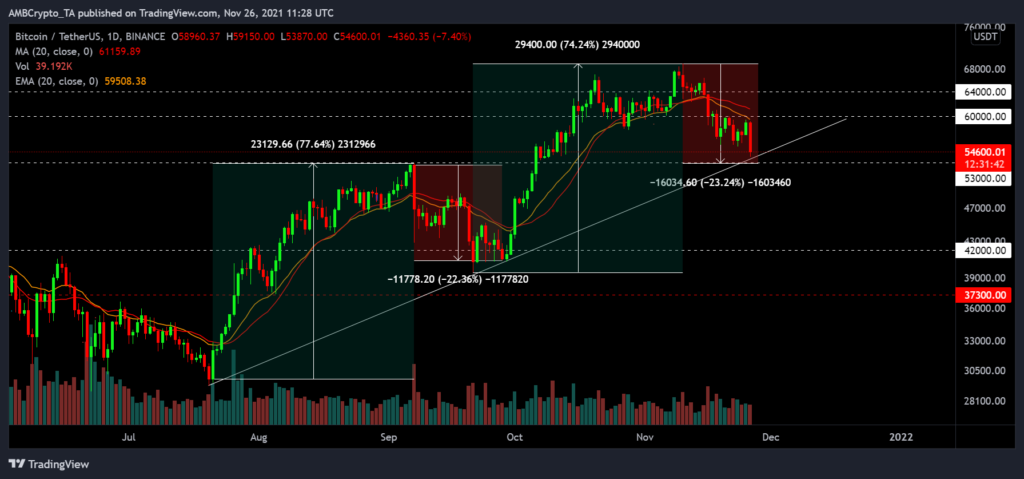 Looking at the daily chart for Bitcoin, a fractal is currently forming which is not necessarily bullish. As highlighted earlier, Bitcoin will maintain a bullish structure until it remains above the $53,000 mark in the charts. Hence, over the weekend, the price of Bitcoin may dip below or around the aforementioned range.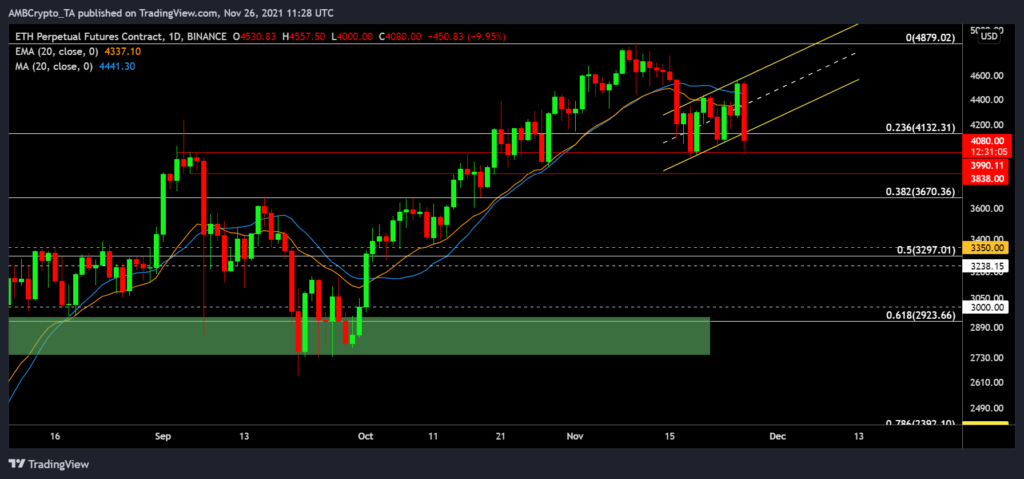 With Ethereum, the retest area could be a little lower than its current level. At the time of going to press, the ETH daily chart appears to be breaking below its ascending channel. Corrections can lead to Ethereum falling into the $ 3,600 to $ 3,700 range before returning to the charts. However, such a massive drop over the weekend can only be speculated, and it could happen within the next week.