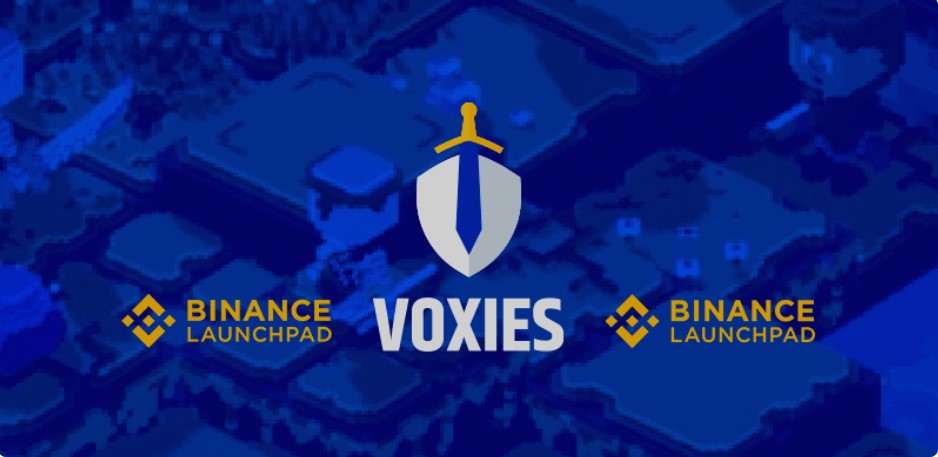 Voxies (VOXEL) is the native utility currency of Voxie Tactics, a 3D turn-based tactical RPG game built on a blockchain. It is a free and fun game that will now include the VOXEL token, which will let players buy weapons, armor, and other cool stuff. The VOXEL token will also be accessible on the secondary market, where players trade the token outside of the game. This implies that, like the Voxies NFT used in the game, players can acquire VOXEL tokens in the game and then sell them on the secondary market.
How Does Voxies (VOXEL) Work?
Players can use their VOXEL and play in Voxie Tactics to gain awards and coins using the VOXEL token. The token may be used as a currency in the Voxie Tactics game, and it can be used for all in-game items in the Voxie Tactics marketplace. In secondary marketplaces, Voxies can be freely traded.
Players do not require any prior cryptocurrency expertise to participate in the Voxie Tactics game, nor do they need to purchase Voxie NFTs in order to earn Voxel tokens through in-game actions. Voxies is likely to be more popular among players because it is a free-to-play game, unlike other play-to-earn games.
Gameplay of Voxies (VOXEL)
Voxies (VOXEL) Tactics is a retro-styled tactical role-playing game with some modern twists and updated gameplay features that give the player a nostalgic and modern vibe. It is highly influenced by the vein of great 1990s and early 2000s tactics games.
The game has two main gameplay modes: exploration and battling, as well as a variety of secondary RPG gameplay mechanisms seen in most role-playing games.
Exploration
The exploration mode is a story-driven adventure that allows players to freely explore the universe of Voxies (VOXEL) Tactics. They encounter various adventures while uncovering the game's background and exploring its vivid environment. As you go farther, there are numerous hidden surprises to discover and many puzzling issues to solve.
Exploration mode allows players to travel to different destinations and complete questlines in order to learn about different biomes, creatures, and non-playing characters. It also includes means to discover and gather VOXEL tokens via defeating computer-controlled monsters and assisting other characters in the environment by completing tasks for them, as well as offers ways to gain prizes and VOXEL tokens.
Voxie Tactics' exploration mode is constantly being expanded, delivering fresh experiences and interesting new locations for players to discover. A few biomes to look forward to include Grassy Hills, Desert, Snowy Tundra, Swamps, and Volcanic Mountains.
Battling
In Voxies (VOXEL) Tactics, conflicts take the shape of turn-based sequences in which one side tries to accomplish a goal for each combat arena, such as killing all foes, surviving a particular number of rounds, or rescuing in-danger NPCs. The combat concludes when the goal is met, and the awards are divided.
A Voxie has three different action moves:
For improved battle advantages, a MOVE action is employed. Voxies may use it to navigate the fight map and tactically position themselves.
An ACTION grants a particular ability or a spell that may be used to gain a tactical edge in combat.
In the middle of a combat, the EQUIP action can be used to alter a Voxie's equipment (armor and weaponry).
Unique Features of Voxies (VOXEL)
Competitive Matches
Users will be able to earn voxies (VOXEL) awards by participating in two types of player versus player (PvP) contests. One category will be based on the players' characters, while the other will be based on the identical set of characters for both players.
Crafting Equipment
Players will be able to mix and fuse various game elements to improve the effectiveness and rarity of their goods. This entails mixing elemental elements with items or weapons, as well as combining with Crystals, a fuel needed to build a new improved NFT weapon or item with additional damage kinds, elemental effects, and/or abilities.
NFT Collection
9,999 Voxies NFTs have been sold on bonding curves. With the use of an in-game element, called Stones. The initial genesis 10k Voxies will be able to create the next generation of characters.
Voxies (VOXEL) Token's Binance Launchpad Details
The token sale details of VOXEL on the Binance Launchpad platform are as follows:
Launchpad hard cap: 6,000,000 USD
Hard cap per user: 15,000 USD (75,000 VOXEL)
Total token supply: 300,000,000 VOXEL
Total tokens allocated to binance launchpad: 30,000,000 VOXEL (10% of total token supply)
Public sale token price: 1 VOXEL = 0.2 USD (price in BNB will be determined prior to subscription)
To participate in the token sale users have to lock their BNB balances which will be calculated and the VOXEL token will be paid out on 14, Dec. 2021 to the wallets of the users who participated in the token sale.
Voxies (VOXEL) Price Prediction and Future Outlook
Play-to-earn games have exploded in 2021. With Axie Infinity (AXS) leading the charts with billions of sales and thousands of active users per day, games like Alien Worlds, Crypto Blades, and many others have dominated both crypto and the gaming industry. The price of Axie Infinity's token, AXS, crossed the $160 mark which shows the huge potential the P2E industry has in the blockchain world. Since Voxie Tactics is a tactical RPG game, a genre that is loved by millions of gamers worldwide. The chance of it becoming one of the top P2E games in the near future can be expected.
The price of the Voxies (VOXEL) token is set at $0.2. This is a price that can explode to $10 or more very quickly after its official launch on Binance, considering the rise of play-to-earn gaming tokens, like AXS and many others. This hype around the VOXEL token might be true as the project has a solid roadmap, team, gameplay, and features that may take its price into double digits very soon.
The combination of play-to-earn games with NFTs has worked out very well for many cryptocurrency projects. This isn't surprising considering the fact that the total market size of NFTs is valued at around $7 billion. The team and especially leadership of the VOXEL token consists of seasoned game developers with several years of experience under their belt, as discussed above. This is a major point that big investors or 'whales' consider when investing heavily in a token. With a team built around industry-led experts, the Voxies (VOXEL) token may expect big investments which may skyrocket the price of the VOXEL token.