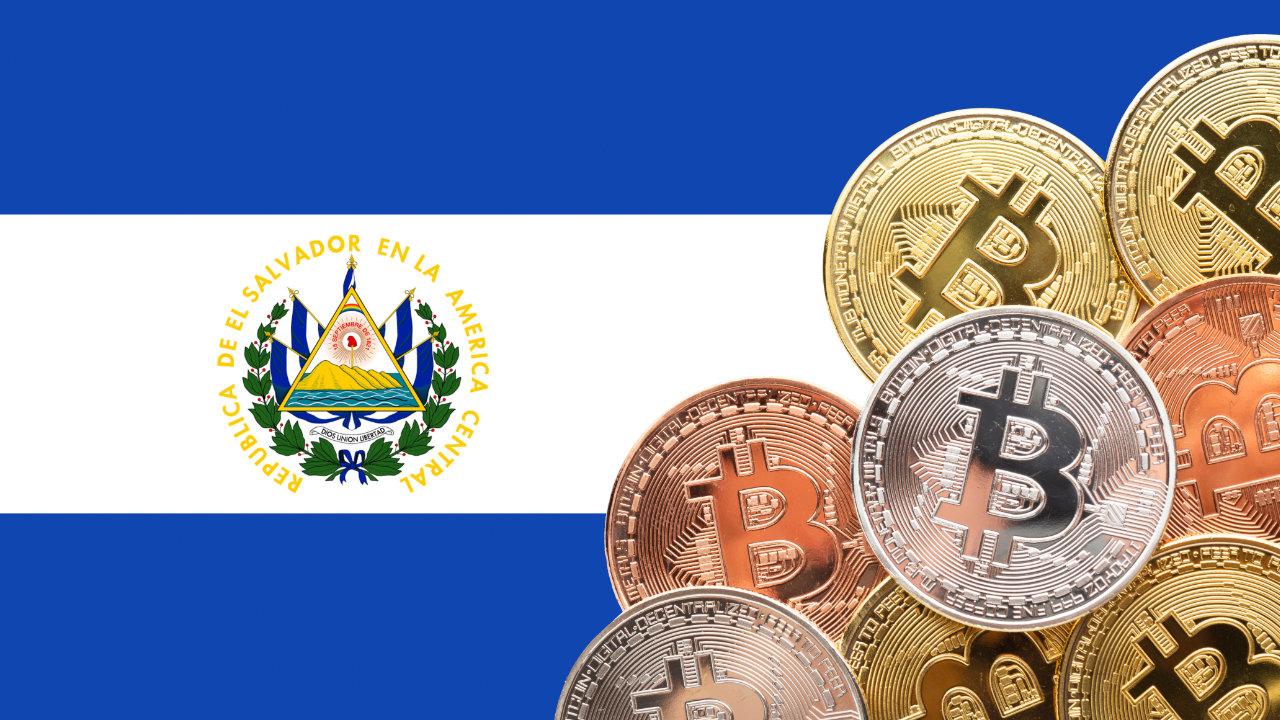 El Salvador bought the dip as the price of bitcoin plunged to a record low. President Nayib Bukele said Friday that his country has purchased 410 more bitcoins. The Salvadoran government has bought a total of 1,801 bitcoins since the cryptocurrency was made legal tender in the country.
El Salvador buys the dip
El Salvador's President Nayib Bukele tweeted on Friday that his country had just purchased 410 BTC for $15 million. Having paid around $36,585 per piece, Bukele wrote, "Some guys are selling really cheap."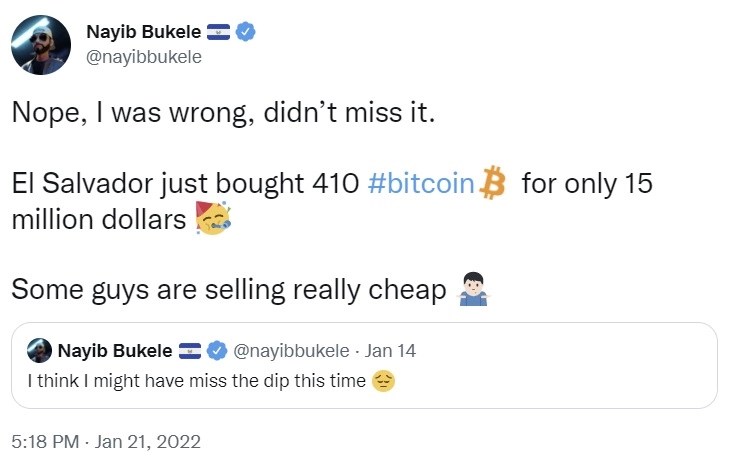 In the same tweet, Bukele also stated that he did not miss the dip after all. "Nope, I was wrong, didn't miss it," the Salvadoran president wrote in response to his own tweet on Jan. 14 that says, "I think I might have missed the dip this time."
The price of bitcoin began a steep decline in early November last year, falling from over $67,000, based on data from Bitcoin.com Markets. BTC started the year around $47,000 but fell below $41,000 on January 8. The crypto then slowly rallied and moved sideways until January 20, when it suffered a steep decline. At the time of writing, the price of BTC is $35,713.02.
While bitcoin was moving sideways, Bukele thought he missed the dip. On Jan. 14, BTC was hovering around $43K.

As of this writing, the price of bitcoin has fallen nearly 8% in the past 24 hours, more than 17% in the past seven days, and nearly 29% in the past 30 days. However, it is still up 15.4% for the year.
El Salvador passed a bitcoin law making BTC legal tender alongside the U.S. dollar in September last year. Since then, it has been a regular purchaser of bitcoin.
In September last year, El Salvador bought 700 bitcoins. The country also bought 420 BTC in October, 100 BTC in November, and 171 BTC in December. With the last purchase, El Salvador purchased 1,801 BTC in total.
Earlier this month, Bukele made some bullish predictions for 2022 about bitcoin. Besides expecting the price of bitcoin to reach $100,000 this year, the Salvadoran president foresees two more countries adopting BTC as legal tender. He also said that El Salvador's Bitcoin City will commence construction during the year and the country's volcano bonds will be oversubscribed.