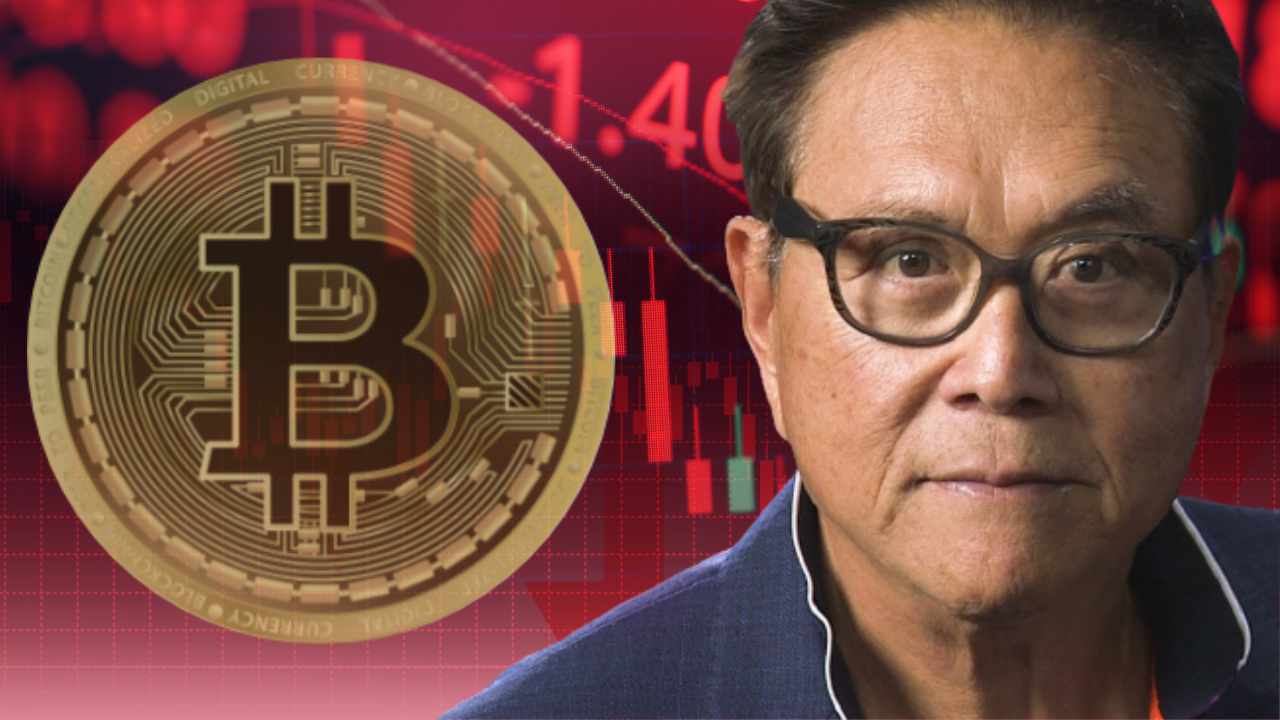 The famous author of the best-selling book Rich Dad Poor Dad, Robert Kiyosaki, believes bitcoin could crash to $17K. However, he also believes the cryptocurrency "will win" because America is led by the three stooges. He has been recommending bitcoin to investors alongside gold and silver.
Kiyosaki Thinks Bitcoin Could Test Bottom at $17,000
Rich Dad Poor Dad author Robert Kiyosaki has shared his latest price expectations and future outlook for bitcoin. Rich Dad Poor Dad is a 1997 book co-authored by Kiyosaki and Sharon Lechter. It has been on the New York Times bestseller list for more than six years. Over 32 million copies of the book have been sold in over 51 languages ​​in over 109 countries.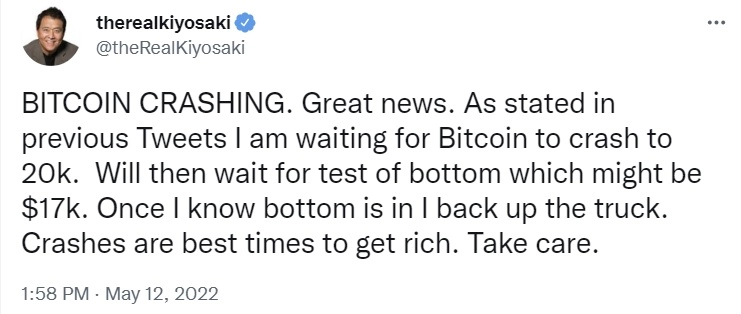 Kiyosaki tweeted Thursday that bitcoin is crashing and he is waiting for the price of the cryptocurrency to fall to the $20K level. He explained that he will then wait for BTC to test the bottom, which might be at $17K, before he starts buying. "Crashes are the best times to get rich," he advised.
Kiyosaki's tweet came at a time when the crypto market lost billions as the terrausd (UST) fiasco unfolded. As of this writing, bitcoin is trading at $29,289, down 2% in the last 24 hours, 20% in the last seven days, and 27% in the last month.
Kiyosaki Also Believes 'Bitcoin Will Win'
Despite the falling BTC price, Kiyosaki believes that "Bitcoin will win." He tweeted Wednesday explaining why. "Bitcoin will win because America is led by the 3 stooges," he wrote, adding that the first is President Joe Biden. He said the second stooge is Treasury Secretary Janet Yellen, and the third is Federal Reserve Chairman Jerome Powell. The famous author affirmed: "I trust Bitcoin not the 3 Stooges."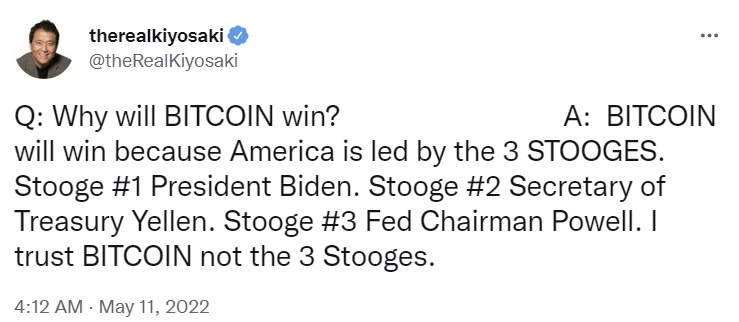 It was also not the first time that Kiyosaki expressed his distrust of the Biden administration, Wall Street and the Fed. He has also been recommending investors to buy bitcoin for some time.
Last month, the famous author said that the biggest bubble burst is coming. He called the government, Wall Street, and the Federal Reserve "thieves." He also said that hyperinflation and depression are here and recommended investors buy gold, silver, and bitcoin.
In March, Kiyosaki said the US dollar was about to implode, blaming President Biden for causing inflation. He recommended gold, silver, bitcoin (BTC), ethereum (ETH) and solana (SOL) as investments at the time.
However, Kiyosaki's outlook for crypto is not all smooth sailing. The renowned author also warned that eventually, the government will seize all cryptocurrencies and fold them into a government crypto. Nonetheless, he subsequently said that the Russia-Ukraine war is "giving rise to crypto as a safer haven than government fake fiat money."