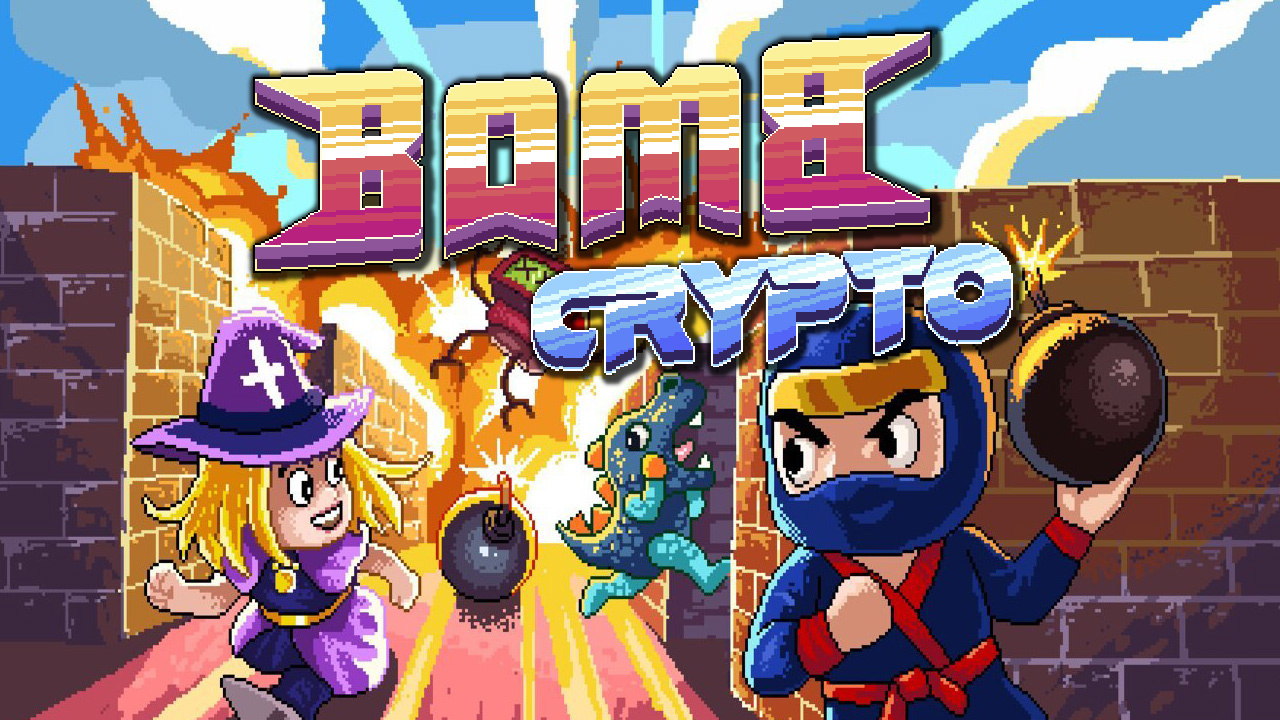 Bomb Crypto is an NFT pixel game with a play-to-earn feature. Players manage a team of Bomber Heroes of cyborgs programmed to search for BCOIN and fight monsters. Each Bomber Hero has varying stats, which means some are better than others.
If players are lucky enough to find Bomber Heroes with good stats, they can sell or upgrade them to improve their performance and combat skill. Each Bomber Hero is an NFT. Instead of just keeping these NFTs, players can also trade them. Additionally, players can hunt for other NFT items such as in-game decorations. Read on to learn more about how Bomb Crypto works.
What is Bomb Crypto (BCOIN)?
BomB Crypto is a Play-To-Earn game where players manage a group of cyborg bomb heroes programmed to search for BCOIN and fight monsters. The game was developed by Senspark. Senspark is an independent Vietnamese game development company founded in 2011 focusing on mobile games for Android and iOS platforms. Games like Stickman Battle 2021, Gold Miner and Bomb Squad got around ten million downloads. BomB Crypto features hero NFTs that can be collected through redemption, buy-in and market auction. For game modes, it covers things like Treasure Hunt Mode; a story mode and a battle mode.
The game takes place in a land called Bomberland, a peaceful land far from Earth, where people lived happily until the day an evil force invaded. The evil force burned down forests, destroyed buildings, arrested people and stole BCOIN — your most important asset. To restore peace to the region, the kingdom's scientists researched and created heroic bombers to help people regain their BCOINs while destroying the henchmen of evil forces. The rarity of these Bomber Heroes is organized hierarchically from common, rare, super rare, epic to legend. The higher the rarity, the higher the success rate.
Bomb Crypto how does it work?
Each NFT game has its own in-game currency, which is used to obtain in-game items and purchases. In the case of BomB Crypto, it uses BCOIN and can be used to buy and sell NFT items or even the bombers themselves. BCOIN is a standardized token in Binance Smart Chain that extends ERC-20, the token Ethereum more common. BEP-20 was conceived as a technical specification for Binance Smart Chain to provide a flexible format for developers to release a variety of others Tokens.
BCOIN was audited by the Verichains team in October 2021 and noted that their smart contract was written in Solidity language and had no vulnerabilities. So if you're wondering about token integrity, you can rest assured that your recent audit gave you the green light.
Bomb Crypto how to play and win?
To start the game, you need to buy a hero, which is a non-fungible NFT token. Each one costs 10 BCOIN, the equivalent of US$ 30. As with everything, you need a private wallet to store your digital assets. The only wallet compatible with the game is the MetaMask. If you don't have one, just enter the site and install it as a browser extension.
The game has modes like Treasure, Story and Battle mode. BomB Crypto was just released in Q2021 XNUMX and has only Treasure Hunt mode, a play to win feature where players can buy and collect heroes to hunt BCOIN tokens. If you're familiar with Bomberman's iconic mechanics, then this game will easily resonate with you.
In Treasure Hunt Mode, players can send bombing heroes to mining areas and have them plant bombs to destroy blocks to find BCOIN. These heroes can work automatically without players having to constantly monitor them, which saves time. Note that the hero also consumes energy each time a bomb is placed. When they run out of energy, they will enter a resting state to recharge. If a house is purchased, the energy charging speed will increase. In a way it's semi-passive as the bombers roam on their own, but you have to manually activate them after reloading your stamina.
Arena Battle
Players choose a hero to enter a bomb battle with many other players. Users have to pay a certain amount of tokens to participate in battle mode, the final winner will receive the total token value of the loser. Bomber Hero will also lose a certain amount of energy when participating in battle mode.
Manage the Heroes
Users can acquire new heroes through rescue missions. On some maps, there is a rare chance that users will encounter a prison block that has locked a bomber hero. After completing the rescue mission, you will receive a damaged hero, which needs to be recovered a little before going crazy again.
bomberland
Game History
There is a peaceful land called Bomberland, where the inhabitants live extremely peacefully and happily.
But one day, an evil force came to invade Bomberland. He burned forests, destroyed houses, arrested people and stole BCOIN – the property of the people. To bring peace to the land, the kingdom's scientists researched and created heroic bombers so they could form a team to rescue BCOIN and the people while destroying the henchmen of the evil forces.
Bomb Crypto Heroes Bombers
In Bomb Crypto each player has a team of bomber heroes (bomber heroes) with several different characteristics. Each of these heroes is an NFT, giving the player more freedom to trade and trade their heroes.
Bomber heroes have different levels of rarity: common, rare, super rare, epic and legendary. They also have 5 different stats:
Power: The hero's destructive power;
Stamina: Defines how long the hero can be active before "resting";
Speed: The speed at which the bomber walks across the game's map;
Bomb Num: The number of bombs that can be placed on the map;
Bomb Range: The destruction distance of the bomb explosion;
Game modes in Bomb Crypto
Treasure Hunt Mode
In this mode, the player sends his team of bombers to a map where the objective is to open all the chests in the scene, in case destroy them with bombs. These chests contain BCOINs inside and as soon as your bomber heroes explode a chest, the BCOINs are transferred to the personal chest.
As soon as the player collects 10 BCOIN in his personal chest, he can make the withdrawal to his personal wallet. With BCOIN in their MetaMask wallet, the player can choose to keep it, reinvest in the game, or exchange it for another cryptocurrency in the Pancake swap.
There is also the possibility of having a captive bomber hero on the map. In that case, upon rescuing him, the prisoner hero can be added to the player's bomber team. The entire Treasure Hunt mode runs automatically, there is no need to click on anything or move the heroes. The only thing the player has to do is put the bombers back to work when they get tired and fall asleep.
Adventure Mode (in development)
Players choose their own bomber hero to participate in each stage in Adventure mode. The player needs to destroy all monsters to pass each level. Breaking blocks and killing monsters also gives players the chance to earn BCOINs.
Entering a level also requires the bomber hero's stamina. Therefore, if there is not enough stamina, the hero cannot be selected to participate in the phase. Also, during the game, if the player is touched by any monster, he will also lose stamina. If the hero's stamina reaches zero, the player loses battle. Also, the game has dramatic boss battles that give great rewards in NFT.
Battle Mode (in development)
In Battle mode, players join a bomb battle to fight online against other players. To participate, players not only need a specific type of stamina, but they also need to pay a certain amount of BCOIN tokens as an entry fee, which will later be used as rewards. The final winner takes the most tokens from the losers.
Is it still worth joining Bomb Crypto?
This is a very individual question, as anyone who is willing to enter the world of NFT games, more precisely Bomb Crypto, needs to keep in mind the risks of the business. Just like any cryptocurrency, these assets are volatile, meaning their value fluctuates, and any problem, or if players start to stop playing, their value will drop and the long-awaited return on investment may take even longer. Having said that, before making any investments, do your research, investing in cryptocurrencies is highly risky and speculative, and this article is not a writer's recommendation for investing in cryptocurrencies.
Bomb Crypto Simulator
There is a simulator site where we can simulate the game for testing purposes before making it into the real game, the site is Bomb Crypto Simulator, we don't know if it is from the same creators but it has been well used as a testing tool before doing something that give a bad return on the game.
Final Thought
bomb crypto has already successfully completed part of its roadmap launching rescue missions and a native NFT market where players can trade their bombers. Bombcrypto plans to release a new story mode level, add quests and a battle mode, and complement the game with new PvP maps. PortalCripto hopes that the article has brought the necessary information about the Bomb Crypto project.