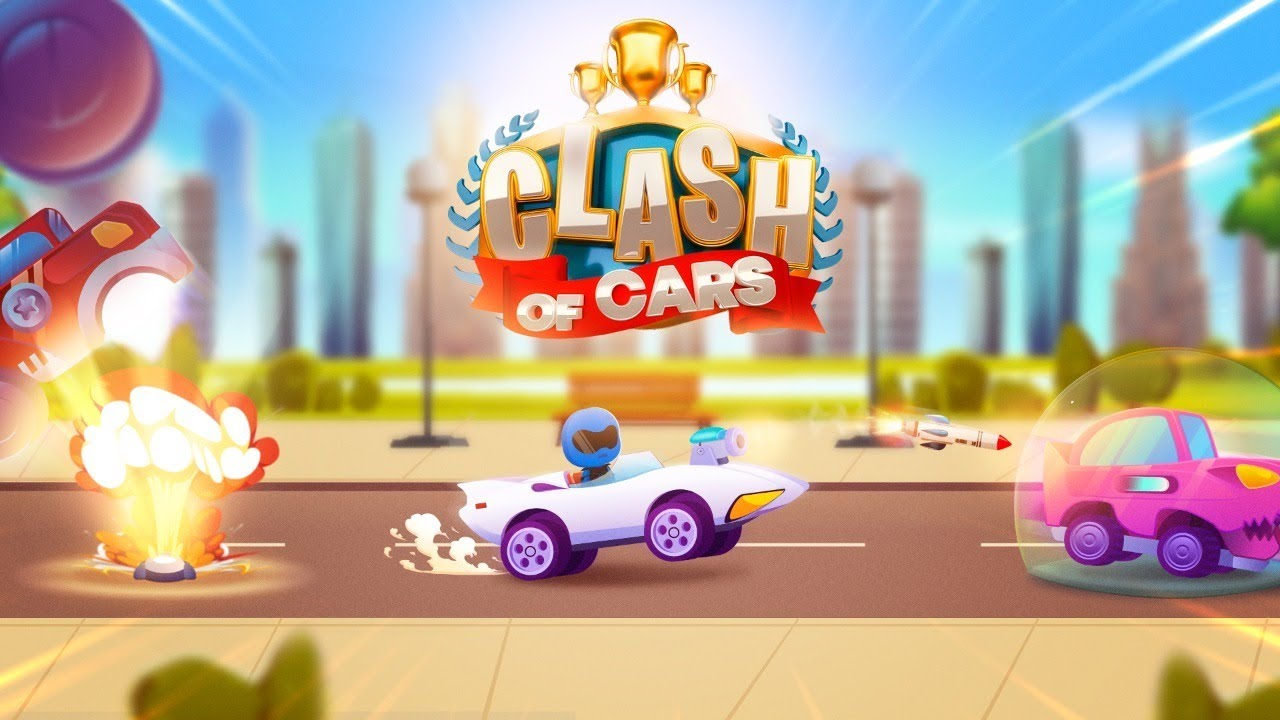 Clash of Cars is an NFT racing game where you have to be the first to cross the finish line, using your skills and strategies. With fast and dynamic racing, Clash allows the player to collect custom cars to race and fight against other players in FARM, PVP and Campaign modes, earning constant rewards.
What is Clash of cars NFT (CLASH)?
The Clash Of Cars is a project by Solana Mainnet and it's not just a Click To Earn game. Clash Of Cars offers an innovative experience both in gameplay in the NFT universe and in long-term investment.
With fast and dynamic races the player must strategically create his "build" with his NFT Car and NFT Skill to race and fight against other opponents and friends.
farm mode
Farm Mode consists of daily races with just 1 click, in the "Click to Earn" model The rarity of your car determines how many races you can play per day and how much each race costs. The race reward varies depending on your finishing position. The daily car refueling fee is 1$ CLASH
Maintenance fee every 40 runs. The maintenance fee is currently 30$ CLASH, but it may vary depending on the game's economic situation.
game mechanics
Refueling your car can only be done 24 hours after the race. When you buy a car, it comes with an empty tank, so buy additional $CLASH, Each race lasts about 47 seconds. The Quick Race price varies depending on the rarity of the car. Your wins are in "History", just choose the right date, To add more CLASH, click on the "+" that is in the upper right corner of the game. The CLAIM system is the system that allows you to withdraw the coins you have won in races.
It works on a system that for each day you wait, the 50% Claim rate drops by 10% on the 31st. That is, to withdraw your coins on the day you farmed, you will pay 50% of them as a tax claim. The next day, that tax will be 40%, and this consecutively until you don't have to pay any tax because you've waited as long as necessary.
Race Mode
Play to Win – Player vs Player
Clash of Cars has some features that make it a unique NFT game! It aims to mark a new generation of NFT games identified by fun, intense gameplay, profitable economy and years of duration, just like traditional games.
There are 3 types of NFT on the platform: cars, skills and garage. In this way, each NFT has its own special characteristics. Players must have strategic intelligence to create the best combination between each NFT to be effective in battle against other players, thus reaching the top of the rankings!
All variables (car, skills and garage) will be balanced to avoid outliers between pl.
The game economy is simple! The rewards in the matches will be the "trophies" and the $CLASH. The "trophies" will serve to increase the ranking of players and consequently increase the amount of $CLASH players will receive for a single win! $CLASH will be used to purchase the game's NFTs.
The Game is economically sustainable and durable: the supply of "Play to Win" will be distributed as a reward in race mode (PvE). To continue encouraging players, the Reward Pool was created, where rewards will be distributed continuously in a sustainable and durable way, without the need to increase the amount of Tokens $CLASH.
Campaign (PvE)
You will challenge and Artificial Intelligence. The rarity of the AI ​​car progressively increases with each race and its power is increased according to the rarity. There will be 5 mode races and completing the first one will unlock the second one and so on. If you lose in any of the races before completing them all, the campaign ends and you will receive the prizes accumulated up to the races you missed. The number of races is limited by the amount of fuel.
Eg: An ordinary car can enter 4 times in campaign mode paying the entry fee at a time using one gasoline at a time, if it is a legendary car it can enter 8 times in campaign mode.
Race Mode (PvP)
Every NFT Car has 2 fixed passive skills and has a fixed stat. In other words, their damage, skill powers, and defenses are unique and unalterable from each NFT.
Details:
The PvP Race mode is a 1v1, where the player pays 1$CLASH and consumes 1 gas to play
Winner gets 10$ CLASH and loser gets nothing
PvP Race Mode has a daily game limit which is limited by the amount of gasoline the car has according to NFT rarity
Ranked Mode (PvP)
Ranked games accumulate points to move up the leaderboard, where there are prizes for the highest ranked players throughout the game.
Ranked mode is a 1v1 game that does not use gas from the car. To compete you pay 100$CLASH, being able to run as many times as you want. The race winner earns 1 leaderboard point and takes 190$ CLASH. The loser loses 1 rank point and receives nothing.
Cars
🏎 EVO
🚎 Razorblade
🚙 Drillwagon
🚚 Neon Bomb
🚗 Gadget Queen
🚜 Rocket V2
🚘 Mafia
🚓 Cyber
🚌 Show Maker
Car buying system:
To start playing you first need to buy your car, which can only be purchased from a Mystery Box in the game. Each Mystery Box costs $1000 Clash (may vary depending on the economy) and you can buy as many as you want. Buying it you get 1 NFTs, which can vary between Common, Rare, Epic or Legendary.
merge
Cost: 10$ CLASH per Fusion
Combine two cars to get a new car of higher rarity.
2 cars become just 1 car
The 2 cars will leave the player's account
A new crate is generated according to which rarities have been matched
There will be 6 boxes with different possibilities to purchase your new Car
With the limit of 30 cars per account, it generates an incentive to have better rarities to have greater gains.
The updated RNG (along with the merge implementation) is released favoring higher rarities.
Skills
Set of Skills that can be chosen by the player to be used during the race. The player must create his build, which is the set of the car with the skills selected earlier, and use this build in races!
🏆 The purpose of using skills is just one: destroy your opponents by slowing, freezing or blowing them up, speeding up, dodging or protecting your car.
There is a huge range of possibilities and strategies you can use with game customization to win races 🥇.
Garage
The garage will be a big NFT, which will give exclusive benefits to its owners. The player will only need 1 garage per wallet. Garages will be LIMITED!
CLASH Token
CLASH is the Clash of Cars Utility Token, registered on the Solana Blockchain. CLASH will be the only accepted currency in the ecosystem to buy NFTs and pay fees. Game mode rewards will also be distributed in CLASH Token.
Final Words
Clash of Cars is an NFT racing game where you have to be the first to cross the finish line, using your skills and strategies. With fast and dynamic racing, Clash allows the player to collect custom cars to race and fight against other players in FARM, PVP and Campaign modes, earning constant rewards.