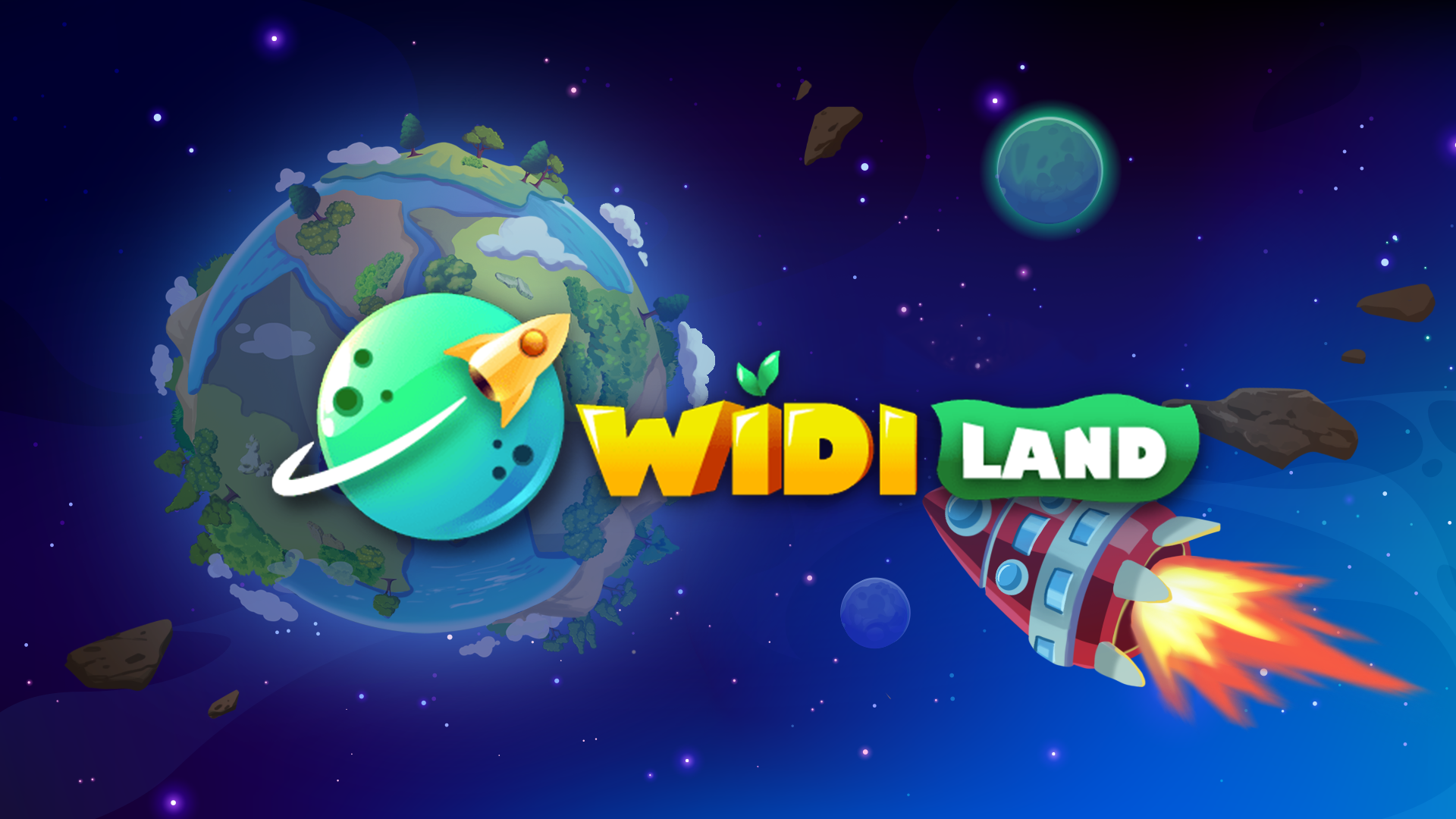 WidiLand NFT is a dynamic game based on blockchain technology, in the game WidiLand players can play for free and play to earn money by exploring and building a new world. Read on and find out if WidiLand is worth it.
What is WidiLand NFT?
WidiLand is a NFT game Blockchain play-to-win, with the metaverse based on a 'new earth' style environment that fills your experience. Players can play for fun, to earn money or to connect with their friends.
WidiLand NFT game history
2130, the environment on Earth is seriously polluted, resources are running out, humans are at risk of food and energy shortages.
A group of scientists from Project WIDI, a high-profile program looking for life in outer space, find TKE-1012, an Earth-like blue-green moon. This giant planet, 24,2 light-years from Earth, has conditions almost similar to our world, up to 73%.
A small group of elite people are selected to participate in this secret program with the unique mission of "finding a new home for humanity". They migrate to TKE-1012 and call it WidiLand.
Unfortunately, during the landing process, geomagnetic storms from the efficient energy exchanges continually sweep through, causing severe damage to the entire spacecraft, high-tech equipment and telecommunications.
Now, the entire crew suffers from food energy depletion and eruption from connection to Earth-based radars. Your unique opportunity is to build your own Food-Energy System on this planet.
WidiLand gameplay
With evolving gameplay and future Metaverse plans, WidiLand NFT is a dynamic free-to-play and play-to-win game to discover and build a new world. Like the other video games from the GameFi company, WidiLand uses the Blockchain era. Players' task is to rebuild civilization on planet Widi using restricted tools and resources. Success is when players manage these resources effectively and increase production capacity to expand their territory.
In Chapter 1, the beginning of the journey is about survival. The crew's food supply is running low. Therefore, players need to quickly increase their food supply by developing agriculture in WidiLand. Players transform into the inhabitants who have just set foot on the planet Widi. To build the planet from nothing, players must harness their intelligence and health to provide wealth.
Some activities you can participate in WidiLand:
cultivating
Playback
Culinary
Daily Missions
Order
Conquest
Working hard and smart is the key to helping players build planet Widi every day. With determination and devotion, players are sure to complete this difficult mission.
How to play WidiLand game?
For starters, you'll have 1 farmland and 3 standard (non-NFT) characters on hand – powerful assistants to help you get back on your feet in the first difficult days. If you want to live well in WidiLand, you need to become the hardest working citizen with many jobs: farming, increasing production by activities, performing tasks to receive awards…
How to sign up for an account?
Please follow these instructions:
Step 1: Log in to Metamask
Step 2: Visit the website to register your account
Step 3: Connect your wallet
How does the Treasury work?
Character Treasure
Randomly gives you one of 3 NFT jobs Farmer, Breeder, Cook and Miner (available in future release). Rarity ranges from Common, Uncommon, Rare, Epic to Legendary with rarity opening rate as follows:
Randomly gives you one of 6 NFT Lands (Cropland, Desert, Dry land, Forest land, Aquatic land, Volcanic land) with rarity ranging from Common, Uncommon, Rare, Epic to Legendary with rarity opening rate as follows:
Character (NFT Feature)
The characters are the first citizens of WidiLand. They are bees busy with different professions: agriculture, breeding, cooking,… Every day, they wake up early to discover this wonderful planet and use WidiLand's resources to turn this place into a new sweet home. But because of their distinct experience, each character can only work on 1 building at a time.
Work System
Each character in the game WidiLand NFT has its own mission. His works are extremely diverse and specialized. In the first version, these characters can learn the skills necessary for life, equivalent to 3 professions: Farmer, Creator and Cook.
Farmer
Farmer is an expert in the field of cultivation. The Farmer's definition of happiness is having a bountiful crop.
Creator
The breeder's responsibility is to care for the animals in WidiLand. Every animal on this wonderful planet is a best friend of the Creator.
Chef
Cook possesses deft hands, capable of creating all kinds of delicious dishes. Cook believes that cooking is the element that unites all races.
Rarity
On Widi Planet, rarity is of great importance. It can be used to distinguish characters from each other.
A high rarity character will have higher performance, luck and special item crafting rates than a low rarity character.
There are 5 levels of rarity: Common, Uncommon, Rare, Epic, Legendary. And of course characters with different rarities will have different colors such as Gray (Common), Green (Uncommon), Blue (Rare), Purple (Epic), Gold (Legendary).
Land (NFT Asset)
Planet Widi received an extremely precious gift from Mother Nature – Earth. This can be considered a source of life for all living creatures. Thanks to the Lands, new citizens can have financial viability as well as food to survive and care for the animals. The terrain allows the location of buildings and determines the type of crop that can be planted in the field. But unfortunately, each land has a limited area (16×10 squares), so we need to make the smartest choices to make use of this valuable resource.
standard terrain
By default, when players create an account, you will be given a default land. The default land is farmland with available buildings including:
1 House (3×3 – cannot move)
1 Order Board (3×3 – cannot move)
1 Storage (3×3 – cannot move)
1 Market (3×3 – cannot move)
1 Field (3×3), 1 Animal Farm (3×3), 1 Bakery (3×3)
1 Farm Name Gate (2×2 – cannot move)
2x Tier 1 Tree (1×1 – cannot move)
2x Bronze Tier 1 (1×1 – can't move)
2x Clay Level 1 (1×1 – can't move)
to rank
Widi Planet is an ideal terrain, especially for those who dream of being an excellent geographer. 6 different types of land – namely: CropLand, Desert Land, Dry Land, Forest Land, Aquatic Land and Volcanic Land – are waiting for you to explore to the fullest. Each Land has its own flora category. Carrots do not grow in high-moisture soils like Aquatic Land. This means that each Land determines the ownership of field areas, which can only be planted with certain types of crops.
WidiLand NFT Market
In WidiLand, there is a place where all citizens can sell and market their products. It's what I called the "in-game market". All citizens can freely sell their surplus agricultural products and buy the items needed for their tasks.
Widi Soul (WSO) Token
WSO is the native currency token (BEP-20 BSC) in WidiLand. It is a secondary token used in the WidiLand ecosystem for specific purposes.
Bottom Line
Powered by blockchain technology, WidiLand is where players can earn real money or other rewards by playing games. WidiLand players can win Tokens fungibles ($WIDI) or unique items that can be easily transferred to $WIDI by joining certain activities in WidiLand GameFi.