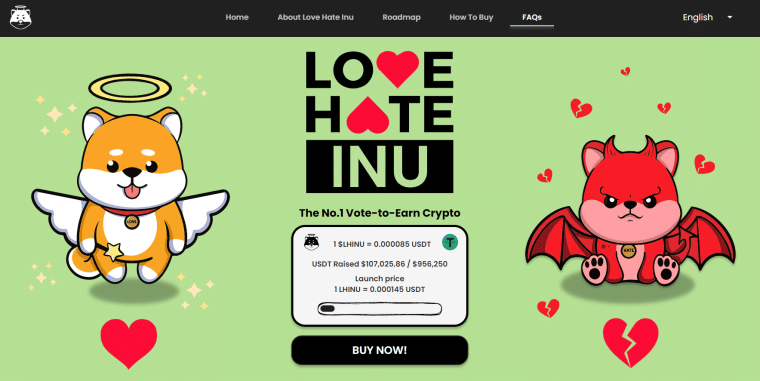 A meme token that offers real utility in a voting system based on blockchain technology Love Hate Inu disrupting the online survey market.
The Love Hate Inu memecoin uses blockchain technology to verify the public vote utility to the general public. By voting on issues for or against, participants help create new memes and are rewarded with LHINU tokens.
What is Love Hate Inu
The ideal voting token, Love Hate Inu, lets you voice your opinions on trending issues and be rewarded for doing so. Their platform offers an unique chance for you to interact with significant issues and encourage respectful conversation,
all while helping to create the next meme sensations and earning valuable tokens. Love Hate Inu is more than just a memecoin, though. They're a project with a mission to provide a platform for people to come together and vote on the issues that matter most.
They give you a platform to express your opinions on a variety of topics, including politics, entertainment, and social issues, and to become a part of a group that values your opinions. Their voting process is fair, transparent, and secure because it is built using blockchain technology.
Love Hate Inu (LHINU) Token Presale is Live
To guarantee that the majority of the supply is handed to community members who support the project, they are selling 90% of the LHINU tokens during their presale. This will build a solid foundation for the project where the community has a genuine stake in its success in addition to insuring there won't be a rugpull.
Only 10% of the tokens will be held by them in order to maintain liquidity, pay for exchange listings, and offer awards to the community. The LHINU token is currently in the presale phase and has raised more than $100k. One LHINU is costs $0.000085.
How to Buy LHINU Token
Click the 'BUY NOW' button in their official presale website and connect your wallet. Once connected, you'll see three options to buy LHINU tokens.
Buy LHINU with ETH – To buy tokens with ETH, enter how much LHINU you want to buy, or how much ETH you want to swap, then confirm the gas cost and the transaction in your wallet.
Buy LHINU with USDT – To buy tokens with USDT, enter how much LHINU you want to buy, or how much USDT you want to swap, then confirm the transaction in your wallet.
Buy LHINU with Card – To buy tokens with fiat or if don't have a crypto wallet, simply use Wert to buy LHINU tokens directly from the smart contract using your bank card. Choose your purchase amount and you'll be able to make a card purchase directly in the easy-to-use widget.
Love Hate Inu Platform
It is comprised of a few keys areas:
The user interface, in which you can connect your wallet to engage in real-time votes, and earn rewards for doing so.
The vote submission platform, in which interested parties can submit new poll ideas for the community to consider.
The management dashboard, where we can ensure that all active votes are conducted in such a way as to protect the community.
Due to their dedication to creating an accessible platform, they will also utilize the management dashboard to enable them to organize polls using funds from the platform. This will enable them to contribute back to the community by addressing important issues that everyone can discuss.
How it Works
Stake to Vote
Participants in Love Hate Inu can use tokens to vote in polls. This staking method avoids spam and manipulation while also making the voting process anonymous, allowing you to share your thoughts without fear of being judged or retaliated against.
Vote to Earn
As a reward for using the platform, all participants gain extra tokens for staking tokens and voting. The more you stake and the longer you stake, the more voting power you gain.
Love Hate Inu Roadmap
Love Hate Inu is built on top of cutting-edge technology that makes voting on important issues safe and easy to understand. In the future, users will be able to stake LHINU tokens to be able to vote and make their own polls based on what the community decides.
Bottom Line
Love Hate Inu aims to break all the previous records set by meme coins. Over $150k has been raised already and will not stop until it becomes the biggest presale of 2023. So don't just sit on your couch and buy $LHINU tokens before it's too late to even regret.