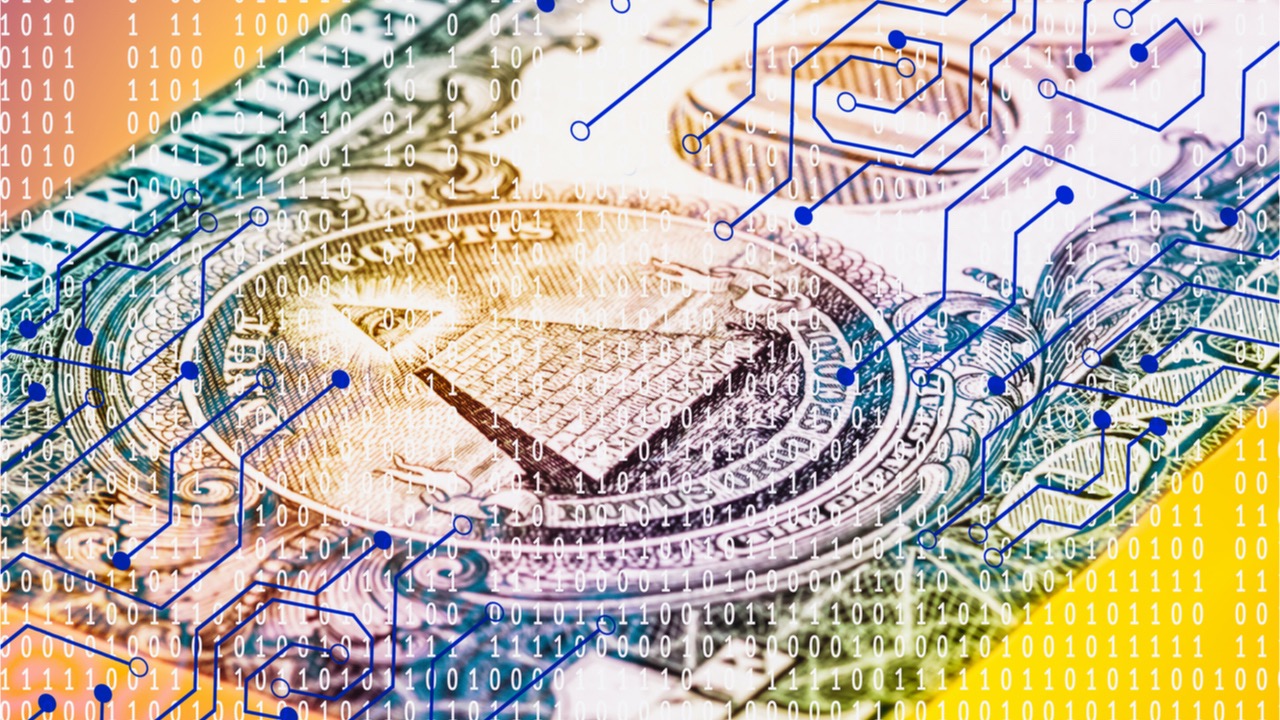 During the last month, four out of five of the top stablecoins by market capitalization saw their valuations swell in size. At the time of writing, there is $ 135.4 billion in stable coins, but the top five collectively make up 94.40% of that total. While the largest stablecoin in terms of market cap increased by 2% over the last 30 days, the stablecoin DAI issued by the Makerdao protocol expanded by 22%.
Tether and Circle's USD Coin rule the roost
Stablecoins are very popular these days and it's safe to say that these dollar-pegged tokens aren't going anywhere anytime soon. For instance, at the time of writing, there's around $29.2 billion in global trade volume dedicated to bitcoin (BTC) trades only.
Currently, stablecoin tether (USDT) orders 61.46% of all BTC transactions according to data from cryptocompare.com. Below the U.S. dollar is the stablecoin BUSD, a stablecoin curated on the Binance Smart Chain as BUSD commands 5.29% of all BTC trades today.
BUSD is, in fact, the only stablecoin in the top five that hasn't seen its market capitalization swell. The largest stablecoin market cap today is tether (USDT) which commands a valuation of $71 billion at the time of writing, according to market aggregation sites like Coingecko's "Top Stablecoins by Market Cap."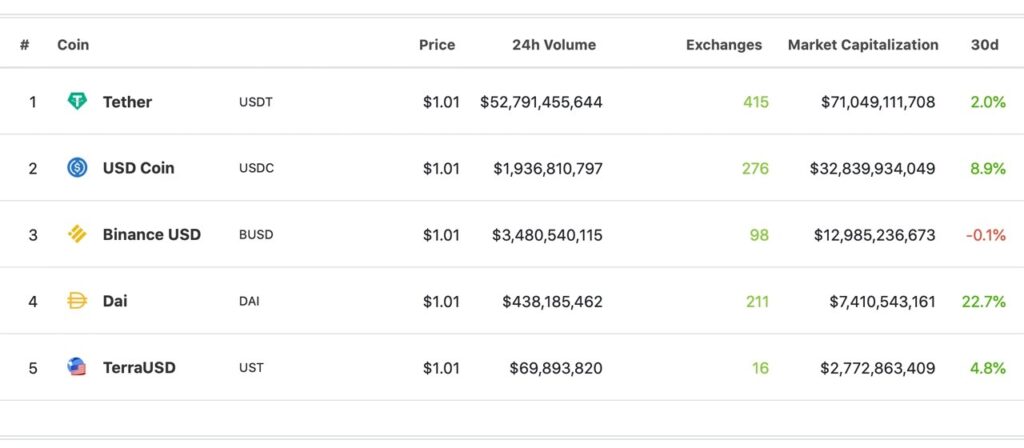 Tether's transparency webpage which shows Tether's current balances states that there are approximately $ 70,578,488,377 in USDT. With close to a $71 billion increase, USDT has grown by 2% during the trailing 30 days.
The second largest stable coin issued by Circle and the Center Consortium, the USD coin (USDC), rose 8.9% this month. Presently, USDC has a market valuation of around $32.8 billion which is around 46.19% or close to half the size of USDT's market cap.
The world trade volume of Tether is much higher than that of USDC at 52,791,455,644 while USDC is around $ 1,936,810,797. USDC is paired with USDT and BUSD and according to cryptocompare.com data, they are the top two trading pairs with USDC.
The 3rd, 4th, 5th contenders for Stablecoin
While the stablecoin that comes from Binance Smart Chain (BSC) ecosystem, busd (BUSD) is the third largest capitalization, it has not increased over the past month. BUSD holds a valuation of about $12.9 billion at the time of writing and $3.4 billion in global trade volume. BUSD is traded on 98 different exchanges according to today's data and it is ranked 18th out of 9,957 crypto assets.
The algorithmic decentralized finance (defi) stablecoin issued by the Makerdao project, dai (DAI), has seen the most growth this past month gaining 22.7%. While the third largest stable currency BUSD has a market cap of around $ 12.9 billion, DAI's market cap today is $ 7.4 billion.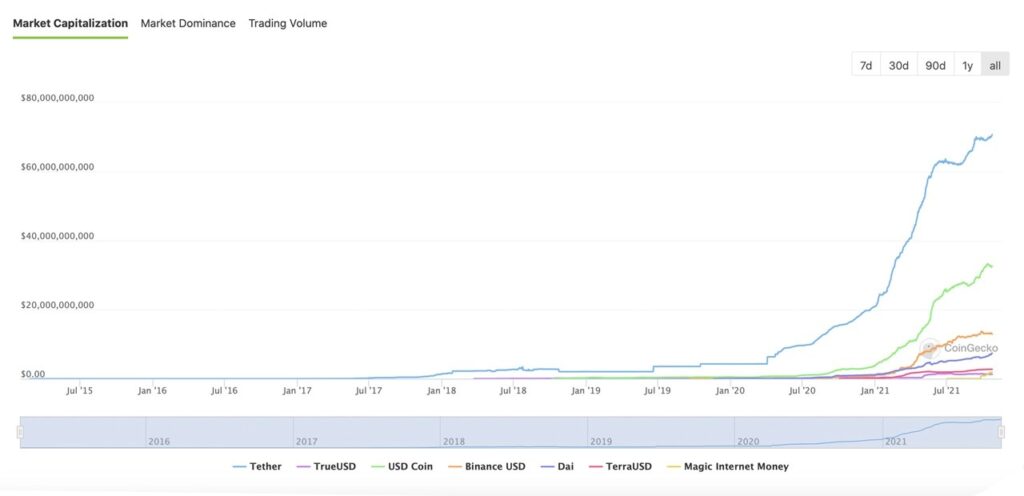 DAI's volume, however, is much smaller than its competitors with only $438,185,462 in global swaps. The biggest DAI pair today is USD with 53.35% of all trades and WETH with 28.68% of swaps. Tether is traded with DAI and commands 7.24% of all DAI volume.
The fifth-largest stablecoin market terrausd (UST) expanded 4.8% this past month in terms of market capitalization. UST is a stablecoin that is part of the Terra Protocol and it has an overall valuation of around $ 2.7 billion today. UST has around $66.6 million in global trade volume as well and is ranked 62 out of 9,957 crypto assets.
60.38% of UST trade is currently traded against the US dollar while tether (USDT) commands 36% of UST trade. While all five of these stablecoins collectively represent 94.40% ($126.88) of the $135 billion in stablecoin value, USDT, USDC, DAI, and UST grew by 38.4%.