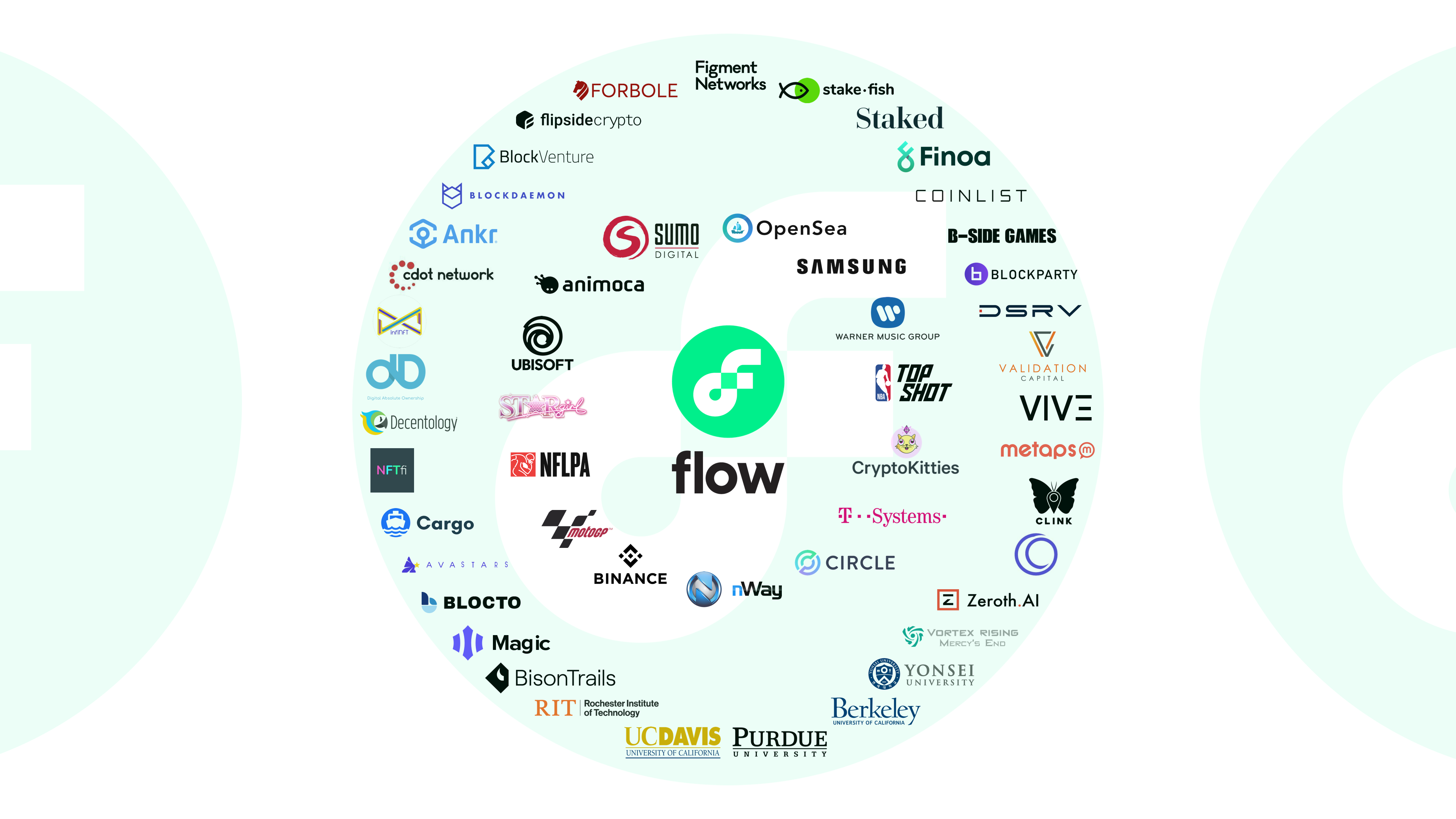 Flow (FLOW) is a decentralized ecosystem designed to support next-generation gaming applications and digital assets. The protocol operates as a borderless ecosystem comprised of top entertainment brands, studios, and venture-backed startups. Notably, Flow was built to meet the growing demands of the NFT market.
History of Flow
The history of Flow (FLOW) begins many years earlier with the creation of Dapper Labs. Dapper Labs entered the market in 2018. The development studio focuses on providing NFT and decentralized gaming options to the market. Notably, the lab completed a $12 million investment round in August 2020 that featured participation from several well-known NAB players, including Andre Iguodala and Spencer Dinwiddie.
Dapper Labs started the NFT revolution when it launched the popular NFT game Cryptokitties in 2017. Cryptokitties allows users to collect NFTs that include cats with certain features. Users can breed their Cryptokitties and create rare and new collectibles. The game's success was a double-edged sword because it created a lot of congestion on the Ethereum network which resulted in high fees.
Rather than face another congestion-related issue, the Dapper Labs team decided it was best to start from the ground up and built a proprietary blockchain that focused on the features they needed most. This maneuver fell in line with the firm securing a massive deal with the NBS to develop and support NBA Top Shots. Within a year of inking the deal, Flow was operational.
What Problems Does Flow Attempt to Fix?
Dapper Labs designed Flow (FLOW) from the ground up to reduce congestion and lower fees for users. Ethereum has had an influx of fees as of late due to its technical characteristics. Specifically, early blockchains increased fees based on network congestion. Originally, this strategy would eliminate spam posts and the network would operate freely. However, in Ethereum's case, the rise of DeFi has placed a lot of strain on the network without adding spam.
Flow was built specifically for NFTs. The network currently hosts Dapper Labs' top-performing projects including Cryptokitties, NBA Top shot, and more. Notably, NBA Top Shot has proven to be a successful venture for all parties involved. The platform is a joint venture between Dapper Labs and the NBA. Recently, the platform hosted the sale of a Lebron James card honoring Kobe Bryant for $387,000.
Congestion
Network congestion can wreak havoc on a platform. Users don't want to have to wait hours to receive their tokens or to complete trades. Flow's technical structure provides an ultra-scalable infrastructure for decentralized apps and assets.
Benefits of Flow
Flow (FLOW) provides a host of benefits and features that make it ideally suited to host NFT gaming Dapps. The protocol empowers developers to create new user experiences leveraging the network's features. Notably, Flow was built with composability in mind. Composability refers to developers building on top of shared resources such as an existing user base, data, security, and running code.
This developer-friendly approach allows users to build on each others' work and create advanced multi-layered Dapps. Also, the platform introduces ACID (atomic, consistent, isolated, and durable) technology coupled with upgradeable smart contracts as well. As such, developers can launch smart contracts and improve the protocol after trials.
Scalable
Scalability was a prime concern for Flow (FLOW) developers. The protocol introduces a multi-node architecture to enable vertical scalability. This approach allows developers to get the most from their resources and provides flexible scaling options to the market.
Sustainability
Another major benefit provided by Flow (FLOW) is long-term sustainability. Unlike Bitcoin or Ethereum, the network doesn't require miners to compete using computationally heavy equations. Eliminating miners provides the network with a much smaller carbon footprint than earlier generation networks.
How Does Flow Work
Flow (FLOW) combines an advanced blockchain, developer tools, and a streamlined NFT creation process to provide users with more opportunities. Flow introduces a new programming language called Cadence. Cadence was designed specifically for decentralized assets and smart contract programmability.
Cadence operates as a resource-oriented programming language that emphasizes readability and clarity. The system is unique in that it enforces rules about how resource assets are managed via smart contracts. This multi-role design improves the performance of the network without relying on sharding. This strategy improves responsiveness for apps, games, and digital asset transfers.
FLOW
FLOW is the native cryptocurrency and utility token for the network. You must hold FLOW to participate in the network and earn rewards. FLOW can function as a cryptocurrency and reserve asset. You can send value in an open, transparent, and borderless fashion using the network.
FUSD
Flow (FLOW) recently introduced a U.S. dollar-backed stablecoin called FUSD. FUSD will enable Dapp users to enjoy more stability and an easier transition into the market. This strategy will help to drive adoption further as it removes technical boundaries from the onboarding process.
Bottom Line
Flow (FLOW) is the perfect example of how time brings innovation. Dapper Labs was smart to create a custom blockchain to support their growing NFT gaming sphere. Users appreciate the added efficiency and developers gain from the introduction of Cadence. For these reasons, the Flow network is set to see continued adoption as Dapper Labs pushes the limits of NFT collectible gaming to new heights.