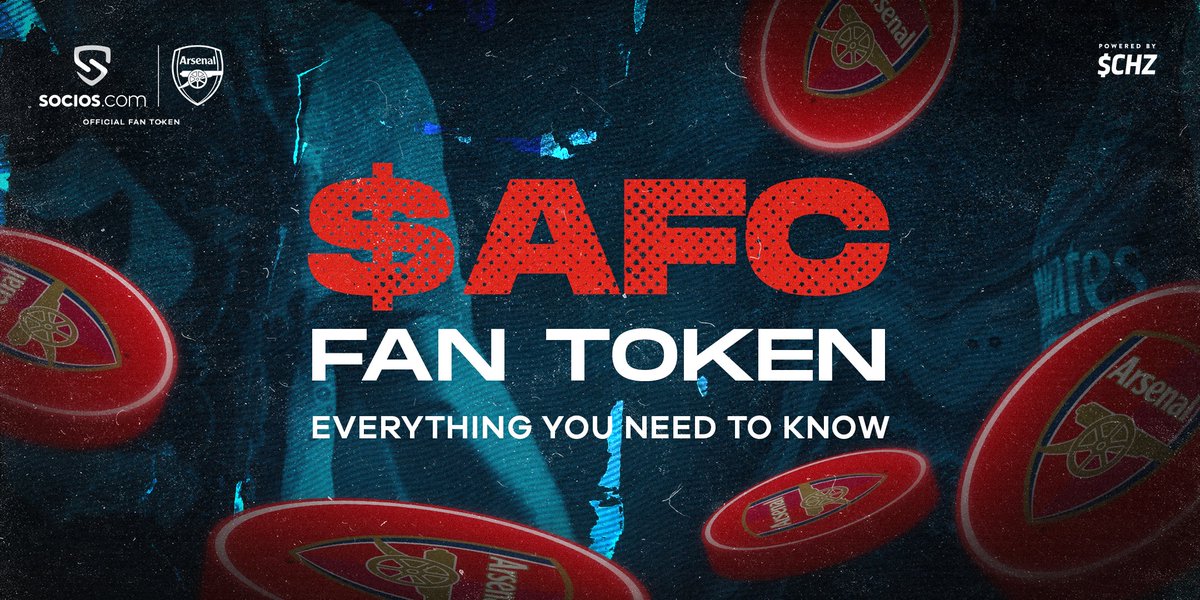 Arsenal Fan Token (AFC) is a utility token launched by Arsenal Football Club also known as the "Gunners" to its fans globally, allowing them to influence club decisions taken at headquarters in London and communicate with the club in ways that were not possible before.
Arsenal fans, also known as the "Gooners," have influenced many cool club-related decisions since the club's inception, including the game-winning song, the official bus design, the jersey design, selecting an inspirational message for the captain's armband and dressing room, and even selecting 11 players for an official friendly match.
How Does the Arsenal Fan Token (AFC) Work?
AFC Fan tokens share many similarities with other cryptocurrencies. The only official Arsenal Fan Token, $AFC, was established in partnership with Chiliz, the world's leading blockchain-based fan interaction platform for sports and entertainment. It is hosted on Socios.com's app. It is also a blockchain-based fan engagement platform that allows users to swap $AFC tokens for $CHZ, their in-app (native) currency.
Every football season, the $AFC Fan Token will enable club supporters with access to interactive polls, as well as club-related information, quizzes, tournaments, and activities. The $AFC Fan Token can be purchased and traded on major cryptocurrency exchanges like Coinbase and Binance. You will receive specific voting rights on official club decisions, as well as the ability to gain real-life and digital club-related advantages and experiences. This is possible using the Socios.com app.
Unique Features of Arsenal Fan Token (AFC)
You may be anywhere on the globe and still be a member of your favorite club and have a voice in a variety of choices; that is the power that one AFC token can give you!
Vote In Important Poll Decisions
With just one $AFC Fan Token, you can begin influencing club choices. Of course, the amount of Fan Tokens you hold determines the weight of your vote. Your vote will be counted as ten if you hold ten fan tokens.
To make things fair, the club caps each poll at a particular quantity of fan tokens. With just one fan token, you can start influencing the team and earning fan rewards. However, extra incentives may need the use of more than one $AFC token.
Uniting Fans Globally
Become a member of the worldwide fanbase. The Socios platform not only allows users to vote on polls, engage in contests, and take quizzes, but it also links them with others who share similar interests. The $AFC token enables its supporters to unite and drive the community to the next level.
Reap The VIP Benefits
Your token membership to the club brings you amazing rewards such as VIP hospitality access to the Emirates Stadium, meeting your favorite heroes, getting signed merchandise and more.
Arsenal Fan Token (AFC) Tokenomics
The tokenomics of $AFC is as follows: total token supply of 40,000,000, of which approximately 2,003,867 $AFC is the circulating supply among the club supporters. AFC has the remaining tokens, which can be obtained by participating in community events via the Binance Launchpool, or by purchasing directly on exchanges.
Arsenal Fan Token (AFC) Price Prediction and Future Outlook
Unlike other fan tokens which went into double-figures, Arsenal Fan Token (AFC) never went there and its all-time high of $8.13 exactly one month ago on October 27th. Currently, $AFC has broken major support and the bearish sentiment of the crypto market isn't helping at all.
As a team, Arsenal is counted as one of the top-flight teams in the Premier League. They were only demoted once, in 1913, and have played in the second-most Premier League games in English football history. The Gunners won their first League and FA Cup Double in 1970. They won League titles and five FA Cups, including two more Doubles between 1989 and 2005, At the turn of the century, they held the best average league position. Between 1998 and 2017, Arsenal won the UEFA Champions League 19 times in a row and has won four FA Cups in the last seven years.