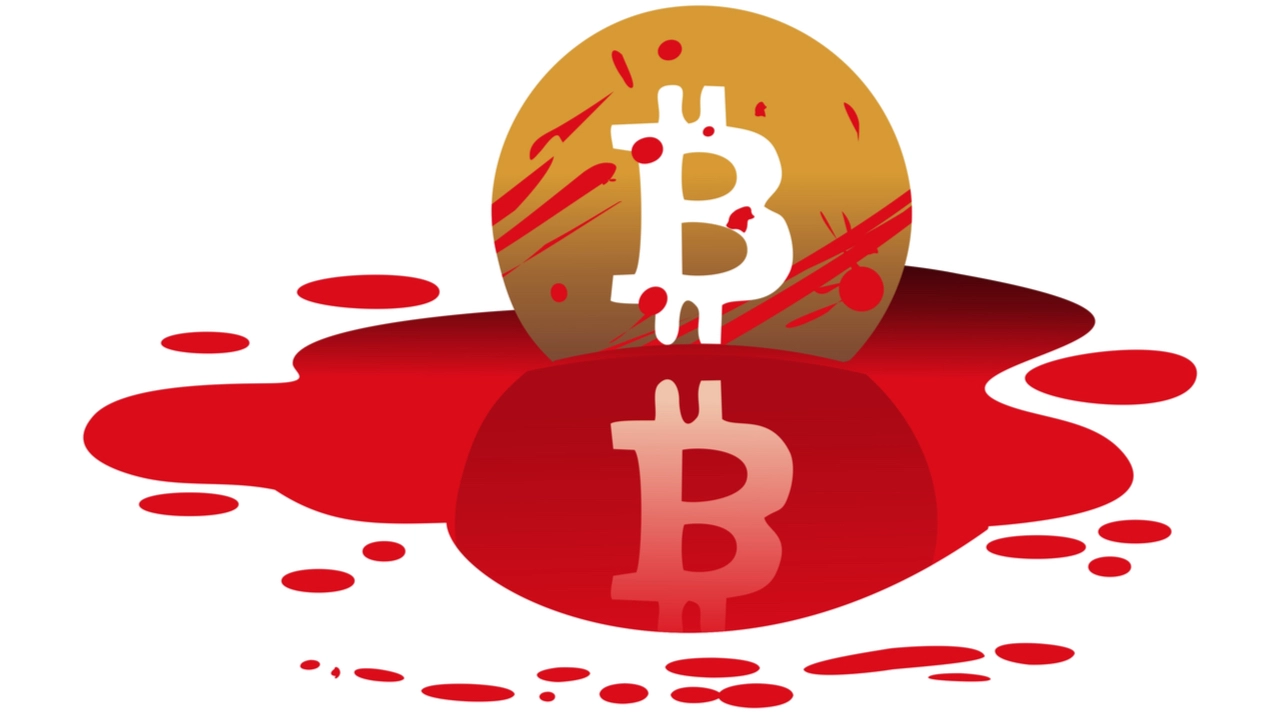 On Thursday evening around 10 p.m. (EST), the price of bitcoin fell beneath the $40K zone for the first time since September 21, 2021. During Friday's early morning trading sessions, bitcoin plunged to a low of $38,250 per coin. Furthermore, the market capitalization of the entire crypto-economy has slipped under the $2 trillion mark, down 7.5% to $1.94 trillion.
Bitcoin loses 8% in past 24 hours, down 40% from all-time high in November
The price of bitcoin (BTC) fell below the $40,000 zone for the first time in 122 days. BTC has lost around 8% in the last 24 hours and in the last month bitcoin has lost 21% against the US dollar.
Bitcoin's 24-hour price range has been between $43,508 and $38,250 per unit. At the time of writing, BTC has a market valuation of around $735.8 billion. Bitcoin's market valuation is around 38% of the $1.94 trillion crypto-economy today, while ethereum's (ETH) market cap is 17.7%.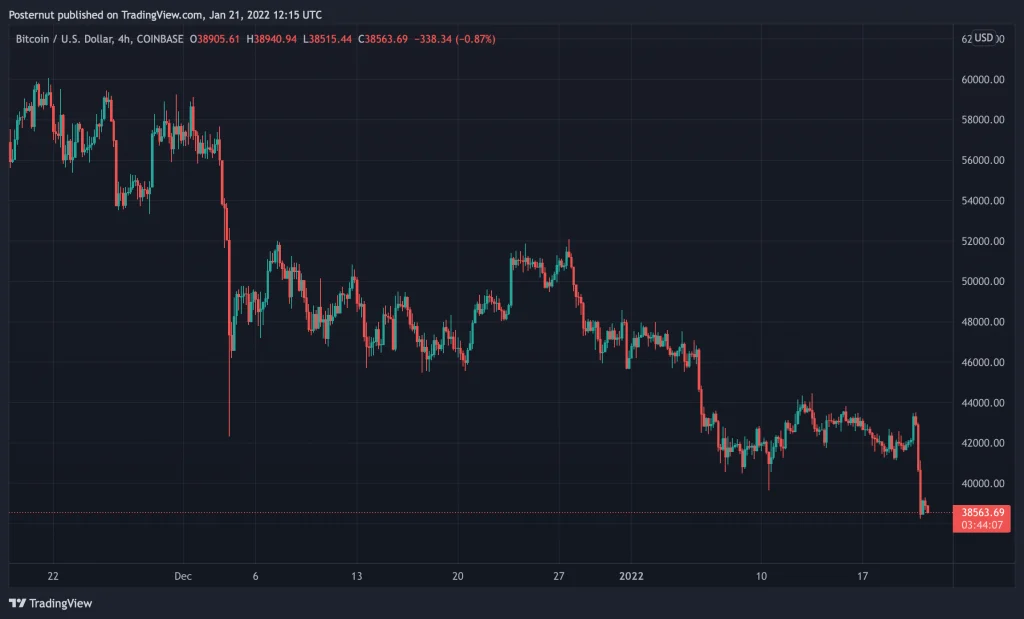 On Friday, the best trading pair with BTC is Tether (USDT) with 51.86% of all trades. Tether is followed by the US dollar with 21.75% and the stablecoin BUSD with 7.71%. BUSD is followed by EUR (4.86%), JPY (4.25%), KRW (3.05%) and USDC (1.69%).
The second-largest crypto asset, ethereum (ETH), is down 9.1% over the last 24 hours and 29.1% during the last month. ETH's 24-hour price range has been between $3,271 and $2,809 per unit.
While ETH's dominance is 17.7%, it represents $340.9 billion over the $1.94 trillion crypto economy. The most dominant trading pairs with ETH on Friday include USDT (48.83%), USD (22.75%), BUSD (9.34%), BTC (6.07%), EUR (4.38%) and KRW (3.32%).
Out of all 12,000+ crypto-assets in existence, only five coins are up in terms of weekly gains. Theta fuel, ftx token, bittorrent old, osmosis, and ecomi still hold single-digit seven-day price increases compared to the rest of the crypto economy.
The biggest losers this week include Loop Ring, Pocket Network, Kadena, Harmony and Proximity. These five coins have all lost 25% to 33% of their value over the past week.
Delta Exchange CEO Says 'Overall Outlook Remains Bearish,' Globalblock Analyst Suggests Bitcoin May Be Undervalued
On Friday morning, Pankaj Balani, CEO of Delta Exchange, shared his analysis of bitcoin's current market price with Bitcoin.com News. Balani says that the current outlook continues to remain in the bear's favor.
"BTC slipped below 40K psychological support amid continued selling off of risky assets. With this fall, Bitcoin has corrected ~40% since hitting the ATH in November last year" , Balani said, "We expect BTC to find supply around the 35,000 mark, almost 50% off the top. remain bearish as liquidity remains tight.
Marcus Sotiriou, analyst at the U.K.-based digital asset broker Globalblock, suggests that BTC may currently be undervalued.
"It is important to note that the Crypto Fear and Greed Index remains at extreme levels of fear – this generally represents a buying opportunity," Sotiriou explained. "Furthermore, the on-chain metrics continue to be bullish, as the Net Unrealized Profit/Loss (NUPL), which shows the magnitude of the Bitcoin holder's unrealized profit and loss, as a proportion of the market capitalization , is currently trading at 0.43, the lowest level of profitability for the network since July 2021." The Globalblock analyst added:
This emphasizes the fear surrounding the market now, as many are capitulating at a loss. These metrics suggest that Bitcoin is undervalued at current price levels due to what has happened in previous episodes of extreme fear.