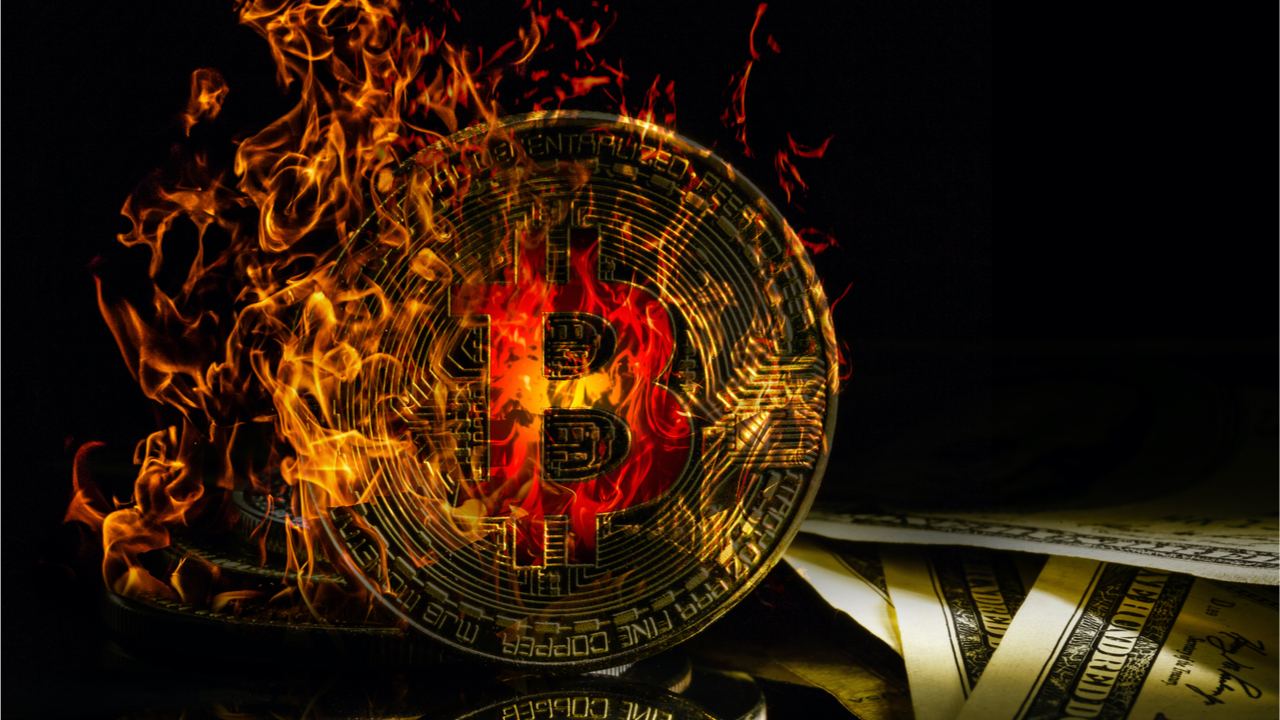 The price of bitcoin tapped a new low this year hitting $34K per unit at just after 5 a.m. (EST) on Saturday morning. Bitcoin is now down over 48% lower than its all-time high (ATH) reached two months ago on November 10, 2021 — when it jumped above the $69K mark. During the last week alone, bitcoin has lost 17% in value and a great number of traders and investors are curious as to when the carnage is going to end.
Digital Currency Market Carnage Continues, Crypto Economy Drops to $1.75 Trillion
It's been a bloodbath in the cryptocurrency world this week as the price of bitcoin (BTC) has taken every coin with it. Today, the entire crypto-economy is down 11% in the past 24 hours. BTC has been on a downtrend since the crypto asset's ATH, and since December 27, 2021, when BTC was trading for $52,000, bitcoin has lost over 32% in value per month. against the US dollar.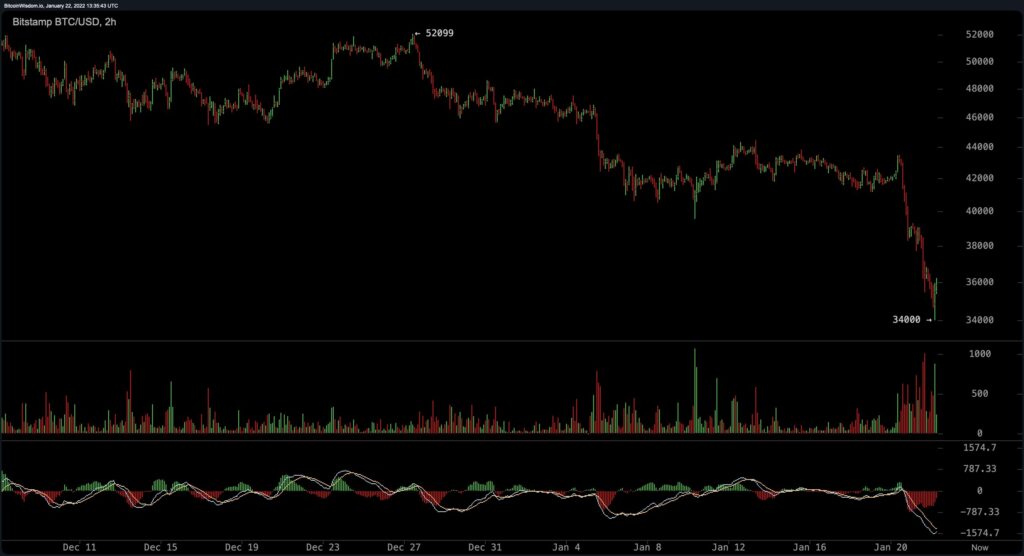 Just after 5 a.m. (EST) on Saturday morning, BTC's value dropped to its lowest point of the year so far, tapping $34,000 per unit. The leading crypto asset's 24-hour range has been between $39,177 and 34,000 per BTC. While BTC has dropped in value a great deal during the last 48 hours from $43,400 to the current $35.5K to $36K per unit, BTC dominance has increased significantly.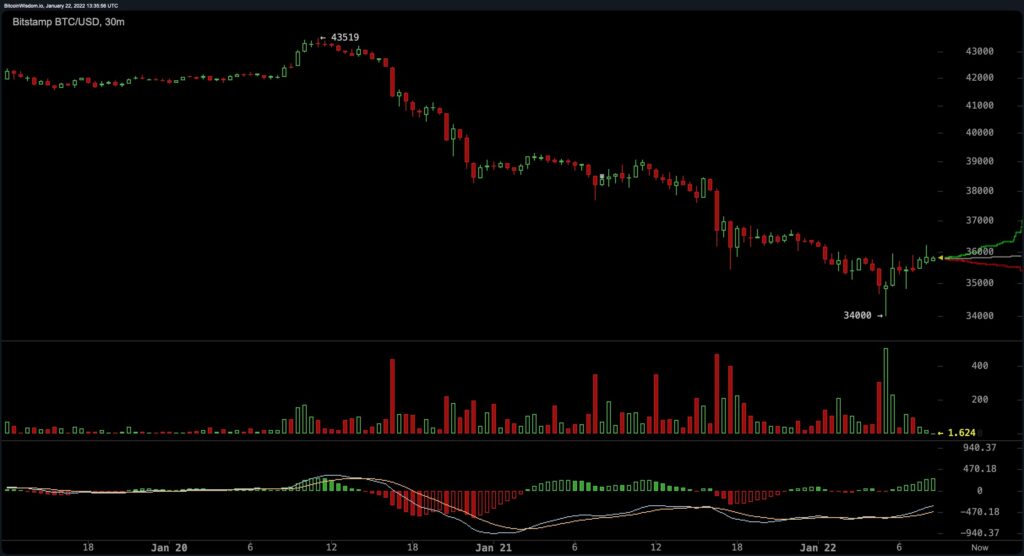 At the time of writing, BTC's market dominance is 39.5%, up 5.33% from January 6, 2022. Ethereum's dominance, on the other hand, has dropped to 17% and a myriad of other crypto assets have lost a lot of dominance. percentages too. Among the top ten crypto assets, polkadot (DOT) lost the most during the week, losing 32.1%.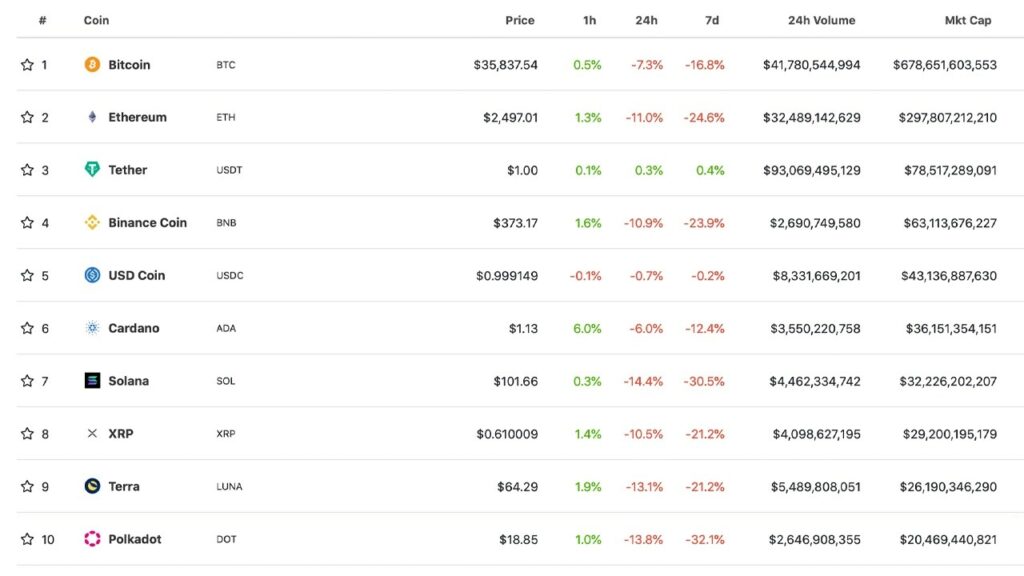 Furthermore, solana (SOL) is down 30.5% in seven days, and ethereum (ETH) has dropped by 24.6% since last week. BNB is down 23.9% and xrp (XRP) and terra (LUNA) are both down 21.2% over the last seven days. BTC and ADA saw the least amount of percentage losses this week as ADA shed 12.4% and BTC dropped 16.8%.
The crypto-economy has lost a lot of value in the past week, and many people are talking about the crash on social media. Vertical trends on Twitter indicate hashtags like #cryptocrash and #bitcoincrash evolve alongside discussion about the bitcoin stash of Michael Saylor and Microstrategy. People questioned whether or not Saylor and Microstrategy would sell their BTC holdings and people questioned Tesla holding its bitcoin long term as well.
Meanwhile, most of the crypto supporters on Reddit forums and social media channels like Twitter, have no idea when the carnage is going to end. While a number of crypto advocates believe the bearish markets are almost over and new ATHs are on the horizon, others believe BTC could drop even further, below the $20K zone.
YouTuber Colin Talks Crypto tweeted that he believes the bull run is not over. "Bitcoin's price has dropped tremendously," the crypto Youtuber wrote. "Many are scared and panicking. It's understandable. Zoom out. We are still up from the July 2021 low to $29,000. For me, the bull run is not over unless bitcoin price is below $29,000 (and not just a momentary dip below).