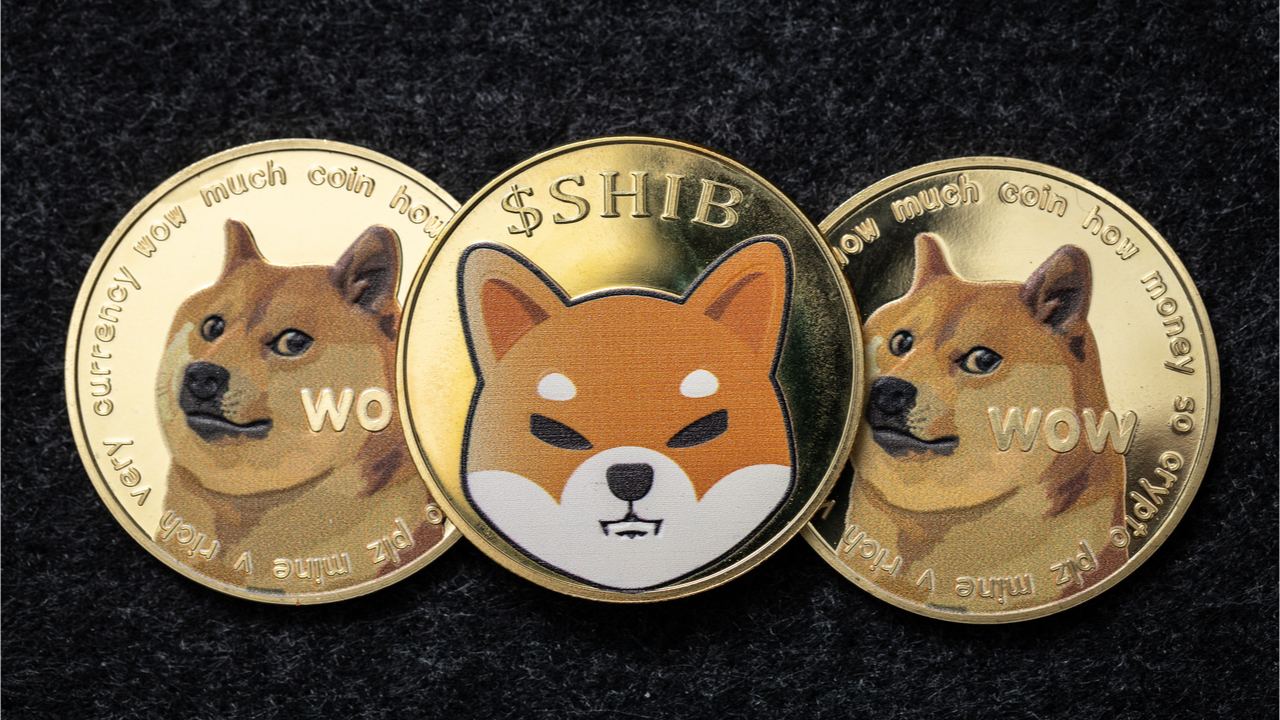 Today's top meme coins have lost 4.8% in value against the U.S. dollar, as the crypto market carnage has wreaked havoc across the entire digital currency economy. While dogecoin had a phenomenal year in 2021, over the past 12 months, dogecoin lost 82.8% against the USD.
DOGE hit an all-time high a year ago today, Meme coin value is down 82% since that point
Meme coin assets are down this week following the rest of the crypto economy's downward spiral. Stats show that dogecoin (DOGE) has lost 14% in value over the past month and 30-day stats show that shiba inu (SHIB) is down 24%.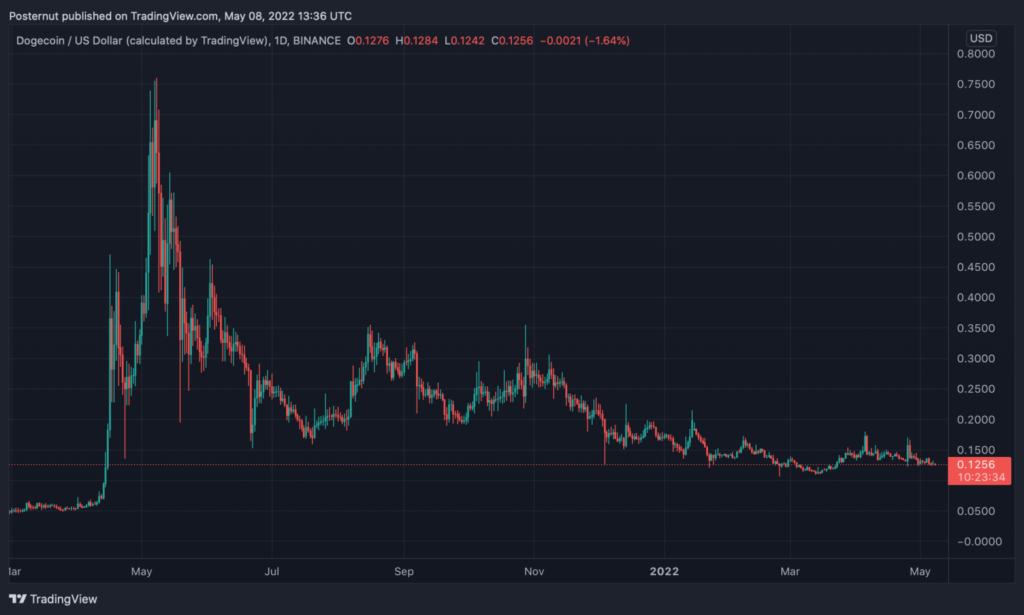 In the last day alone, the $28.3 billion worth of meme tokens lost 4.8% in value. DOGE lost 1.7% over the last seven days and this week SHIB has dropped by 6.8%. DOGE is also down 82.8% from the crypto asset's all-time high on May 8, 2021, which was exactly a year ago today.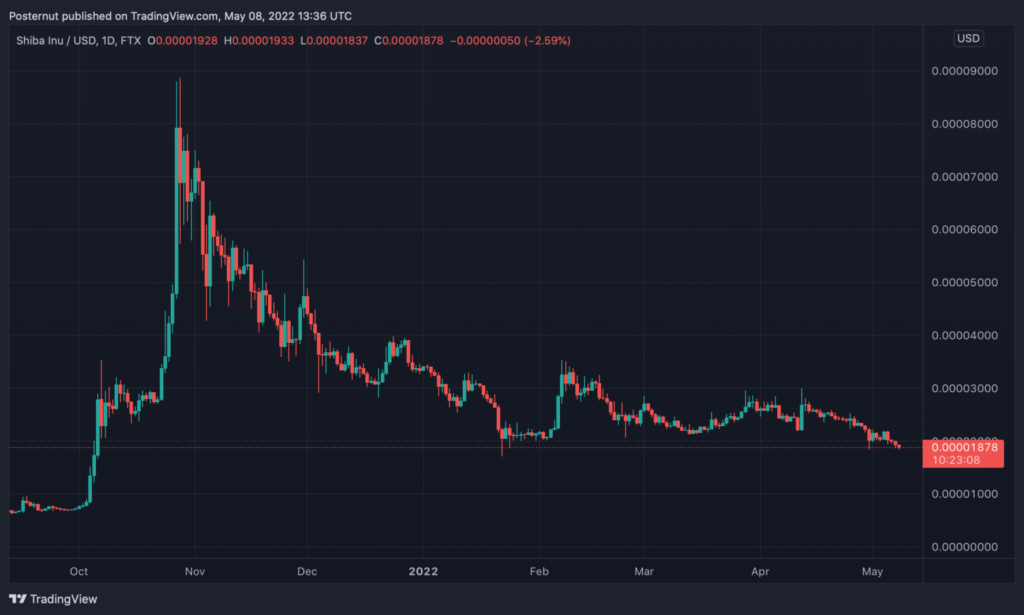 At that time, DOGE was reaching an ATH of around $0.731 per unit. Six months ago SHIB traded an ATH at $0.00008616 per unit and today it is down 78% since that price. DOGE and SHIB account for the bulk of the same tokens market capitalization of $28.3 billion accounting for 95% with a combined market valuation of approximately $26.9 billion today.
Google Trends Data Shows Interest in Dogecoin and SHIB Is Low
While most of the meme coin economy has shed significant value in recent times, a relatively unknown meme token called litedoge (LDOGE) has gained 400% this week. Poodl token (POODL) is up 34.2% and dogefi (DOGEFI) is up 27.3% during the past seven days. However, jejudoge (JEJUDOGE) has lost 44.6% this week, lets go brandon (LETSGO) is down 43.3%, and shiba fantom has shed 28.9% in value against the USD.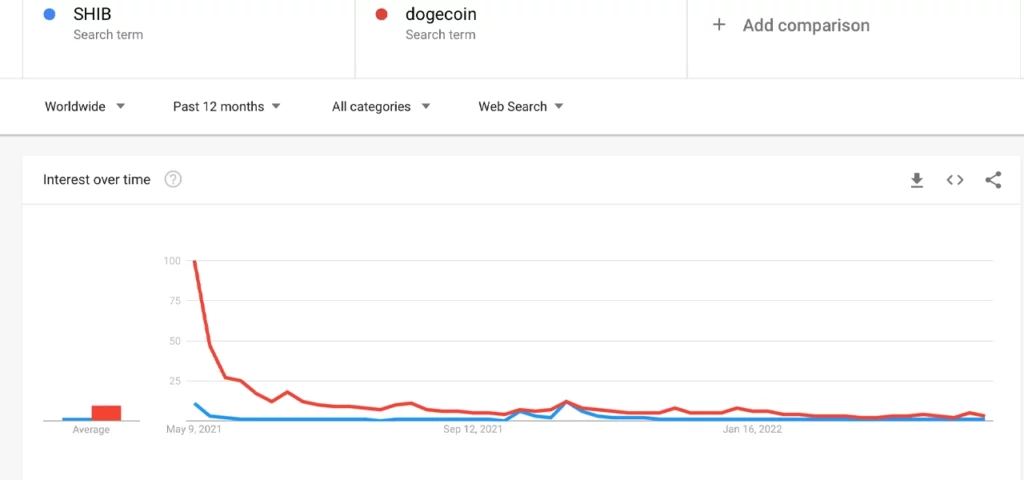 Meme tokens were all the rage last year, but interest seems to be waning fast. After reaching a Google Trends (GT) score of 100 last May, this year during the same weekly period, the search phrase "dogecoin" scored a three. SHIB hit a 100 in October, and GT data shows the search term "SHIB" scored a four this week, according to Global Statistics.