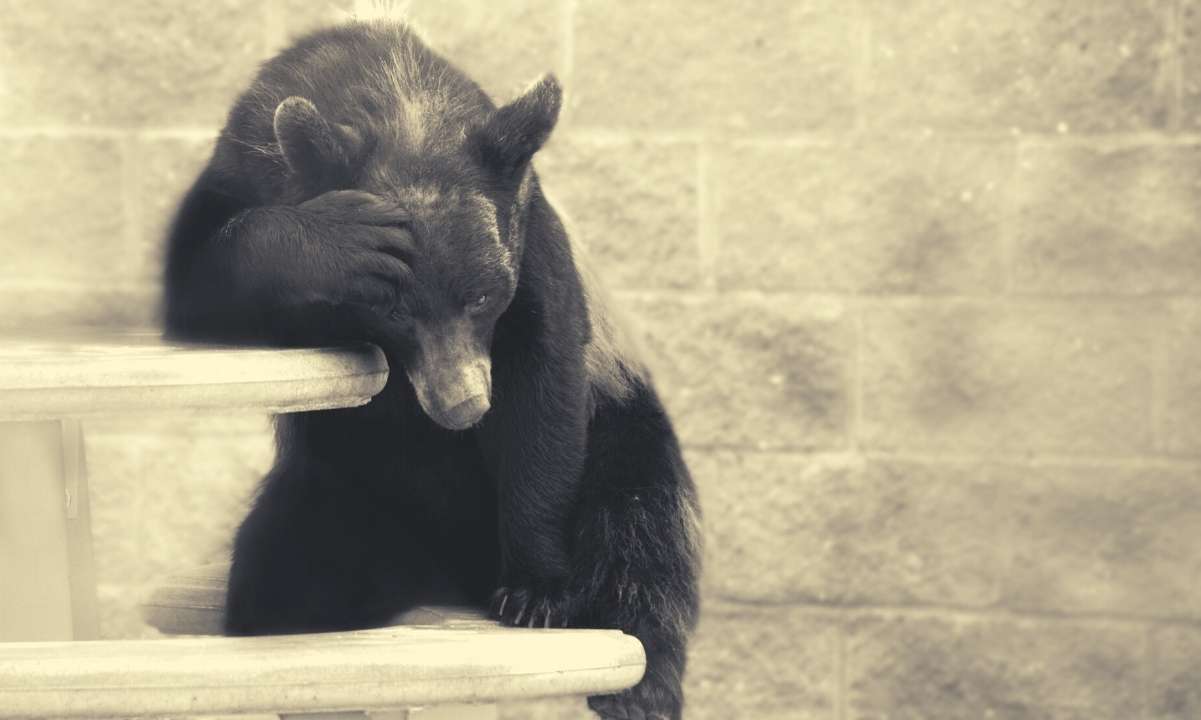 It was the busiest week for many months, but, unfortunately, the end result was that $500 billion was wiped off the total cryptocurrency market capitalization. Terra's ecosystem was at the forefront of all of this, so let's unpack.
On May 9th, UST – the algorithmic stablecoin of the Terra ecosystem, lost its peg. It fell to about $0.95, but no one was prepared for what happened after that. On the following day, UST continued losing value as the Luna Foundation Guard continued deploying capital in a futile attempt to defend the peg. It all came crashing shortly after – on May 11th, UST was trading at a discount of close to 80%.
This, in turn, created a huge arbitrage opportunity due to how the algorithm behind the stablecoin works. As long as the UST is trading below $1, users can burn it for $1 from LUNA – a way to get the cryptocurrency below market prices in perpetuity until the peg is restored . This created an endless loop of printing LUNA and diluting existing supply to the point where a few days later LUNA is essentially worth $0.
Billions were wiped off the market while exchanges have mostly delisted trading pairs associated with both cryptocurrencies. The Luna Foundation Guard had previously bought as much as $1.5 billion in BTC for its reserves – an amount that's completely depleted now.
This dragged the whole market down. The result – 500 billion dollars was erased from the total capitalization. Bitcoin's price has fallen below $26,000 on some exchanges – levels we haven't seen since December 2020.
Many altcoins followed suit, all charting massive declines. Solana dropped below $40, ETH – below $2K, and so forth. At the time of this writing, the market is recovering, but the overall sentiment remains very frightful.
With the hope that the worst is over, it's exciting to see what the next seven days have in store. Again – there are no dull days in crypto.
Market Data
Market Cap: $1,373B | 24H Vol: $374B | BTC Dominance: 42.3%
BTC: $30,522 (-16.6%) | ETH: $2,101 (-23.7%) | ADA: $0.57 (-27.7%)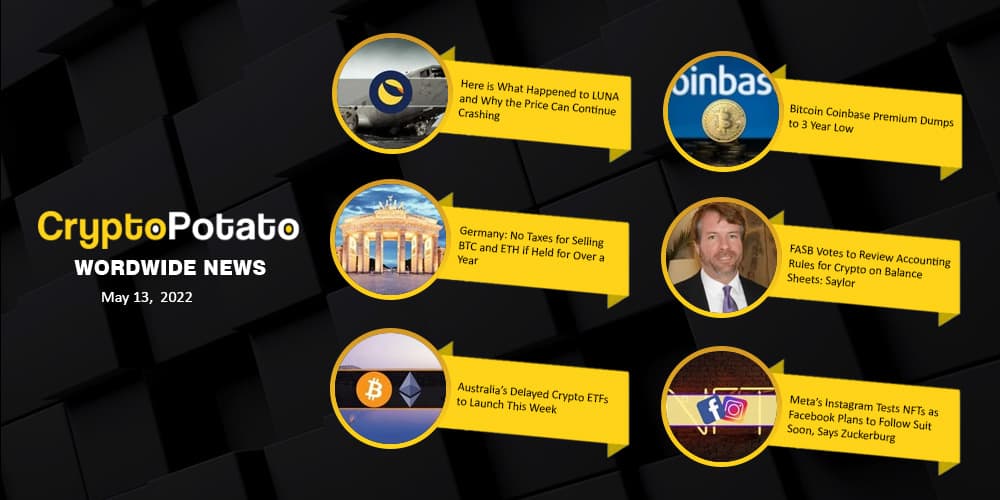 This week's crypto stocks you can't miss
Here's what happened to LUNA and why the price may continue to fall. UST lost his ankle and LUNA crashed. The latter essentially lost 100% of its value because the algorithm's arbitrage printed it in perpetuity. As of this writing, many exchanges have also delisted related trading pairs.
Bitcoin Coinbase Premium Dumps to 3 Year Low. The Bitcoin premium on Coinbase dumped to a low not seen in three years. This might be an implication that institutional sellers are disposing of their holdings on the platform.
Germany: No taxes for the sale of BTC and ETH if held for more than a year. The German Ministry of Finance has said that individuals will not have to pay taxes when selling BTC or ETH, provided they have held them for more than a year. This is a considerable development in a positive direction.
FASB Votes to Review Accounting Rules for Crypto on Balance Sheets: Saylor. The Financial Accounting Standards Board (FASB) has voted to review accounting rules for exchange-traded digital assets in the US. This could have major implications for companies seeking regulatory clarity.
Australia's delayed crypto ETFs will launch this week. After a two-week delay, the first Australian cryptocurrency exchange-traded funds have started trading. However, due to unfavorable market conditions, they have so far only generated negligible volumes.
Meta's Instagram Tests NFTs as Facebook Plans to Follow Suit Soon, Says Zuckerburg. Instagram will see the introduction of NFTs in the future. users will be able to view them in a physical space. This was revealed by Meta's CEO – Mark Zuckerberg.