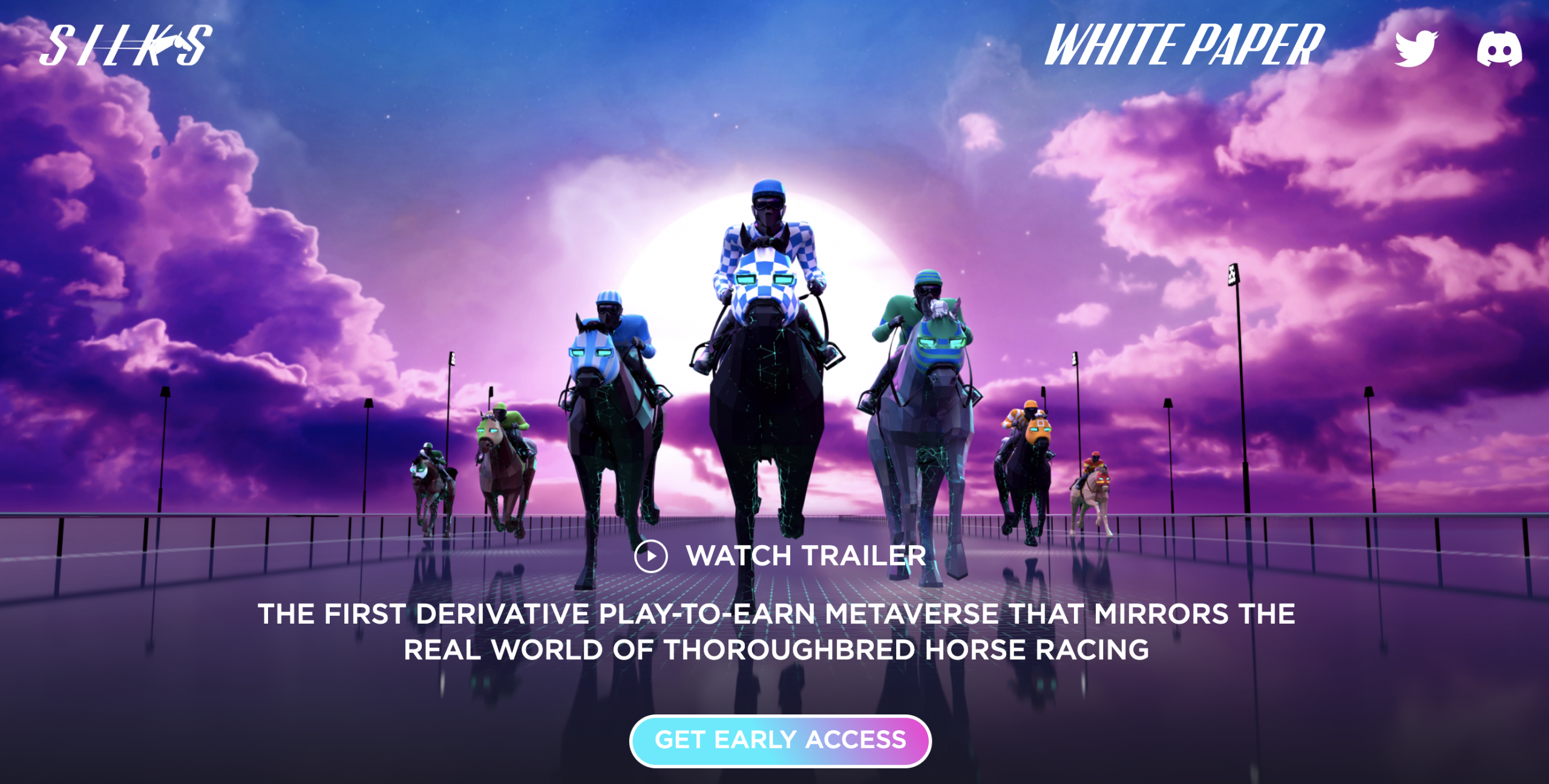 Silks is the first metaverse derived from the win game that mirrors the real world of thoroughbred horse racing. In short, Silks will take the public data/statistics of real thoroughbred racehorses and link them to the NFTs. When the real racehorse wins races or breeds offspring, its derived Silk Horse will earn token rewards. Silks' mission is to create a self-sustaining ecosystem where players are connected through shared purpose, aligned incentives and a unique and rewarding ownership experience.
What is Silks (SLK)?
Silks, a P2E metaverse game, offers a virtual world where players experience "the thrill of owning thoroughbred racehorses". Players can buy, trade, and interact with many in-game NFT assets, including Silks Horses, Avatars, Land, and Stables. More importantly, users can earn Tokens simply showing off your gaming skills and contributing to the Silks network. The game is unique in that each Silks Horse is directly connected to a real-world thoroughbred horse. Using this innovative approach, a Silks Horse tracks real-time data on the training progress, bloodlines and racing results of its real-world counterpart.
Also, each time the racehorse wins a race or creates offspring in the real world, the owner of the Silk Horse that corresponds to it earns some tokens. The tokens, $STT, are Silks in-game transaction tokens. Players can use $STT tokens to purchase in-game items from the market, including Silks Avatars, Stables, Land and Silks Horses. The Silks governance token, $SLK, is also available in the Silks metaverse. Token holders can become part of the Silks DAO and vote on significant platform decisions. Also, players can change their $STT tokens to $SLK.
How does Silks (SLK) work?
Silks reflects the real world of the $11 billion U.S. Thoroughbred horse racing industry by integrating massive datasets representing thoroughbred bloodlines, training progress and race results into the blockchain. The process creates NFTs derived from the top 1-year-old thoroughbred racehorses registered in the US, called Silks Horses. In addition to Silks Horses, the metaverse uses Silks Avatar, Land, and Stable NFTs. Each NFT group plays a key role in the Silks economy, opening up exciting income streams for participants. For example, you can speculate in Silks Land. They are used to build horse farms, stables, other infrastructure and experiences. You can bet your Silk Horse at the Community Farm and earn STT tokens. Every time your Silks Horse's real-time counterpart wins a race or breeds offspring, you are rewarded. You can also build your own Farm and earn a share of the rewards generated by wagering Horses. The opportunities are endless.
Silks democratizes the thrill of horse racing using blockchain technology. Given the potential of the project, the NFTs are expected to accumulate enormous value by the end of this year. As this can make the platform unaffordable for average players with little upfront investment, Silks introduces Horse Syndication. Lowers the barrier to the platform by allowing users to buy fractional NFTs. This is also a great way to mitigate the risks of investing a large amount of money in just one Silks Horse. When you put your money into multiple NFTs, the performance of some real-world thoroughbreds will not affect your position.
Silks Ecosystem
According to the white paper, this metaverse will be governed through a decentralized autonomous organization (DAO), with SLK token holders able to vote on proposed changes to the platform. Players can convert STT to SLK at a variable exchange rate. Another cornerstone of the Silks ecosystem is mining: to achieve the direct link between Silks horses and their real-world counterparts, decentralized datasets are used with information about each thoroughbred's bloodlines, developmental progress and results of races.
Miners verify data through a proof-of-stake (PoS) consensus mechanism, with mining rewards distributed across the SLK. At the launch of Silks, the initial datasets will be centralized; however, as the Silks metaverse expands over time, these datasets will become fully decentralized. Ultimately, this mining process can provide consistent income for many community members.
Game NFTs Silks
The Silks avatars that players use and the horses in the game are structured like NFTs. Players must own a Silks avatar before owning a Silks horse, as these avatars help identify players in the Silks Metaverse. The initial crop of Silks horses will be minted in mid-2022. However, subsequent crops will be minted annually to coincide with the registration of yearling thoroughbred steers – in the real world. All horse NFTs will be sold via a blind sale, which means that a player has a chance to get a high value horse regardless of financial situation.
NFTs Silks Horse
Silks Horse NFTs are, of course, the main attraction of the Silks ecosystem. Each Silks horse will be a digital clone of a real-world thoroughbred racehorse. Silks Horse NFTs will track public data related to the bloodlines, training progress and running productivity of their real-world counterparts.
The inaugural launch of the Silks Horse NFT will represent the top 10.000 thoroughbred racehorses of a year in the US. Upon NFT minting and public sale, Silks horses will be fully tradable on secondary markets.
Terra
Similar to all the best NFT gaming platforms like Decentraland, you will also have the ability to purchase land within the Silks metaverse. Each plot of land will be represented as an NFT and will allow participants to develop their land to build studs and stables where other members of the Silks community can keep their horses.
stables
Stables will be needed for Silks participants to house and maintain their Silks Horses. Each stable can house up to 10 horses and will provide a Silks framework for participants to engage in staking and pooling their horses
Staking in Silks
Silks horses will cost money to feed, house and train, just like their living counterparts do in the real world. Every horse in the Silks metaverse must live in a stable on a farm so it can be housed, fed, trained and cared for. When an individual first receives their horse, it will be housed at one of the many large community farms during which it will be freely tradable unless staked. Owners will have the option to pay DAO in STT to keep their horse on the community farm indefinitely, stake their horse on the community farm and earn STT for locking it up, move their horse to a third party private farm, or build their own farm to care for. of your horse.
The maintenance need for a Silks horse can easily be outsourced to a third party horse farm willing to accept the horse. In the Silks metaverse, this is called staking. When a Silks horse is staked on a private third party farm, it will be subject to a lockout period during which it cannot be sold. In exchange for a farm keeping your horse. during this period, an individual must share a percentage of any STT earned by their horse with the horse farm owner. In addition, all remaining $STT earned during the staking period will be pooled on a pro rata basis with the owners of all horses staked on the farm at that time.
SLK and STT tokens
The Silks Metaverse is a distributed application built on the blockchain and governed by a DAO. The Silks DAO will control all governance within the Silks metaverse. Your property will be represented by a non-inflationary fungible token called SLK. The SLK token will be backed by a treasury wallet that contains liquid and stable digital financial instruments to protect the DAO. $SLK can be purchased with STT or earned by community members who contribute to the ecosystem in different ways. A total of 500 million SLK units will be allocated and unlocked over time.
The Silks metaverse will function as a virtual economy that largely resembles the real world of thoroughbred horse racing. The currency that will be used to transact in the Silks metaverse is called $STT, which is a non-inflationary token. All transactions that take place in the Silks ecosystem, including rewards for owners whose horses win races or races, will be settled using STT. The Silks platform will mint a maximum of five billion units of STT.
The STT token is convertible into SLK at a variable exchange rate published by the DAO, making it effectively backed or guaranteed by the DAO treasury wallet, which will maintain liquid and stable financial instruments to guarantee its value. Various resources within the economy are expected to burn enough STT to meet future minting requirements without exceeding the cap. In the event of a gap, the DAO will use a portion of the treasury funds to repurchase any STT deficit on the open market.
Final Thought
Silks is a unique new addition to the P2E, Metaverse and NFT gaming space, a cross between horse racing and cryptocurrencies. aIts founders have a passion for thoroughbred horse racing and P2E crypto games, and have assembled a team of experienced developers to combine the two. A new NFT project due to launch this year, the first quarter of 2022 marks the beginning of its whitelisting process for early access investors.