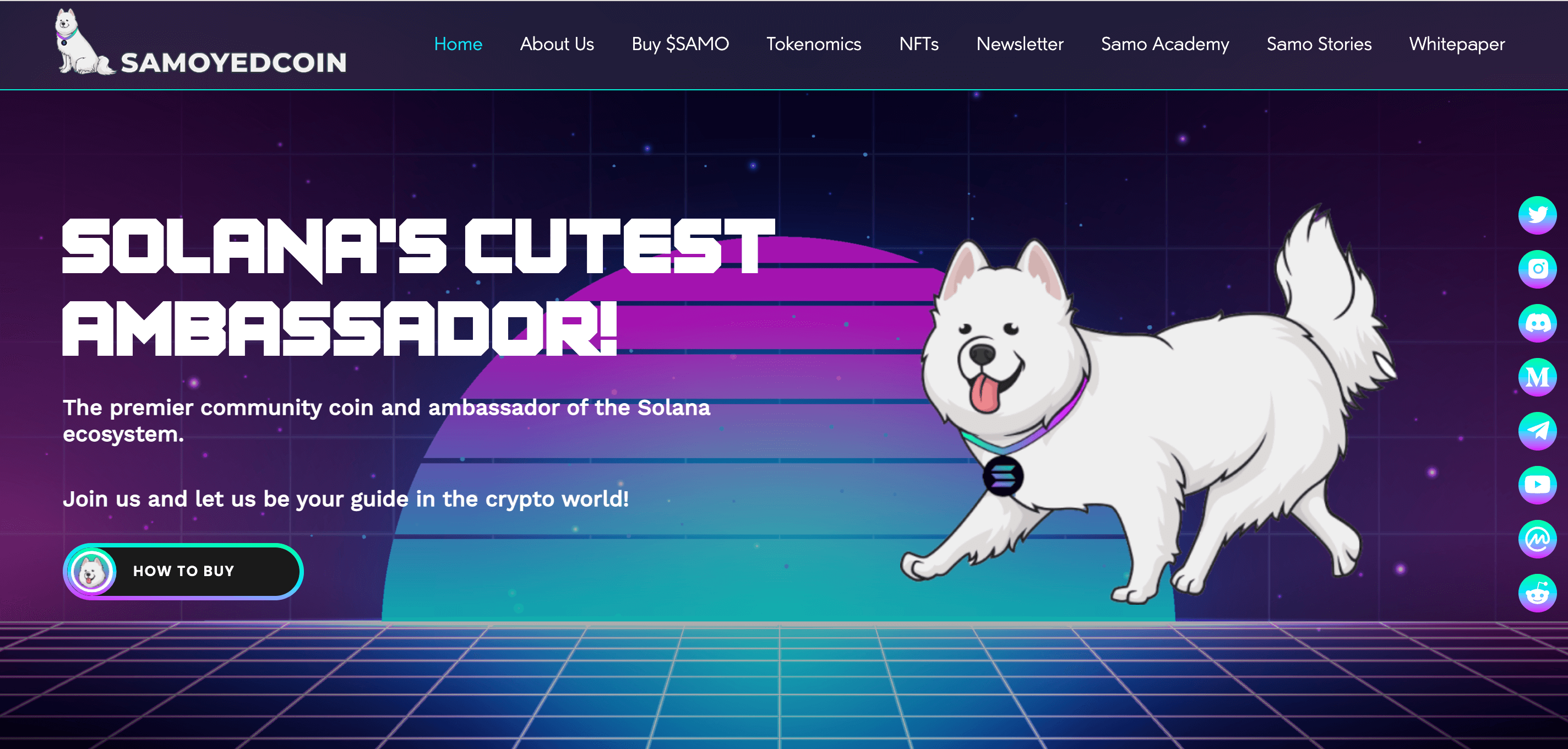 What is Samoyedcoin (SAMO) coin and how does it work?
Amid the rise of "memecoins" and Solana in 2021, Samoyedcoin (SAMO) was born out of respect for crypto mogul Sam Bankman-Fried and Solana co-founder Anatoly Yakovenko. Seeing the potential of online communities, the Solana advantages, and the influence dog coins have on integrating new market participants, marketing their underlying blockchain, and infiltrating modern culture, SAMO has evolved from a memecoin to a currency. experimental web 3.0 community.
At its core, SAMO is an emerging digital asset that supports a community focused on onboarding Solana users, educating market participants, making personal connections, and helping each other navigate life. While they are the fastest, most efficient and most eco-friendly dog ​​currency in the game, they aspire to be more than that; aspire to be ambassadors for Solana.
SAMO NFTs
The genesis collection of SAMO NFTs consists of 5.525 randomly generated custom designs on the Solana blockchain. Like the Samoyedcoin (SAMO) Launch Collection, each NFT features a charming Samoyed dog with a mix of unique attributes with just as much personality as the cute white companions. Known for being social, loyal and vocal, the Samoyed race inspires the community and each NFT represents a commitment to onboarding and educating the next wave of Solana users as well as supporting those who rely on the Solana blockchain.
Samoyedcoin (SAMO) Tools and Solutions
Samo Airdrop Tools
It's no secret that the Solana Network is still very developer-oriented. As a result, user experience is still not the top priority. The Samo Airdrop tools were created to fill the void and provide the necessary comfort when handling Solana in the CLI.
It is a particularly useful selection of scripts for bulk airdrops. They allow you to search lists of any holders of Tokens or mints with minimum, maximum or random distributions and carry out flat or proportional airdrops. The scripts have been well received and are already one of the most used toolsets in the Solana ecosystem, with over a dozen code forks.
SamoTIPS
SamoTIPS is designed as an easy-to-use, easy-to-integrate solution for websites that allows you to deploy a "tip" jar that supports your cause and/or work. In its current release state, SamoTIPS is a lite version created for the Solana Season Hackathon. It is being further developed to support full direct integration across multiple platforms to allow native tipping without users leaving your platform.
SamoTIPS Generator is a tracking tool that allows everyone to generate an inline HTML code that can be used to set up a tipping portal of their own. It has a few formats to choose from and direct iframe or button to popup options if you prefer. The solution can be implemented on any page that supports HTML embedding.
SamoDEX
The custom solution over the standard Serum DEX GUI includes some unique features and capabilities. The design is an expanded basic Serum GUI that makes trading more accessible and fun to use.
SamoDEX is able to provide additional trading information for any pair listed on Bonfida. This includes charts as well as historical data. Additionally, SamoDEX uses its dedicated RPC endpoint, powered by its partner GenesysGo (Solana Validator).
Having a dedicated endpoint is essential for DEX stability, which in turn leads to fewer errors and market load failures than we would normally encounter due to congestion. This solution is fully scalable and the team will continue to implement more features in the future.
Can Binance List Samoyedcoin (SAMO) Token?
There is still no official announcement regarding the listing of the Samoyedcoin cryptocurrency on Binance. However, as the crypto is already among the 456 largest on the market, if there is real demand, the coin will certainly be listed in the near future on the global cryptocurrency exchange Binance.
SAMO token
With a total supply of 14 billion in total, 2,1% of SAMO was burned at the time of its debut. As of now, the planned burn rate is recorded as 64% of the maximum supply. This process will be carried out with 3 different activities. 14% of the circulating SAMO was distributed to the community via "airdrop". In addition, 5,6% of SAMO was gradually distributed to the market.
Is it worth investing in Samoyedcoin?
Although Samoyedcoin started out as a memecoin, the opportunities and ideas presented after launch led to a massive expansion of the team. The team has built a complete working structure that covers all aspects for future growth. With firm plans to further upgrade all current solutions as well as develop new ones. The Solana Community recognizes that the Samoyedcoin team is here to stay and the cutest ambassador will continue to be their guide dog in the world of Solana Network and DeFi.
Having said that, before making any investments, do your research, investing in cryptocurrencies is highly risky and speculative, and this article is not a writer's recommendation to invest in cryptocurrencies.
Samoyedcoin (SAMO) Price Forecast
The price of Samoyedcoin is predicted to reach a maximum level of $0.0478 throughout 2022.
As early as 2023 according to our crypto price prediction index, Samoyedcoin (SAMO) may reach a maximum level of $0.0920, with the average trading price of $0.0684.
In 2025 according to our crypto price prediction index, SAMO is expected to cross an average price level of $0.1109. The minimum expected value of the price of Samoyedcoin at the end of the current year should be $0.1024. Furthermore, SAMO can reach a maximum price level of $0.1131.
Where to buy the SAMO token?
SAMO cryptocurrency can be traded on the following exchanges:
OK
Gate.io
MEXC
Bitrue
lbank
Hotbit
Final Words
Originally just a meme coin, SAMO Salana has become an ecosystem ambassador. Samoyed Coin can bring new people to Solana and offer exciting new solutions for the ecosystem. Not just any dog ​​in the Solana ecosystem is named after Sam Bankman-Fried, CEO of the FTX Exchange! Also referring to the CEO of FTX, SAMO claims it is the cutest dog breed token on a blockchain.