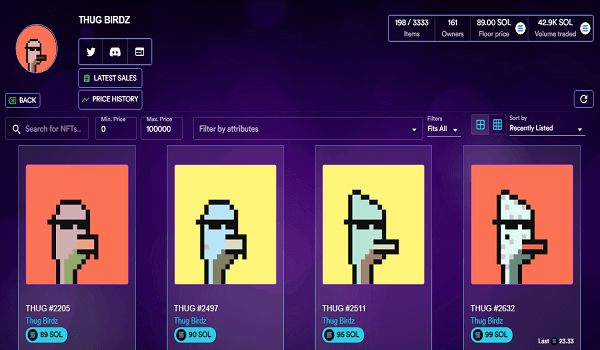 Thugbirdz is a collection based on Solana composed of 3.333 algorithmically generated pixelated birds; who are bandits.
What is Thugbirdz?
Thugbirdz is a Solana-based collection comprised of 3.333 algorithmically generated pixelated birds. These birds have important parts including hats, sunglasses, beak color, earrings, tattoos and even smoking style. They are divided into four 'gang roles' which are 'Thugs' (89%), 'Enforcer' (9%), 'Underboss' (0,9%) and the Boss, a single bird.
The collection is currently available on the Magic Eden, Solanart, and Digital Eyes secondary markets. These NFT birds can be purchased through Phantom, Solflare Sollet, Mathwallet, Slope and Solong Web3 wallets. The Thugbirdz team will soon launch their pixelated birds in other secondary markets. Thugbirdz is also one of the top Solana NFT collections supported by the FTX cryptocurrency exchange.
And in exchange for the support they're receiving, 10% of all sales from the collection will go to an Indian organization called WildlifeSOS, which preserves the country's forest, wildlife and biodiversity.
Reminder when buying Thugbirdz
For NFT enthusiasts planning to buy their first or next Thugbirdz, the team strongly discourages them from engaging in peer-to-peer transactions. Scams are rampant in the NFT space, and the safest option for buyers is to buy directly from the markets where Thugbirdz is officially listed.
Team behind the project
The Thugbirdz team is made up of leaders in different areas such as community, art, architecture, strategy and a consultant who work together to foster a strong and highly engaged community. The team also aims to establish a community that can support talented artists in the visual and musical arenas, to take their talents to the next level.
digital eyes
While NFT enthusiasts are already familiar with the Magic Eden and Solanart secondary markets, Digital Eyes might need a bit of an introduction. Digital Eyes is currently Solana's third largest secondary market by volume, behind only Magic Eden and Solanart.
She stamps her collections with a 'Verifeyed' label, meaning that the Digital Eyes team has fully authenticated a collection, but not a guarantee that its value will increase.
ThugDAO
ThugDAO is the collection's own decentralized autonomous organization, which provides members with exclusive offers including whitelists for projects, airdrops, and giveaways. It was also established to support talented artists who need financial support to bring their craft to a wider audience.
Part of its plan is to become a legal representative for the DAO's business transactions, establish a strong Tokens and a nice structure behind it.
Merchandise
Thugbirdz has released an iconic line of merchandise to create a stronger sense of identity among its community. The collection's iconic pixelated bird head can now be seen on your hoodies, hats, tote bags, socks and more.
NFT Escrow Market
The Thugbirdz team is currently developing an NFT escrow platform that will serve as an alternative to the markets and a portion of its revenue will be funneled into the ThugDAO treasury.
Supporting Artists
Another goal of the DAO is to support more artists inside and outside the NFT space by launching a program that can boost their careers and showcase their talent.
bandit sticker
While the previously mentioned program aims to support visual artists, 'Thug Label' aims to support talented and independent musicians. 'Thug Label', which Thugbirdz claims is the world's first DAO-led record label, will follow a multi-genre approach and is expected to be a game-changer in the NFT music industry.
Thugbirdz 2022 IRL MeetUp
The Thugbirdz team will launch a special event called the Thugbirdz 2022 IRL MeetUp, which will take place on March 5, 2022, at the Big Night Live music venue in Boston, Massachusetts. This special event aims to build a strong community and bring Thugbirdz fans together and let them celebrate the life of 'Thug'.
Audius Awarded Rap Winners With Thugbirdz NFTs
Audius, a blockchain music streaming service, has launched a rap/vocalist competition on its platform, with 400 artists participating in the event. The top 5 winners received Thugbirdz NFTs worth $100.000+, allowing them to own one of the most valuable digital assets in the NFT space.
The runners-up received valuable assets in the form of collaborative NFTs from the Thugbirdz/Audius partnership. Audius aims to bring great change to musicians by providing them with a platform to build their fan base and monetize their talent.
Thugbirdz podcast
The Thugbirdz Podcast brings the collection closer to the community with in-depth discussions of its progress and current plans. The community and those interested in checking out more about the collection can watch his podcast on Youtube and Twitch.
Thugbirdz Owners
New Thugbirdz owners can't help but show off their newly acquired birds on the collection's official Twitter account.
@KingSolma, one of the most recent Thugbirdz holders, bought THUG#0637 for 41,00 SOL which is equivalent to $3.938. @UnchainedLabs , meanwhile, bought the THUG#50 for 40,00 SOL, or $3.774.
These latest purchases and the growing number of Thugbirdz holders only show the NFT community's growing confidence and enthusiasm for the collection.
Bottom Line
Thugbirdz aims to establish a strong community through IRL events, merchandise, podcasts, and worthy causes. And by investing heavily in your community, you can certainly achieve success, not just in the virtual world, but in the real-life world as well.