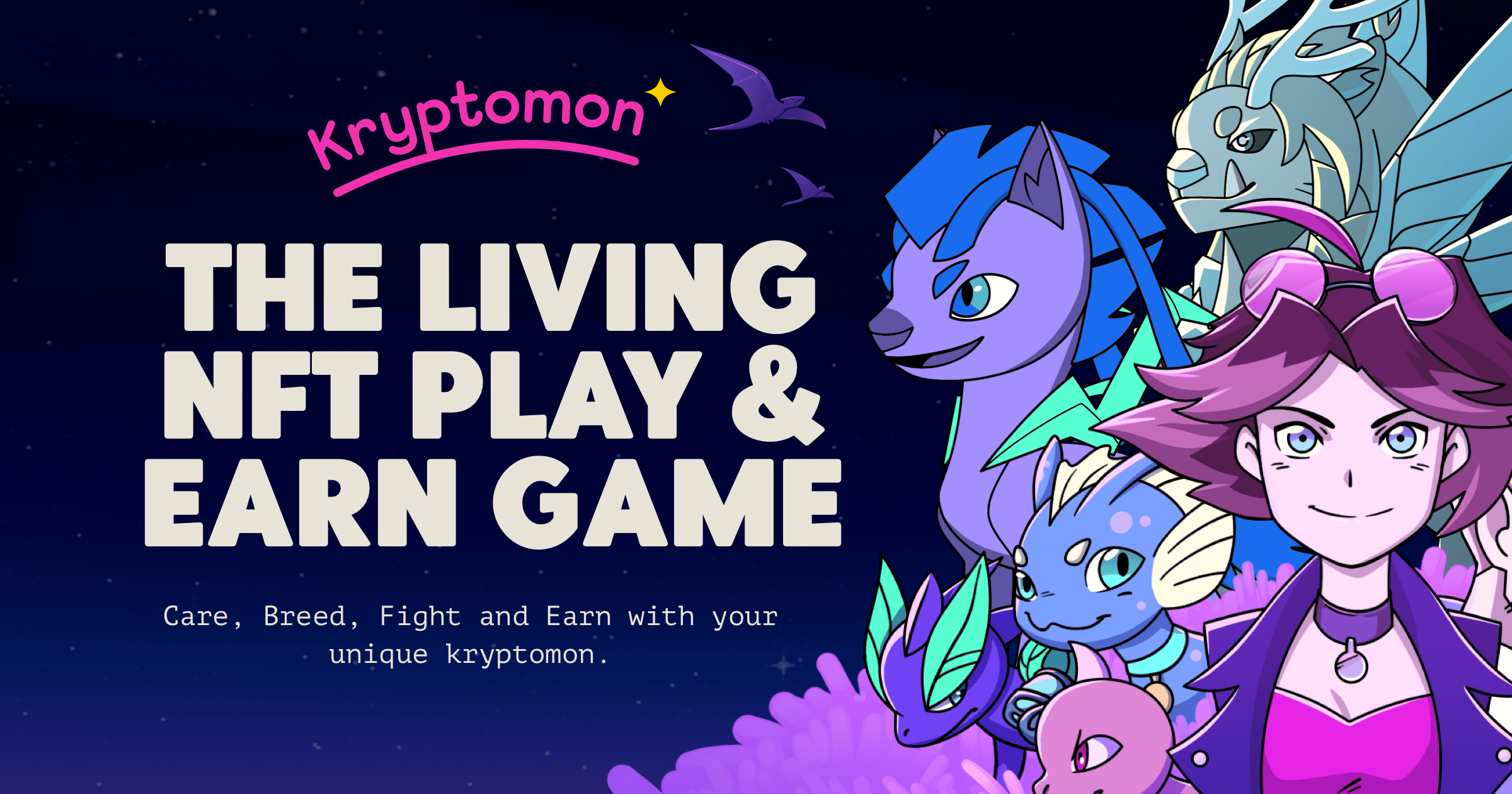 Kryptomon is a Play-and-Earn Web3 NFT game. They combine the cute and addictive gameplay of Tamagotchi with the intense strategy of Pokémon battles. In Kryptomon, you take care of your own digital monsters called "Kryptomons" and train them to become the most powerful Kryptomon in the world. Metaverse. Breed, train, breed and fight your Kryptomon beast. Read on to find out if the Kryptomon project is worth it.
What is Kryptomon (KMON)?
Kryptomon is a live NFT game that combines classic monster fighting mechanics with P2E rewards. Users can create live NFT token monsters to take on adventures. If you've played Pokemon or created a Tamagotchi, then you have a pretty good idea of ​​how Kryptomon works. The game takes these two children's games and combines them with modern DeFi concepts. It also uses BNB Chain to embed NFT and cryptocurrency in the game.
Kryptomon fits into the P2E game genre. As you play the game, you get more than just the satisfaction of hatching eggs and training your teammates to defeat other monsters. Each monster you collect is a live NFT that you can buy, sell, or trade. These NFT Kryptomon eggs have unique genetic codes that provide different advantages. The game token, KMON, is a cryptocurrency token that you can exchange for BTC, real-world money or other forms of currency. Ultimately, your actions can earn you real money.
Kryptomon gameplay
Set in the Kryptomon metaverse, community members play as 'Trainers' of their own individual Kryptomon monsters, each of which is a completely unique digital asset connected to an NFT. Each has a unique but changeable genetic code made up of 38 random parameters that determine every physical and behavioral aspect of the creature.
Not only does this ensure that each Kryptomon is unique, it also brings each Kryptomon to life as a digital companion in Kryptomon's metaverse. They are able to learn, get sick, get hungry, and protect their trainers when they go on an adventure in the physical world. In turn, trainers will have to care for, feed, and train their Kryptomon partners to grow and prepare for the battles ahead. Kryptomon creates the next step in the evolution of crypto gaming using advanced blockchain technologies, digital genetics and location-based technologies.
Kryptomon might seem a little complex at first, because there are so many different mechanics. However, once you get into the game, you'll find that it's really simple. To be successful, there are only five things you need to know.
Genes
Each Kryptomon creature has its own unique, randomly generated DNA. Your creature's DNA will affect everything from how quickly it heals on the battlefield to how many times it can hit an opponent. Here are the 12 different genes that affect your monster's physical and behavioral traits that you'll need to consider when selecting a creature to work with.
Attack: How much physical damage a creature can deal in any given battle.
Toughness: Affects your creature's physical defense and its defense against elemental attacks.
Constitution: Impacts hit points and the amount of defense a creature has.
Stamina: Adjusts the number of hit points your creature has and affects how many times a creature can breed.
Speed: Determines whether your creature attacks first and affects the cooldown between spawns.
Affections: Influences the frequency of your creature's care.
Madness: tEmpowers a critical attack and affects elemental defense.
Bravery: Gives creatures an advantage during battle.
Instinct: Affects physical defense and reduces evasion damage.
Hunger: The hungrier your creature is, the more food it needs.
Ego: How much refined food your creature needs.
Smartness: Influences the amount of training your creature requires.
Parameters
The parameters are similar to genes, except they are not present in your monster at birth and can be adjusted. Kryptomons have 38 different parameters that can advance to level 50. Maximizing the parameters requires approximately 250 tickets. This may take time, but it turns a mediocre creature into an impressive beast.
Training
Community members play as trainers. To train your own NFT pet monsters, you need training tickets which can be found in loot boxes. Each ticket allows you to level up one parameter, and you can choose whether you want to focus on individual talents, stamina, or constitution. Training usually takes time. However, if you have a star ticket, you can instantly train your creature to reach a new level.
battle modes
Kryptomon battles are the main objective of the game. Your creatures fight each other to earn rewards and increase their ranking in tournaments. There are multiple modes, including one-on-one fights with friends, AI practice fights, and competitive fights against random players.
In battle mode, your creature uses a combination of physical, shield, element, and special spells to attack your opponent and reduce their resistance. Once all of an opponent's creatures are KO'd, you win.
Playback
Breeding lets you combine attributes from two creatures into a single egg, which is a fun way to spawn new NFT creatures. During reproduction, mutation takes place, so the stats can end up better or worse than those of the creature's parents. You can breed for specific parameters and genes, or you can breed for certain physical appearances. All these various characteristics are somehow connected, but not dependent on each other. Keep in mind that creation comes with some limitations. Monsters can only breed a certain number of times a year.
Kryptomon's Resources
play to win
Thanks to its place on the BNB Chain network, Kryptomon is a P2E game. Users do everything in-game with KMON, and cryptocurrency has real-world value. Ways to earn money include winning battles and creating rare creatures to sell. In fact, selling creatures can be one of the most rewarding ways to make money. Every creature and egg is a live NFT, and those with impressive stats can be worth a lot of money. Very rare creatures have sold for thousands of dollars.
Kryptomon Mobile
One advantage of this game is that you don't have to sit at a computer to play. Kryptomon mobile allows users to play the game on their phones, making it easy to keep track of your creatures' feeding and training throughout the day. The mobile app has built-in encryption features so you can also manage your money on your phone. Eventually, the mobile version will also add some augmented reality features that make the game even more immersive.
Kryptomon Market
Compared to many other P2E games, Kryptomon makes managing your finances easier. The market allows for Kryptomon NFT trading, where you can look for eggs and mature creatures. You can list items for sale or bid on desirable monsters. With extensive filtering options, the Kryptomon marketplace ensures that you can find the rarest creatures with the best parameters.
In addition to purchasing new NFT pet monsters, the Kryptomon market also allows users to stake their Tokens KMON to participate in NFT lotteries and generate "candy", which are used as Kryptomon in-game currency to purchase loot boxes and items.
Treasure hunt
Treasure hunts are part of the company's real-world game mechanics. A treasure hunt is a limited-time event that involves players using their phone's GPS to visit a specific real-world location. Getting to this location gives you a mystery box that you unlock. These randomly generated crates can contain training tickets, new NFT eggs, or other interesting items.
The gym
Confused by all the details of the game? One of your resources can help you with this. Kryptomon Academy is a website that provides fun and interactive information about all different aspects of the game. You can search for answers to specific questions or browse the logs for more details. It's a great way to understand the game mechanics and start training, fighting and creating.
How to play Kryptomon?
To take the first steps in the game, you need to acquire an egg that must be cared for and prepared to hatch your first Kryptomon. The characteristics of each Kryptomon can vary depending on the level of rarity, combat prowess, gender and over 38 genetic parameters. Regardless of these characteristics, the player acts as a caretaker and trainer of their Kryptomon in order to evolve and improve their skills. In addition to feeding, the trainer must provide all the needs of the pet in a system very similar to the classic game Tamagotchi. Care and training work will evolve Kryptomon strong and powerful for battles.
The game has a gene combination system to create a Kryptomon with characteristics different from the "parents". For this, the player needs to cross two different types of mascots of the male and female gender. This combination generates a Kryptomon with specific, exclusive abilities and with potential for appreciation in the marketplace.
The second phase of the game will involve PVE and PVP mode of battles. In PVE mode, the player will be challenged with daily and weekly quests in search of new resources and rewards that can be used to evolve the pet. With the PVP mode, players will challenge each other in battles where the training and skills of Kryptomons will be put to the test.
There is yet another game model very similar to Pokémon Go, a fever around the world for a few years, in which people leave home in search of rare Pokémon. The idea in Kryptomon is to take to the streets in search of KMON rewards and new challenges. This mode will not be available daily, but will work per season. According to the developers, the plans for the game include the creation of a metaverse where Kryptomons will be able to explore a 3D world full of adventure, a mobile version and several special events and tournaments.
KMON token
KMON is a publicly traded cryptocurrency with a total supply of 1 billion tokens and a circulating supply of 190 million. Overall, it has a market cap of $1,9 million. KMON was released in August 2021 and has gone through some interesting changes since then. After KMON was launched, its price quickly increased to 20 times its original value, resulting in a lot of interest and quite high trading volumes.
When considering KMON tokennomics, it's helpful to learn a little about the company's regulatory plans. Unlike many other major cryptocurrency projects, Kryptomon initially locks many of its cryptocurrencies. Investors who buy KMON only have access to a small amount at the time of token generation. After the generation event in May 2022, most encryption was blocked for six months. When buyers buy in bulk, their tokens are unlocked in small amounts at a time to prevent one person from pouring too many funds at once.
Bottom Line
Kryptomon is an NFT Play-To-Earn blockchain game where Pokémon meets Tamagotchi and CryptoKitties. Kryptomon aims to create the next step in the evolution of crypto gaming using advanced blockchain technologies, digital genetics and location-based technologies. PortalCripto hopes that the article has provided the necessary information about the kryptomon project.